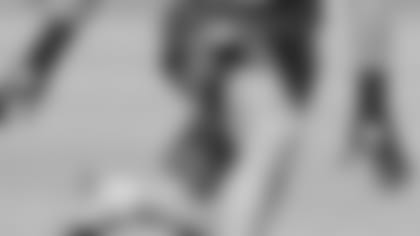 ](http://www.giants.com/media-vault/photo-gallery/Minicamp-Day-3/a654d298-5efb-4b63-8125-eb36371ee2e2)
PHOTOS: Mini-Camp Practice
EAST RUTHERFORD, N.J. –
Mark Herzlich disputes the notion that the Giants' middle linebacker job is his to lose.
"I think it's mine to secure," Herzlich said today. "I don't think anyone is handing anybody anything, but I feel like if I work hard and play well, then I have a good shot at hopefully making a difference for the team."
The Giants concluded their minicamp – and their veteran offseason program – with a brief jog-thru in the field house at the Timex Performance Center. Herzlich lined up with the first-team defense during the team's organized team activities and the minicamp.
"It not only built my confidence in my communication skills getting together with the ones," Herzlich said, "but built confidence among the other guys playing with the ones that I can lead the defense and be vocal and get everybody lined up and play fast."
Defensive coordinator Perry Fewell agreed.
"(He has been) very commanding," Fewell said. "He's taken a leadership role out there and I think he has some good respect from his teammates in some of the things he's done in the OTAs. Obviously, we want to find out what happens when the pads come on."
Barring an unforeseen event, he will be the starter when the players return for training camp on July 26.
"I think if I can show well without pads on, that's a good thing for me, because one of my best aspects is that I am physical and that I play downhill," Herzlich said. "I think that only gets shown with pads on."
The Giants need a new middle linebacker because Chase Blackburn, who started 15 games last season, now plays for the Carolina Panthers. Herzlich started the one game Blackburn missed, as well as two games in his rookie season in 2011.
Fewell was asked if Herzlich knows the defense as well as Blackburn did.
"I don't know if that's a fair question for him right now, because Chase was really a seasoned veteran," Fewell said. "Mark is a veteran, not as seasoned, but I do think that Chase did a nice job in training him and he did a nice job in their communication with calls and the nuances of the defense."
On March 16, the Giants signed six-year veteran Dan Connor, who started eight games for the Dallas Cowboys last season. It was thought that he might be the starter, but Connor has thus far been unable to dislodge Herzlich.
"I think that Dan has been playing awesome, to be completely honest," Herzlich said. "I think he's a great player and I think he can make a big impact on this team this year as well. I obviously still want to be that number one guy, but it's really whatever is best at that time for the team."
*Another third-year player, cornerback Prince Amukamara, also has high expectations. The Giants' first-round draft choice in 2011, Amukamara wants to cover the opposing team's No. 1 receiver, a job normally taken by Corey Webster.
"I really want to be the number one corner on this team," Amukamara said. "I feel like right now Corey is and my goal is to always just try to beat him out. I think as soon as I establish myself as the number one corner, then hopefully just become the number one corner in the whole league. I know that's going to take work, but guys that came out of my draft class are doing great: Patrick Peterson and Richard Sherman and those are the guys I kind of compare myself to and I'm just trying to exceed all of them."
Fewell was asked what he has seen in Amukamara this spring.
"A lot of improvement because he's practiced every day and his skill set is much improved," Fewell said. "I see a nice confidence in him right now."
*Offensive coordinator Kevin Gilbride had high praise for second-year wide receiver Rueben Randle, who lined up with the starters through the offseason drills because of the absences of Hakeem Nicks and Victor Cruz.
"Rueben benefitted," Gilbride said. "I would say that he and the guys in the slot positions benefited the most. Rueben, you see emerge from a guy that showed flashes at times. He always caught the ball well, but maybe didn't always run the routes as precisely, as crisply, as you wanted. He didn't have quite the understanding you wanted. He looked like a guy that has been here for five or six years. He really benefitted from the opportunity. His whole demeanor, his whole professionalism, was outstanding.
"Now is that because they weren't here or just because he had more reps? I don't know, but he certainly stepped into a leadership role. Not only did he grow, he kind of became the bell cow of the receiving corps. He was first in line. He did all of those things. That was not what we saw last year, not by a longshot. So to see him growing like that was a great step forward for him, which will help us down the road."
*Gilbride was asked how long it will take for Cruz and Nicks (who attended the minicamp) to regain their timing with Eli Manning.
"That is so, not unimportant, but it is just a relatively minor thing," Gilbride said. "The thing is they haven't been working. They haven't been listening. They haven't been growing, they haven't been developing. They haven't been receiving the coaching that they need to get better. To be quite frank, they need it. And the absence and not being here has hurt them and because of that, it has hurt us. But the good thing is that Brandon Collins and some of the other young receivers have had a chance to get some reps. Now the Jerrel Jernigans, down the road, they may be coming into a more integral part of what we have been doing offensively because of that."
*Special teams coordinator Tom Quinn hinted that the number of kickoffs David Wilson reutrns will be affected by his workload at running back.
"We'll see how that all plays out," Quinn said. "Obviously, he would like to do it. He's done it very well, but we'll have to see how it all comes down with where he is on the depth chart and what he's doing on offense. It might be maybe for one or two or you don't need him for one or two, but we've got other guys that we feel good about. They feel good about the scheme and the system that's in place. "
*Tom Coughlin bid the players farewell and told them to be ready to work when they report for training camp in six weeks.
"I told them all of the essentials - count the days until July 26," Coughlin said. "In this day and age it is about nutrition, about rest, about taking care of yourself, about crossing those days off the calendar. And really, it is not like the old offseasons where we may have had 14-15 weeks. We are into our ninth. So as far as trying to rest a little bit and then pick back up, no, you wouldn't be able to do that. You have to be ready to change direction and do those kinds of things. I did cite some of the examples in this little time where we have maybe a three-day down time and then go and practice once and have – like the other day – two backs had a hamstring after taking three days off. So all of those things have been said this morning. We talked about our schedule and what is in front of us and just wrapped it up for the offseason program for the veteran players. And then the rookies are here for another week."