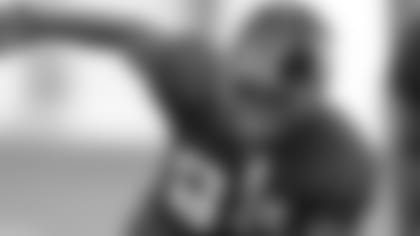 ](http://www.giants.com/media-vault/photo-gallery/OTA-Practice-8/d51ba149-f009-4390-9bb7-61cc0fe2ec8a)
PHOTOS: DEFENSIVE ENDS EAST RUTHERFORD, N.J. –** The decision to return Mathias Kiwanuka to defensive end fulltime was made long before Jason Pierre-Paul had back surgery earlier this week. But it certainly looks more prescient now that the two-time Pro Bowler has begun a recovery and rehabilitation period that is expected to be approximately 12 weeks long.
"Having another man down means that we've all got to step up, and I'm ready to do the job," Kiwanuka said today after the Giants' organized team activity.
It's a job he's done previously. Kiwanuka was a first-round draft choice as a defensive end in 2006. He moved to strongside linebacker the following year, back to end in 2008 and returned the next season to linebacker, where he spent most of the last four seasons. After Osi Umenyiora left as a free agent this offseason, Kiwanuka moved back to the front of the defense. With JPP out, he is now the first-team right end.
Kiwanuka is confident he can step in and produce in Pierre-Paul's absence – and beyond.
"There's no doubt in my mind," Kiwanuka said. "That was the position I came into this league playing and I'm looking forward to the opportunity. Obviously, we would love to have him back and I'm sure he'll be back ready to go at a certain point, but we're not going to rush him back for any reason."
Pierre-Paul underwent a microdiscetomy Tuesday that was performed by Dr. Robert Watkins at Marina Del Rey Hospital in Marina Del Rey, Calif. The procedure repaired a herniated disk in his lower back. JPP has battled lower back pain since last season.
"We were trying to manage it; seemed to be doing a pretty good job of it," coach Tom Coughlin said. "All of a sudden there was a circumstance that he was in some pain. So he went through the normal procedure, which we have gone through many times. The doctors recommended the surgery. They got a second opinion and the doctor recommended the surgery as well. It wasn't anticipated, but it is a fact now. Surgery is completed and he will do the best job he can in rehab."
Pierre-Paul was selected to his second consecutive Pro Bowl in 2012 despite a sack total that fell to 6.5 from 16.5 the previous season.
"There were times when he was bothered by his back last year," Coughlin said. "But I'm sure there are an awful lot of people in the league that are that way from time to time."
JPP's teammates said it was apparent that he was in discomfort at times last season.
"It was obvious that he was in pain and he was hurting, but he was trying to push through," Kiwanuka said. "That's the kind of player he is, but at a certain point it's hurting yourself and you're hurting your team. I think he realized that and decided to have surgery, which I think is the best thing for him at this point in his career."
Pierre-Paul will miss most, if not all, of training camp, which begins on July 26. The Giants are hopeful he will be ready for the regular-season opener on Sept. 8 in Dallas, but won't push him to be on the field that night.
"I'm hoping (he'll be able to play in that game), but I wouldn't say that," Coughlin said when asked if he is counting on Pierre-Paul being available for the opener. "That is an aggressive position to take. If anybody can do it, it is him. But I would like to wait and see. And again, listen to what the professionals are telling him. That is the key right now."
Pierre-Paul was still in Southern California today, but will soon return to the Timex Performance Center to begin his rehab in earnest. While he is sidelined, Kiwanuka, third-year pro Adrian Tracy and third-round draft choice Damontre Moore will move get reps at right end. Justin Tuck remains the starter on the left side.
"We have to keep going," Coughlin said. "We have to advance some of these young guys. And the next guys have to come along. What I have seen has been a day here, a day there, where different people have stood out."
Kiwanuka is ready to assume a larger role. He is easily the most experienced player in the group, with 93 regular-season games played, 61 starts and 30.0 career sacks.
"He's really going to help us," Tuck said. "I think he's going to be kind of like a sleeper because a lot of people tend to forget he's a pretty good defensive end. I'm obviously excited to have him back in that room and I know he's happy about it."
"It's been a long road for me," Kiwanuka said. "I've been starting at multiple positions. I've been up and down and back and forth. Moving around and changing… that's not the big deal to me. The big deal for me is going out there and making sure that I do my job correctly and when I get the opportunity I make the best of it."
Tracy spent a season on injured reserve and another on the practice squad before he appeared in all 16 games in 2012. But his playing time was limited and he hopes to be a bigger factor on defense this year.
"I'm a smaller guy, so I think one of my best attributes is speed and keying the ball," Tracy said. "To get off at the snap is one of the best things that I can do. That gives me an advantage over offensive linemen. But then again, being a smaller guy, people think I'm not as stout and strong, and I think putting in the work with the strength and conditioning stuff has allowed me to prove them wrong as far as being a power rusher as well."
Moore has had his moments in the non-contact OTAs, but will have to impress when the players put on their pads in training camp.
"I'm coming in with a closed mouth and open ears and just trying to embrace the whole experience and do the best of my abilities," Moore said. "There's a lot of stuff that I find out. It's not as easy as it used to be. Everybody is good at this level from the ones all the way down to the fourth string."
No matter how well the other defensive ends perform in his absence, Pierre-Paul will be missed until he returns to the field.
"Losing JPP for the time period that we will lose him – will hurt this defense," Tuck said. "He is an awesome football player. But we have a lot of people that are vying for the opportunity and they are hungry and want that opportunity and a lot of times that is the spark that a lot of other people need. So we will see what happens. The fastest that he can get back, obviously, it would be better. Like you just said, a lot of people have to step up, me included."