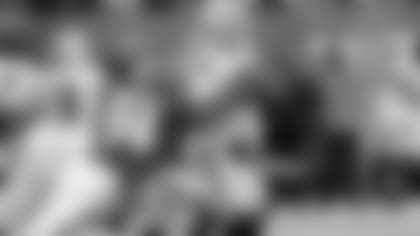 The defense's streak of 11 straight quarters without allowing a touchdown ended partially because of it, but players on that side of the ball aren't making any excuses.
"It's always tough, but that's what our job is and that's what we're asked to do," defensive end Mathias Kiwanuka said. "We'll let the stats speak for themselves at the end of the year, but it's a testament to the guys to get in early and stay late, and to take it upon themselves to say that enough is enough. No team has to score on us. Obviously we gave some up, but when we're called on to make stops, that's what we're going to do."
The Oakland Raiders never started worse than on their own 20-yard line and even began three drives on the Giants' side of the field, including on the 21 and the five. That's what turnovers and special teams miscues will do. But the defense didn't bat an eye as the Giants held off Oakland for a 24-20 victory.
A fumble on the opening kickoff turned the ball over to Terrelle Pryor and the Raiders just five yards from the end zone. Two plays later, the quarterback plowed in for a one-yard touchdown, the first and only one the defense has allowed in 3 ½ games.
The Raiders almost added to it later on in the third quarter. They marched down to a first-and-goal at the one-yard line, but a stuff of running back Rashad Jennings at the line of scrimmage -- by Jacquian Williams and Jason Pierre-Paul -- and two incompletions forced Oakland to settle for a short field to keep it a one-possession game.
The three points would be the last ones Oakland scored as the Giants regained the lead later in the quarter and never gave it up.
"It was a big confidence booster for us as a team," Kiwanuka said. "That's like one of those plays that you can kind of hang your hat on and say, 'You know what? We're a good enough defense to stop anybody.'"
On an individual level, Kiwanuka had one of his most productive games of the season, notching four tackles and one of Giants' four sacks. He forced a fumble on the quarterback takedown, which linemate Cullen Jenkins recovered on the Raiders' final offensive play.
The Giants took over and chewed up the clock for their third straight victory after a 0-6 start.
"This is one more step on the way to getting our goal accomplished," Kiwanuka said. "I think we definitely dug a big hole for ourselves in the beginning of the year, but coming back and playing this way and then having a bye and being able to come back and perform, I think it's huge for us. But we just have to take it one day at a time. That's all we have left right now, to make sure we do everything we can and sneak into the playoffs."