East Rutherford, NJ - The Giants contingent of Pro Bowl players doubled today with the official announcement that guard Chris Snee and tackle David Diehl have been added to the NFC team.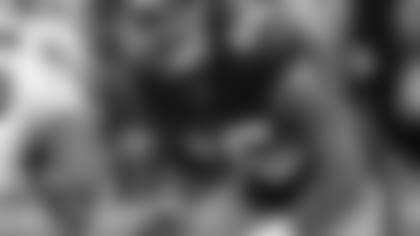 Left Tackle David Diehl will be making his first Pro Bowl appearance after being added to the team along with Guard Chris Snee.


Snee and Diehl were originally selected as alternates to the conference's Pro Bowl squad. They will replace Jahari Evans and Jonathan Stinchcomb of New Orleans, who will not play in the game because the Saints advanced to Super Bowl XXIV with their victory over Minnesota in last night's NFC Championship Game. The Pro Bowl will be played Sunday in Miami's Sun Life Stadium. Because it is a week before the Super Bowl, players from the Saints and Indianapolis Colts will not participate.
The Giants' two linemen will join center Shaun O'Hara and wide receiver Steve Smith on the NFC team. O'Hara was voted to the squad as a reserve, but will now start because Dallas' Andre Gurode pulled out of the game with an injury. Smith, who set a Giants record with 107 receptions this season, was a first alternate who was added to the team when Arizona's Larry Fitzgerald dropped out with an injury.
"It is an awesome accomplishment," said Diehl, who has played in all 119 regular season and postseason games since joining the Giants in 2003. "This is what you dream of, not only playing in the Super Bowl, but being able to play in this game. It's an awesome feeling. It is truly an honor to think about all the unbelievable players that have been selected and played in this game before."
This is the first time the Giants have had three players from the same position group selected to the Pro Bowl since 1962, when offensive linemen Rosie Brown, Darrell Dess and Ray Wietecha – also a tackle, guard and center – all received the honor. Snee and O'Hara, who played in the game last year, are the Giants' first two-time Pro Bowl offensive linemen since Ron Stone was chosen in 2000 and 2001.
"I am certainly extremely excited for both David and Chris," O'Hara said. "Obviously, being there with Chris last year was great. It is very well deserved for both of them. I know they are both excited about the opportunity. As special as the Pro Bowl is, one of the things that really made it even more special last year was having guys down there that you could experience it with. With the addition of Steve and now with Chris and Dave, it certainly adds to that element."
"I am honored and I am excited to go down there with Shaun and David," Snee said. "Last year was the first time there for most of us. So we kind of went through it together and didn't really know how hard to go, what to expect. Obviously I know now. I am excited to go down and hang out with those guys."
Diehl didn't play in the Pro Bowl in Honolulu last year, but he attended the game and participated in many of the festivities. He traveled as a guest of Eli Manning, who treated his linemen who weren't selected to the game to a trip to Hawaii.
"Going there and being part of that and seeing how excited the guys were to be there and how much fun they had was great," Diehl said. "I left that place, as crazy as it sounds, I left angry. I think one of the main things it did for me was give me motivation to push myself even harder to do whatever it took to be a part of it, to be in the game, instead of being a spectator looking in. Going there last year, I was an alternate. This year I was a first alternate. I am just going to continue to do whatever I have to do to work even harder to help, most importantly, our football team win games, and two, to hopefully be a part of this again."
O'Hara and Snee will be able to show Diehl and Smith what the Pro Bowl is all about. The Pro Bowl is unlike any other game. The players want to win, of course, but the intense preparation and emotion that are such a part of regular season games are absent.
"It's funny," Snee said. "Shaun and I were one of the few guys that actually worked out everyday while we were in Hawaii. I can tell you that won't happen this year. It is just a matter of going out there and still playing hard, if you go around and stand around you are likely to get rolled up on or get hurt. But it is not the same intensity as a real game, obviously."
But once the uniform goes on, everyone's football instincts kick in.
"When you wake up that Sunday and you head to the pregame meal you can't but help turn into game mode," O'Hara said. "You slow it down a little bit, everybody kind of starts to get a little serious. The real turning point for me was last year during the game when the fourth quarter began. You could feel it and you could sense everybody kind of turned it up a couple notches. Everybody kind of realized what was on the line for the winning team. The intensity definitely gets heated in the fourth quarter."
"It is just the competitive nature of our team and the individuals," Snee said. "We want to win. I noticed in the fourth quarter it got cranked up a little bit. By that time you are warmed up and you have been in your stance for three quarters. That is something that I haven't done for a couple of weeks. You kind of knock off a little…you are able to increase your speed a little bit."
The Pro Bowl creates some strange partnerships. The four Giants players will be coached by Wade Phillips, the head coach of the NFC East rival Dallas Cowboys. Last year's NFC team was led by another division foe, Philadelphia coach Andy Reid.
In addition, players who would normally be mortal enemies on the field come together for a common cause. And then there's the little matter of learning new plays.
"I think one of the challenges was, and certainly the quarterbacks have the toughest challenge, learning a new playbook in four or five days," O'Hara said. "That was certainly a challenge. We are used to going into a game knowing every little in and out of every defense and knowing every play call. There were times last year in the huddle where a play was called and we are walking to the line saying, 'Is this a run or a pass?' That, I think, is a challenge in itself. The fact that everybody has to learn the plays and be on the same page, so knowing that I will have Chris next to me and possibly Diehl next to him, I think it will make it a little easier to make some calls."
"You take a look at it (the playbook) before you go to bed," Snee said. "But it is basic stuff, whether it be zone blocking, zone right or zone left. I don't know what Dallas will do. It will be all basic stuff that most people understand having played football for numbers of years."
The players look forward to getting to know or reacquainting with colleagues from other teams.
"After a game you shake hands with the opposing players, but you don't get to really have that locker room, joking around, getting close in that regard," Snee said. "It was good to meet a bunch of those guys and develop some friendships that way."
"Jason Garrett, who was our backup quarterback my rookie year and who I know very well, is going to be our offensive coordinator," Diehl said. "It is just going to be different playing in a game with different coaches, teammates from our rivals, guys that when you are out there on the football field, you want to kill these guys. It just shows you how exciting it is to play in. Like I said, what an honor it is to play with these guys."
*As of today, O'Hara will be the Giants' only starter in the Pro Bowl.
"That is really exciting," O'Hara said. "I think going is definitely a sense of accomplishment. But now to find out that I will be starting, that adds to the entire process. I am looking forward to that. Starting is going to be great, but I am concerned with winning the game now."
*Smith is the first Giants wide receiver selected to the Pro Bowl since Homer Jones in 1968 (except for David Tyree, who was the NFC's special teams player in 2005).
"That's a great honor," Smith said on a conference call today. "I can't believe it's been that long since a Giants wide receiver made it. It's pretty cool that I've done that, because it hasn't been done is such a long time."
*Like the rest of the Giants, Smith is still healing after the Giants' unhappy finish to the 2009 season.
"We're happy I made (the Pro Bowl), but we're disappointed in how our season ended," Smith said. "You can't enjoy individual goals like you want to when your team didn't do as well. I'm using this as a learning experience and I'm glad that I was recognized. I'm grateful for being an alternate and making it, and I'm going to learn and take this experience and use it with my team next year."
If you'd like to submit a question or comment to Michael, click here.