Q: How do you feel about being selected for the Ring of Honor?
A: It's good, it means I retired right before they built this new stadium, which I'm not happy about because it'd be great to play in it. I'm excited about it. I started out in 1993, and I was hoping to make the team. Now to always have something up there that I can always look at or fans or family can always look at and say, 'Boy, I was one of the storied players in this franchise,' that means the world. It means all the work I put in really paid off and was appreciated. I'm extremely excited about it.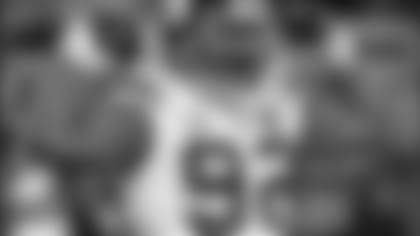 Q: You'll be there on Sunday at halftime?
A: I'm trying to work it out, it's kind of hard being out on the west coast and having the Fox show, especially this week when the second game is Eagles/Redskins. Wouldn't it be something if two NFC East teams keep me from coming? I'm trying to work it out but it's hard with the location and logistics, but we'll see what we can do and if we can work something out.
Q: What's your take on the Giants leadership issues and the team's struggles so far this season?
A: I hear it every day. I get it from the people on the street, I get it on Twitter, you name it. Trust me, I look at the games and I know the guys that are there. I know that there are leadership qualities there. It's just a matter of guys bringing it out of themselves and being comfortable enough to be leaders. It's hard. I look back and I think about the guys who were there when I started, between L.T. and Phil Simms and all those guys. I didn't realize what they were doing, I just figured they were the best players on the team, and they knew what they were talking about. Now, you look back and it takes a special guy to really step into that position in New York on that team because you're in the biggest media market, you'll be the focus, and I don't think everyone is comfortable with that. You have to be very comfortable with your skills on the field, that you know no matter what that you have to play on a certain level. So whatever is said, you have to let stuff bounce off your back and as a leader, for me, it bothered me more what was said about my teammates, especially later in my career, than what you said about me. I don't know how many guys are comfortable in that situation. It's one that once you grab it, you need to be ready for it.
Q: Does this team have the talent and is just lacking the intangibles or is that not true and just a line for the media?
A: I think when you watch on TV, you see a team with talent but you also see a team who misses opportunities and doesn't capitalize on the talent that they have. They're not the only ones. This past weekend was the first time that the Cowboys did it. For the Giants, it's one of the things where, in everything, they have a very short window of opportunity. Whenever you have that window, you need to take advantage of it. In the case of the Giants, it's not so much the losing games because good teams lose games and that just happens. Sometimes you lose close games and sometimes you get blown out. It's the way that they're losing. You just want to see a team that might be losing but is still competitive, where you can look and say 'OK, this is a reason and that's a reason.' For the Giants, you look and say 'Well, this looks like the reason' but when I look at the games, it looks like they're coming unraveled at times that they are usually able to handle it. You can't get down a little bit in the game, and then give the other team that momentum to finish you off. You have to take that back. Right now, they're just not taking that back. They have a lot of new guys out there, but someone has to stand up at some point and kind of take control of the team as a player because coaches can only do so much. That's something that I truly learned. A coach is great, I had three great coaches and all three of them were winners, but the players really run the team. So, you have to have the players as the ones who really set the mindset in practice and in the games and on that field when the coaches don't have access to you in the huddle in the middle of the game on the field. That's players and their attitudes. Somebody needs to step up and take that role on and not be afraid of it.
Q: On this team, how do you fix that?
A: I come to work and have fun, first of all. Then, Sundays are the same thing. It's fun. You put all your hard work in during the week. Outside, the way you get on the field to practice: you run to the ball, you focus in practice on your assignments, and you do all those things so that when the game comes around Sunday, that's your fun day. That's when you go out there and you don't worry about 'Ok, I need to put my foot here and my hand there, making sure my technique is right' because you put in all that work during the week. When you get out there on Sunday, it's time to get out there and say 'Ok, we put in all the hard work, this is where we actually get to hit somebody and have a good time doing it.' You joke but at the same time, when things aren't going right, I wasn't afraid to get down somebody's throat and when things were going good, I wasn't afraid to tell guys, 'Hey, stop smiling now. It's not over, we still have another two minutes to go,' and we're up 21 points because I've lost games like that before. You have to be able to let guys know that this is a job, and this is a job that you're very fortunate to have. Put everything into it every day because at some point, you don't know when it could be, you're not going to strap up these pads anymore and it's going to be over and you're going to miss it. It could be blowing out your knee, or it could be retirement . It could be because of concussions that your career is over. At one point, you're going to look back and regret that you didn't put everything into this and enjoy doing it.
Q: Do you think Justin Tuck is capable of getting down people's throats? He is a nice, humble guy, and have you advised him to try doing this?
A: As much flack as I think that I caught, probably having you guys think I was arrogant and hard to deal with, you can laugh because I'm laughing now, too. In a sense, it was required because I'm embarrassed by the Ring of Honor when people come up and say, 'You're the best' and I shy away from that. When I get on TV and I have to do that, OK, it's about selling something. When it comes to privately when I'm walking down the street, I'm embarrassed by that. If that's what I have to be or that's what I have to become at work to make myself successful or to grab other people and inspire them or to get out of my comfort level to make my team better, then that's what you have to do. As humble as I am, I don't walk around with my stats. I've never had anything in my house with jerseys hanging up and trophies all over the place. Nicole is making me do that now and I don't want to do that because it's not me and that stuff was never important. You have to, at some point out there if you're humble but you want to win, you have to say 'Hey, guys know you're humble' but also guys need to know that you care and that you're going to grab them by the collar sometimes. When it comes to dealing with the media and being nice and humble, everybody is not always saying the right thing. Everything is not always about how you look to the media, who gives a shit about that, excuse my language. It's about winning football games. Sometimes, you have to have somebody say something bad about you. Sometimes, you have to worry about more than just playing well for yourself or how well you did in the game. You have to make sure everyone is doing it. Even if you don't play that great or you don't have the right stats but you win, that overshadows everything. Winning is this business. Doing well on bad teams or having a lot of success when your team doesn't, which I had, it didn't mean nothing, man, trust me. At the end of the day and you look back and I'm thinking about going to Pro Bowls and our team was bad, it pales in comparison to not going to the Pro Bowl and winning the Super Bowl. By far.
Q: You said it takes a special guy to play in New York, do you see any of those guys on the current roster?
A: You know what, I don't know. When I look at Tuck, I think Tuck can do it. When I look at Osi, I think Osi can do it but I just think that Osi has had so many bad experiences and is battling back from injuries and all that stuff that it's hard now with him. I just know there are guys who can do it, and they have a lot of new guys who I feel can do it from what I know about them from afar. I just hope that Antrel Rolle, because of what he said and because of the scrutiny that he has gotten from it, that it doesn't make him shy away from being a leader. You guys aren't always going to write great things and are always going to like what the players say, and you know what, they can't worry about that. Who are they trying to please, you, or are they trying to win football games and get their team inspired? That's the bottom line. Once I stopped caring about what was written and what was being said about me every day, and I just worried about the guys in locker room, that's when my leadership skills increased. I just look at Antrel and I hope he stays the guy he is, the player he is, and the competitor he is because at some point, you can't let everyone's opinion beat you down on being a leader. He said what a lot of us were thinking. They weren't looking like they were having fun or looking inspired and undisciplined. Of course that is what everybody is thinking. That's what I'm thinking when I watch. I just hope he doesn't let that hit him and make him shut off. I'm not saying he should be outspoken to where he can defy Coach Coughlin because that's not necessary or breaking up the team, or make the team choose sides, or blow it up from the inside. I think you need to make guys think at times, 'Hey, maybe we're not doing that but nobody wants to tell us.' At some point, you need to get checked at some point when you're not playing well.
Q: You know the guys on this D-line, should this be one of the most talented units in the league?
A: They have a lot of talent. When I watch them, I watch Kiwanuka and Cofield play and they do well. When I watch Osi and Tuck, they're playing well. They're putting in a lot of effort out there. Sometimes, you don't always have the stats and the numbers. Stats come and go. The shameful thing about playing defensive line is that if you don't have sacks, then you're not playing well. I think that's a big load of garbage because there are so many who get a lot of sacks who can't play their way out of a paper bag. So, I look at the guys and I see them make some plays and trying, but sometimes results aren't there. Should they be the best defensive line in the league if you go player for player? They're about as talented if not more talented than anybody else. It's hard to sit here and say what should you do, because at some point either it happens or it doesn't. We hit a very hot streak, and our confidence was at an all-time high. That's what you need first before anything else, you need confidence. I think those guys are fighting for it now as a team, not just as a defensive line.
Q: A lot of guys say it takes a while to evolve into a team, when did that happen in 2007?
A: I think probably mid or later into the season. Probably midpoint to later in the season. We had some good games but our consistency was a little up and down. Then it got to the point where we had fun and we challenged each other, and it became a competition to see who could make the most plays or who could make the most tackles, who could get to the quarterback, who could be the most disruptive, who could get the most compliments in the meetings. It was just like the biggest competition not just in the game, but in practice. We had drills and in the drills, we would put teams together and we would pick guys, 'I want him, no I want him' and we would go against each other in our drills to go warm up. We were competitive in everything we did. That was our fun part, and we got out there on Sunday and it wasn't like 'Ok, I'm going to get five sacks' it was like 'Ok, I'll meet you at the quarterback, let's just be disruptive and do whatever we have to do to win this game. It's on our back.' We knew because of all the work that we put in during the week that when Sunday rolled around, we didn't think that anyone could mess with us. We knew we were that good when we all played together. When we were individuals, yeah, it was ok. When we all played together, we knew we were better than anybody us.
Q: Did you start that?
A: No, it was just part of it for all of us. You know what, I was the old guy. I'm the old guy who was telling the young guys that they can't play with me, and the young guys were out there calling me old. It was like we were all competing for the sake of our manhood and because that's just something that's in us, that we're all competitive. I wasn't going to let them call me old and they weren't going to let me show them up. We got out there on Sundays, and Tuck and I used to have a little playful banter. He would call me old man, and I would say 'Ok, I'm old but you just remember that as long as I'm here, you'll always be the backup ' and that was our joke. Was it true that he could have taken over and started and done better than me at that point? Yeah, probably true. Osi would talk about how he was a better athlete than me and better looking than me, all that is false, but he believed it. We used to go into our defensive meetings, and Osi and I would have rapping contests on Fridays. We would rap about each other. We were able to be serious, yet have fun, do things that brought energy to us and do things that brought us closer as friends. As a team on Friday, I would go out and on Friday was our day to have fun. It brought us together, and we did a lot of stuff off the field together as well, that brought us together as teammates and as friends. When we got on the field on Sunday, I just wasn't playing football to play football, I was playing for my friends and guys who I felt like were family. That goes a lot further than just doing a game plan or running around trying to tackle somebody. You actually have purpose and meaning behind what you're doing.
Q: Has coach Coughlin called you and told you to tell this to the team?
A: No, he hasn't. I read and see all this stuff, and the thing is it's been an evolution of Tom Coughlin and the evolution of being to the point of where I felt early on it was almost unbearable to the point of where you realize that he's right now. I can really sit back away from the game of football. It's like my parents. My parents told me so much stuff that I would go to my grave at that point in time when they would tell me that they were wrong, and now I look back and see how right they were. He was right in his approach, how he came to the Giants and what he was trying to do and how he was going to set it up. He was right in his approach when I left and he thought that he could back off now because the guys I've got here, I know, are capable of what they are doing. Now, all of the sudden, he can't coach? I don't think that's the case. I think he has these guys who have to get on the same page. As a coach, you can only do so much. You have to have some guys who are your leaders who can control the situation and police each other. As a player, you have to respect your teammates and yourself to not do some of the things that have been done as of late to get the team in trouble, to get them down, or get them penalized. A lot of that is on the players, that's not on the coach because he is a very disciplined coach who wants to win. As he said, everybody wants to be coached. All the sayings he used to put up and all the quotes, I look back now and I think he was right, 100 percent right. I hope it works out, and I hope these guys respond.
Q: Does he need to go back to his old ways, then?
A: I don't think he's gone too far from where he was. I think a lot of guys think because he might have relaxed on fining guys because their socks are a little too short and not long enough, I say OK that's one thing. As far as his coaching style and demanding the best of you, I think, the biggest thing is that he showed a human side. The way he'll come laugh with you and encourage you more than you'd get at first, but as far as his demands on you to win and to be the best player you can be, that's the same. I have a feeling that with a lot of stuff he wanted you to, with a lot of things he tries to put into your mind, he wasn't saying them for himself. A lot of the stuff he was saying was life lessons. Lessons that a lot of guys, like I said, who are out of the game of football will look back on and will appreciate. That is a sign to me of a coach who really does care about you even when you didn't think that he did. When you leave the game, and you think about the stuff he was saying, it really helps you in your life after. That's what he was trying to do. His coaching style hasn't changed that much.
Q: Do you miss the game at all?
A: I don't miss it enough to come back and play. Do I miss football? Yes. Do I miss the guys? Absolutely, one hundred percent. Do I miss the physical competition? Absolutely. Do I miss waking up on Monday after a game? Nah, not at all. Not at all. Do I wish I could go into that locker room and suit up, run out of the tunnel like Superman and try to inspire the Giants to be better? Absolutely.