If anyone knows the draft, it's Mike Mayock.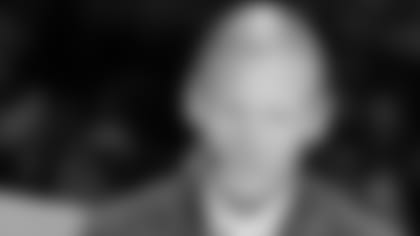 CLICK HERE for the latest Giants News The NFL Network analyst and former defensive back, who played for the Giants from 1982-1983, held a conference call yesterday to preview the 2014 NFL Draft.
With the three-day event beginning May 8, Giants.com pulled out some highlights from the session with reporters.
On which player he thinks the Giants would take at No. 12:
"I think the logical three candidates for them are either Zack Martin, Eric Ebron or the wide receiver [Mike] Evans. I'm not sure how this draft is going to fall. I know that you can take Zack Martin. Of course, they signed Charles Brown and John Jerry. But Martin could play guard, he could play center, he could play tackle. If he's there, and I don't think he's going to be, will the wideout Evans be there, I think there's a good chance he won't be. I look at it and go where Eric Ebron goes. I think that would be a great pick. They need somebody in today's world, I don't care if it's wideout or tight end, I just want an offensive weapon, and that's what he is.
On second-tier wide receivers in the draft:**
"I think there's a chance six wideouts go in the first round. After Watkins and Evans, the next two are going to be wideouts people would say wouldn't go so early, Odell Beckham from LSU and Bradin Cooks from Oregon State. Beckham is an explosive kid with return skills. Gets in and out of breaks as well as any receiver in this draft. Has good size. Cooks is a smaller receiver, but maybe the most explosive of the entire group. He's tough. He also is a good route runner. I think their value is going to start somewhere in that 13, 14 area. I think they'll be gone by plus or minus 20. Then Kelvin Benjamin and Marqise Lee come into play after that. You could see up to six wideouts go in the first round."
**
On the state of the running back position in terms of the draft:**
"As far as the running back position, I don't think there's any doubt it's been devalued. I just think it's become a pass-first league. Because of that, it's flipped upside down. 30 years ago tailbacks were the most important thing controlling the football, controlling the clock. Now everybody is throwing the ball 40 times a game.
"I think it's really intriguing. Football is a cyclical game. I think it's intriguing the two best teams in the last year, Seattle and San Francisco, in my opinion, what was their recipe for success? They played great defense, they ran the football, they asked their quarterbacks to make a less percentage of plays than Peyton Manning and Tom Brady. The two best teams in the league utilized the tailback and the run game. I wouldn't be surprised to see that come back en vogue. Right now I don't have a running back that I think is going to go in the first round. There might be a couple with first-round grades, I don't think any of them are going in the first round."
On depth at offensive tackle:**
"It's a good question because it's not as deep a tackle draft as some people might have you believe. I think there's going to be a couple separate runs. The first is in the first round. I think you're going to see five tackles go. Then I have four guys before kind of the ground falls away and there's a big drop. So Joel Bitonio, who a lot of people like inside. Morgan Moses. Mewhort from Ohio State, who a lot of people see inside. And Jiwan James from Tennessee, who I think is a starting right tackle. Those are the guys on the second day, second and third round guys.
"Then there's a significant drop-off. So I do think there's going to be a run on those four guys. Then the questions become, you know, Seantrel Henderson has first-round talent from Miami, but he's had so many issues off the field. Tiny Richardson from Tennessee. Schofield from Michigan. Cameron Fleming from Stanford. They're all right tackles. I think Hurst is a swing tackle from North Carolina. They're all a drop-off ability-wise with the exception of Henderson. I think there are going to be a couple tackle runs."