Holding their highest draft selection in a decade, the Giants are now in the process of deciding which direction to go with the No. 12 pick.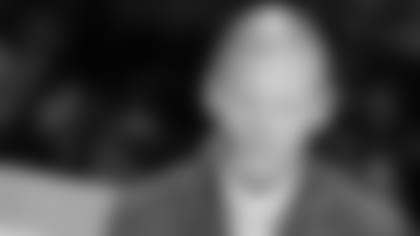 View Giants Mock Draft Tracker](http://www.giants.com/mock-draft.html) The NFL Scouting Combine, which kicked off today in Indianapolis, is a major part of the evaluation, drawing more than 300 of college football's top prospects and the NFL teams that will be drafting them. But before the weeklong event, NFL Network analyst and draft expert Mike Mayock weighed in on the Giants' priorities.
In his opinion, he thinks the best fit could be on the offensive side of the ball at No. 12, the highest the Giants have been slated to pick since holding the fourth overall selection in 2004.
"I think wide receiver and tackles make a lot of sense right there," Mayock said yesterday on a conference call. "And I think regardless, sitting at 12, you're either going to get the third tackle or the second or third wide out if you were interested in that wide out. So I think Taylor Lewan is a guy that can get there and if he got there, I'd jump all over him. And if all three were gone, you could still make a case for Zack Martin. I think he's better. He's very similar to Justin Pugh, who they took a year ago, but I think he's a better prospect, and then I'd also be wide open to looking at that wide receiver position and again, looking at Marqise Lee, Mike Evans. I think sitting at 12, they are going to get one of those three guys, or could get one of those three."
The former NFL defensive back, who spent time with the Giants from 1982-1983, weighed in on a variety of other topics surrounding the combine and upcoming draft.
On the depth of the 2014 draft:
"From my perspective, this is the deepest and best draft class I've seen in probably 10 years. That's been reinforced by most of the general managers and scouts I've talked to throughout the league. I had one GM tell me the other day that having a top 20 pick this year is very similar to having a Top 10 pick last year. So I think there's more depth. I think there are certain positions that are stacked this year and you can get a quality player through three or four rounds."
On prospects at linebacker:
"I think [Khalil] Mack is a top 10 player; I actually think he's a top 5 player. I think [Anthony] Barr has got considerable upside and will be off the board before the Eagles. The one guy that's kind of interesting and it might be a little bit high but Dee Ford from Auburn is kind of that edge rush guy. He doesn't have as much length as you might like, and he might be more comparable to Bruce Urban who Seattle took, I think, at number 15 two years ago.
On what stands out about this year's draft class:
"Yeah, well I think it's a couple things. One is the playmakers at the top end of this draft, it's not just a couple guys. You know, there's three offensive tackles that could go in the Top 10. There's three quarterbacks that could go in the Top 10, and then you've got guys like I mentioned [Khalil] Mack, who is a difference maker, [Anthony] Barr from UCLA, [Sammy] Watkins from Clemson is a tremendous wide receiver.
"So we're 10, 11, 12 players deep right there and we have not even talked about the safety from Louisville [Calvin Pryor] or the tight end from North Carolina [Eric Ebron]. And I could go on and on. There's more quality at the top end of this draft than I've seen in a long time and from a position standpoint; you know, we talked about wide receiver. I think offensive tackle is particularly deep. You can go three rounds, four rounds deep this year and get a starting offensive tackle. So from those couple of positions and the quality up top, and I think there's some pretty good corners, by the way, three to four rounds deep. So I'm really excited about this draft."
On prospects at cornerback:
"The top of the draft for me, [Darqueze] Dennard can step in from day one, and I say that because he's a press corner who can tackle, he competes. I don't think he'll be overwhelmed. Justin Gilbert from Oklahoma State, return kicks, big play guy. I think those two guys step right in without a problem and I think the [Jason] Verrett kid steps in day one as a nickel playing against the slot. I think we can go three, four rounds deep and find different kinds of kids that can compete early. I mentioned the kid from Utah, [Keith] McGill, who is 6-3, and the kid from Nebraska [Stanley Jean-Baptiste] who is 6-2 ½. There are a bunch of long corners out there and that's kind of the flavor of the day."
On which players he will be watching closely:
"I like that question, it's a good one. I really like the tailback from Washington, [Bishop] Sankey, and I want to see him catch the football. I don't get to see enough catches in routes on his college tape. I feel like he can be a lot like the kid out of North Carolina, Giovani Bernard, if he can catch the football like that. So I'm looking forward to seeing that from him.
"I'm looking forward to seeing how fast Marqise Lee runs. I want to see the tight end from Oregon [Colt Lyerla], how he reacts to people. I watched film and what little tape I could get on him from 2012, he's a gifted, gifted kid, but he's got a bunch of off the field issues. [Darqueze] Dennard and [Kyle] Fuller, the two corners, I think they are awesome. But my concern with both of them is long speed, and if they both run well, I think they are going to climb even higher, especially the Fuller kid, who most people have in the second or third round and then I want to see the freaks, [Jadeveon] Clowney, [Khalil] Mack, there's a kid from Georgia Southern, Jerick McKinnon, who is going to work with the running backs. He also can play corner, and I'm anxious to watch his footwork, and Ebron from North Carolina."
On prospects at offensive tackle:
"I think the safe pick in the offensive line is Jake Matthews from A&M. He's already a professional. He's got a skill set, you plug him in day one and he'll play at a high level. I think Greg Robinson from Auburn might have the highest upside of any of the offensive linemen in this draft but he's not quite as polished as Matthews or Taylor Lewan. Taylor Lewan gets a little top heavy at times but he's got a nasty finish. I think he's very similar to [Eric] Fisher and [Luke] Joeckel from last year, who were the first couple picks. So I think all of those guys are worthy of top‑10 picks and I think Robinson is the one with the highest upside but also the one you'll be the most concerned about because he's a little bit more raw.
On prospects at defensive tackle:
"It's a mixed bag. The defensive tackles are kind of a mixed bag. For instance, my top two guys, [Louis] Nix and [Timmy] Jernigan, couldn't be more different. Nix is a typical nose tackle and Jernigan is more of that three technique. I think Jernigan can step in and be special early. I think Nix is a little different kind of player. He's a 330‑pound nose. Aaron Donald from Pitt is a three technique, quick, up field penetrator, but I don't think he's going until late one, early two. And I've talked about [Ra'Shede] Hageman as a little bit of a boom‑or‑a‑bust, talented guy, 6‑6, 320, who could play anywhere up and down that defensive line, and then Dominique Easley in my Top‑5 is injured, the second ACL, and I don't think he's going to go until about the third round or so. There are two LSU players that are second or third round guys, and I think there's some pretty good depth in the first three rounds, and I think Jernigan is a guy that if he's sitting there when the Bears are on the board at 14, I think you'd sprint to the podium."