West Point OL Brett Toth will honor his two-year military commitment before he can begin his NFL career: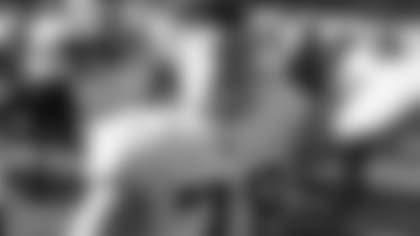 Every prospect participating in the Senior Bowl has their own unique journey that got them to this juncture of their quest to play professional footall, but there is no one in Mobile whose story compares to offensive tackle Brett Toth. His college experience had challenges no other player had to endure, and his future has far more dangerous ones.

Brett Toth attends West Point, and when he graduates he will be commissioned as a second Lieutenant and deployed as an engineer in the United States Army. He also hopes, like every other player in Mobile, to eventually play football in NFL. Unlike the other players, however, he won't be able to do that in 2018. Brett has a mandatory two years of active service he must fulfill to the Army following graduation, which will delay his potential entrance into the National Football League.
It's an additional challenge to overcome for a player that is trying to convince teams they should make him a part of their franchise.
"They definitely respect my decision and honoring that initial commitment I made four years ago," Toth said. "I'm thankful for that, as well. It could be easy for someone to turn a shoulder to it. They are trying to get players in to help their program right away. They usually ask the two-year question and we talk about it. They talk about if they've encountered military players. I tell them as I find more information coming down my end, I'll pass it on to them."
Toth hopes to use the 60 days of leave graduates from West Point are granted after commencement to attend offseason activities for whatever teams selects him, but details are still scarce. In 2016, a rule was put in place that allowed athletes to request to be put on reserve status rather than be assigned to active duty posts so they can sign contracts with professional sports teams. The rule was rescinded in 2017. Despite the change and the negative impact it could have on his draft position, Toth wouldn't change a thing.
"Absolutely zero regrets," Toth said. "There are times at the academy that it's rough. You have training exercises where you are out in the woods for eight days straight and it rains for seven of them. You get in certain situations and you think, 'what am I doing here?' That's with any adversity. You realize it's when you dig deep and figure out your real motives, but again I have zero regrets about it."
The challenges facing Toth reflect the responsibilities all athletes who attend West Point must fulfill during their years there.
"A bunch of things about West Point are unique," Toth said. "The strength staff has to overcome us losing weight during military training. They put 30 pounds on us and then we lose 30 pounds in the field (during military training) and they have to put it back on. The coaches have to coexist with officers and be in line with the standards and policies at West Point. The coaching staff is unbelievable. They are definitely the best staff we can have at West Point. They were the main part in changing the program."
The Senior Bowl is a unique experience for college athletes since their only concern all day is football. From team meetings in the morning to practice in the afternoon and finally interviews with NFL teams at night, it is more than 12 hours straight of all football. Long days are nothing new to Toth, though being able to only worry about football is not a luxury he enjoyed at West Point.
"You would hope for more than 24 hours in the days," Toth said. "It's time management. You wake up at 5:30 or 5:20 and you have football first and you worry about the workout and conditioning. All of a sudden you go back to your company and you're in formation, now you're worried about the military aspect. From 7:30 to 12, you are in class and you're worried about academics. In the afternoon you can have some character development opportunities and military training. Where you are is where you are focused. Go for practice, lifts, meetings, film, you're focused (on them). Then back down and you do your school work and homework and you repeat it the next day."
Army's offensive system is just as unique to modern college football as the schedules for their athletes are to their counterparts at other schools. Head Coach Jeff Monken has been at Army for four seasons and installed a run-heavy attack that helped the school go 18-8 the last two seasons, including two victories over Navy. Last year, Army ran the football 785 times and passed it just 65 times.
Many offensive linemen coming out of college have to adjust from a pass-heavy spread system that rarely has them in a three-point stance, which is required in the NFL. Toth's challenge is the opposite. He has great experience in a three-point stance and moving forward in the run game, but was not asked to protect the passer much. He began the learning process at the East-West Shrine All-Star Game last week.
"For me personally, it's just repetitions and making up for lost time," Toth said. "Last week I probably pass set more times than I did all of last season. It just takes a lot of dedication and focus this week. It's going to take a lot of me talking to my teammates that have a lot more experience and talking to the coaches. Getting as many reps and as much out of every rep I get in practice. Last week, (Seattle Seahawks offensive line coach) Pat Reul gave me a few things to practice in my room to get a feel and get used to being uncomfortable."
While he is looking forward to showing pro evaluators he can pass block at the combine, it is still not his number one goal this week. His biggest concern still revolves around his commitment to serve in the U.S. Military, which gives him a different perspective than the other prospects in Mobile.
"The entire experience here is just development and becoming a better player," Toth said. "For how much people talk about being out two years, I have two years to gain more weight and study football. Everything I'm doing and seeing this week is development. Some guys fall in the trap of just thinking about draft stock and trying to raise it. It's my last concern right now. My first concern is putting out a good name for West Point and myself, and developing myself as a player and person."
Toth measured in at 303 pounds and just under 6'6 when measurements were taken Tuesday morning. He is the right size for an NFL tackle, a position he showed athleticism playing on the move at Army. Some project him as an early third day pick when the draft comes in April. It remains to be seen whether he will make a name for himself in the National Football League, but we do know for the next two years he will be putting his career on hold to serve his country in the United States Army. This week in Mobile will help determine what happens when that commitment is fulfilled and he has a chance to embark on his professional football career full-time.