EAST RUTHERFORD, NJ - Sunday promises to be a memorable day for the Giants, but will it be one in which their hopes are realized or their dreams are dashed? Will they be celebrating two vital triumphs or lamenting lost opportunities? Planning for another game or beginning a long, cold offseason?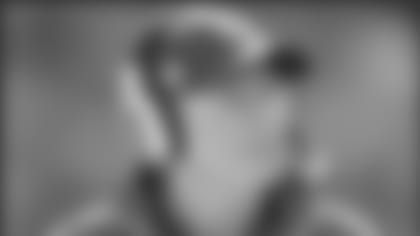 It will all come into focus during a three-hour period beginning at 4:15 Sunday afternoon. The 9-6 Giants will visit the 6-9 Washington Redskins at the same time the Chicago Bears play the Green Bay Packers in Lambeau Field. Victories by the Giants and Bears will put the Giants in the playoffs for the fifth time in six years. A loss would leave the Giants with a very unsatisfying 9-7 record and a season-ending three-game losing streak.
The emotional outcome gets murkier if the Giants play well and win, but are excluded from the playoff field because of a Green Bay victory. Will they take some satisfaction from finishing the season with an impressive performance after two tough losses and 10 victories or will they feel empty because the postseason will go on without them?
"We have one thought in mind," Coach Tom Coughlin said, "and that is to play the kind of game that we can all be proud of, to win our 10th game, to go 3-3 in the division and to at least get rid of the taste from (last week's 28-point loss in Green Bay) and give ourselves something to be proud of here as we finish the regular season. And then whatever happens, happens."
"We talked this offseason about making sure what happened last year doesn't happen again," quarterback Eli Manning said of the two lopsided losses that concluded the 2009 season. "If it does end, you want to end playing well and give yourself a shot, with what you had at this moment you did the best that you could. We've had other opportunities this year. We didn't come through, but now we have a different opportunity and let's make the best of it."
The Giants proved three years ago how you qualify or where you are seeded doesn't matter, it's simply reaching the playoffs that is important. In 2007, they were seeded fifth in the NFC and won games at Tampa Bay, Dallas and Green Bay on their way to Super Bowl XLII, where they defeated the New England Patriots.
Should the Giants and Bears win, the Giants will be seeded sixth in the NFC. If they win and Chicago loses to give Green Bay the sixth seed, the Giants will finish out of the playoffs while winning 10 games for just the second time since the NFL began playing postseason games in 1933. In 1988, when each conference had just one wild card team, a 10-6 Giants team lost on the final day of the season to the Jets and did not make the field. Since the NFL's realignment in 2002, four teams have finished a season with double-digit victories and not made the playoffs: Miami in 2003, Kansas City in 2005, Cleveland in 2007 and New England in 2008.
"I'm not going to be happy with that," guard Chris Snee said of the possibility the Giants might join that list. "I think that we expect much bigger things around here than to just finish with a win and be 10-6. We expect to be in the playoffs, contend to win the division, and be in the Super Bowl. That's what we expect and as of two weeks ago in the fourth quarter, that's what we running towards. We thought we were in great shape."
"If 10 wins doesn't get you into playoffs, the parity this year has made it a little difficult to secure a playoff spot," tight end Kevin Boss said. "We don't want to have a repeat of last season where we didn't show up to that last game. Regardless of whether we make it in or not, we want to come out strong and make a statement this last game and hopefully Chicago can help us out."
The Giants are hopeful they will have a chance to reach their goals. But they can't be completely confident, because they let control of their destiny slip through their hands with the loss last week to the Packers. Now they need help from a Chicago team that has already clinched the second seed and a first-round bye. In other words, the Bears don't have nearly the same incentive as the Giants – or the Packers.
All the Giants can do is take care of their business in Washington and hope the Bears are motivated to knock out their archrivals.
"I think you always have hope," said center Shaun O'Hara, who will not play because of an Achilles injury. "At this point of the year, you never know what can happen. Who would have thought that Philadelphia would lose to Minnesota (on Tuesday night)? That's the nature of this game. That's why you always have to bring your A-game and you always have to play. We have a lot to play for. The playoffs are certainly one of those things, but even if you take that out of the equation, there are still a lot of things to play for. Ten wins is a pretty big accomplishment in the NFL, and it's hard to win 10 games. I think that's where our mindset is."
"We have a big opportunity," running back Brandon Jacobs said. "We have a lot of character in this room, and we've got guys who can fight from behind. It's just that lately we haven't been playing great. We have been turning the ball over, and you can't win games in this business that way. You can't give it away. We've done everything that we could to give these games away to our opponent, and that's why we're in this position right now.
"We're coming from behind now. If Chicago wins and we win, we're in the playoffs. If Chicago loses and we win, we're not in the playoffs. There is nothing we can do about it. We did it to ourselves. We'll end the season with a win instead of a loss, and a lot of people will still be down. Folks will be down if we don't make the playoffs, but folks will really be down if we don't end the season on a good note."
Many Giants, Coughlin included, said they will not be monitoring the scoreboard to check on the progress of the Bears' game.
"My honest opinion on that is that my concern is with our team – our team playing well, our team eliminating the taste that we had last weekend after we played and play the way we're capable of playing, that's my concern," Coughlin said. "We had two weeks when we were in control of our own situation. We need help now. We pray that we get that help. The first thing we have to do is go to Washington and win and that's all I've been focused on, not the other part."
Several other players said when the opportunity presents itself, they will see how the Bears are doing.
"I'm going to be looking at the scoreboard," defensive tackle Barry Cofield said. "If it's up there, I'm going to check it out. It's not going to affect the way I play, but I'm definitely interested to know what's going on in that other game.
"I've actually got some friends on the (Bears) and they told me they're going out there to win. Their defense didn't play well last week – a lot like ours – so that's just the way this league is, teams have a lot of pride and if you don't play the way you expect to play one week, you definitely want to go out there and do better the next week."
"I think you guys are peeking, too," cornerback Terrell Thomas told reporters. "We need a little luck. If Chicago needs anything, tell them to call us over here and we'll help them out as much as we can. We definitely need a little luck, and the main thing we have to do is beat Washington. That's our goal."
It's the only thing they can control. They Giants know the Chicago result becomes moot if they don't beat the Redskins, a team they defeated, 31-7, on Dec. 5. Talk about bad feelings. The Giants might hit a new low if Chicago does win, but they don't take care of business and fall in Washington.
"We're just playing to win and whatever the ramifications of this week's game are, that is completely out of our hands," Cofield said. "We just need to go out there and play to win, play to get our 10th win, win a game in the division and just go on to whether it be a playoff run or the offseason, either way you want a good taste in your mouth and the only way you can do that is by winning this last game."
"All we can focus on is what we can control," Manning said. "That's playing the Redskins on Sunday. If we don't handle our business, that doesn't mean anything, no matter what else happens. We have to go out there, we have to get back to playing good football. We haven't finished these last couple games and the Redskins are playing well. They played well these last few weeks. We have to be able to match the intensity and go out there expecting to play our best.
"If one team is up by three points it's not going to make a difference for us. The worst thing that could happen is all of a sudden we think we don't have a shot to make the playoffs and we don't prepare and we don't play our hardest and Chicago wins. That's what you can't let happen. We have to go in expecting everything to work out for the best, feeling that Chicago is going to win for us, go in with that attitude. If that doesn't work out, we gave it our best shot and it didn't work our way."
*In addition to O'Hara, the Giants will be without their leading receiver, Hakeem Nicks, who has a broken toe, and defensive end Dave Tollefson, who is sidelined with a knee injury.
Cornerback Corey Webster (ribs/knee), defensive tackle Chris Canty (neck) and safety Brian Jackson (knee) are questionable. Webster did not practice all week, while the other two players practiced on a limited basis today.
"They're just sore," Webster said of his ribs. "With ribs, when you sneeze, cough, whatever you do, you can feel them. I'm just trying to take the time and hopefully I'll do everything that the trainers and the staff have been working with me and I'll be good on Sunday. If I don't think I can help the team or play like I normally play, then I don't want to be out there or hurt the team in any kind of way. If I can go, like I said, then I'm going to try to be out there. I can't put a timetable or percentage on nothing though. Just want to do everything I can do and work hard and hopefully I can be okay for Sunday."
If Webster can't play, Aaron Ross and Michael Coe will see more playing time.
*O'Hara's absence means Rich Seubert will move back to center, where he started six games when O'Hara was sidelined with a sprained foot. David Diehl will move from tackle to guard and Shawn Andrews will step in at left tackle. The three players started in those positions at Seattle on Nov. 7. Andrews is still battling back issues but is eager to play.
"There is a lot to be worried about with my back, but even if it's the second game of the season, I'd still do what I'm doing now," Andrews said. "Just kind of go over everything with a fine tooth comb and make sure I'm ready. It's Friday and I feel I'm ready."
*Safety Kenny Phillips is the Giants' recipient of the 2010 Ed Block Courage Award. Phillips recovered from microfracture knee surgery in 2009 to start every game this season.