EAST RUTHERFORD, NJ -**Notes and statistics from the Giants' 23-7 victory over the Minnesota Vikings.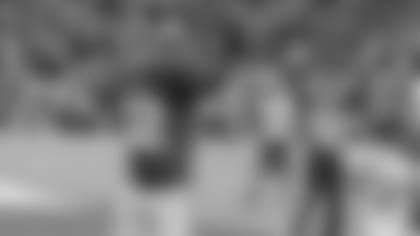 Giants vs. Vikings Gameday Photo](http://www.giants.com/photos/photos/Game-Photos-Giants-vs-Vikings/0b89d293-48fa-46f1-959a-15e00a46e5ae)
*The Giants won for the first time since the 2012 season finale and are now 1-6 on the season.
*The defense did not allow a touchdown – the Vikings' only points came on a punt return – and has given up only three points in the last six quarters.
*The Giants did not allow an offensive touchdown for the first time since Oct. 14, 2012, when they won at San Francisco, 26-3.
*Minnesota did not score after the first quarter, the first time the Giants held their opponents scoreless in the second half since Dec. 30, 2012, when they shut out the Eagles in the final two quarters in the season finale. It was the second game in a row the Giants did not allow a second-half touchdown.
*The Giants rushed for 64 yards, their lowest total in a victory since Oct. 30, 2011, when they ran for 58 yards in a win over Miami.
*The Giants' time of possession of 36:22 was their highest since they owned the ball for 37:05 vs. New England in Super Bowl XLVI and their highest in a regular-season game since Nov. 14, 2010, when they held the ball for 37:51 in a loss to Dallas.
*The Vikings rushed for only 30 yards – 28 by defending NFL rushing champion and MVP Adrian Peterson – the lowest total by a Giants opponent since Dallas ran for 19 yards in a Giants victory on Oct. 28, 2012.
*The longest run by each team was eight yards.
*Minnesota quarterback Josh Freeman completed only 37.7 percent of his passes (20 of 53), the lowest percentage by an opposing starting quarterback since Buffalo's Trent Edwards hit 34.6 percent of his passes (nine of 26) on Dec. 23, 2007.
*The Giants had no offensive turnovers (they did lose a fumble on a punt return) for the first time since the victory over Philadelphia in the 2012 finale. They have won 12 of their last 14 games in which they had no offensive turnovers.
*The Giants took the opening kickoff and held the ball for 17 plays (including Josh Brown's 35-yard field goal) and 9:36 on a 68-yard drive. It was the longest the Giants owned the ball since a 13-minute possession (which ended with a kneel-down) at the conclusion of their 41-7 victory in Seattle on Nov. 7, 2010. It was their highest number of plays on one possession since Nov. 25, 2012, when they relinquished the ball on downs after keeping it for 17 plays vs. Green Bay. The Giants also had a 16-play drive spanning the third and fourth quarters that lasted 8:31 and ended with another Brown field goal (from 24 yards). Their previous long drive this season consumed 6:02 at Chicago.
*The Giants led at halftime, 10-7, their first lead after two quarters since Dec. 30, 2012 vs. Philadelphia.
*This was Tom Coughlin's 152nd career regular-season victory. That moved him into a tie, at least temporarily, with St. Louis coach Jeff Fisher for 16th place on the NFL's career list. Next week, the Giants visit Philadelphia and St. Louis hosts Seattle on Monday night.
*Eli Manning completed 23 of 39 passes for 200 yards, a touchdown to Rueben Randle and, for the first time this season, no interceptions.
*The 200 yards increased Manning's career total to 33,448. He needs 15 yards to surpass Phil Simms and move into first place on the Giants' career list.
*Peyton Hillis, who signed with the Giants last week, started at running back and shared duties during the game with rookie seventh-round draft choice Michael Cox. Hillis rushed for a team-high 36 yards and a touchdown on 18 carries and Cox added 23 yards on his first 11 career carries. Neither player had a rushing attempt this season entering the game. David Wilson (neck) and Brandon Jacobs (hamstring) were both inactive.
*Hillis scored the Giants' second touchdown on a one-yard run. It was his 22nd career rushing touchdown and his first since Dec. 2, 2012, when he scored on a two-run for the Kansas City Chiefs in a victory over Carolina.
*Fullback John Conner caught his first three passes as a Giant, for 17 yards.
*David Baas started at center after missing the previous three games with a neck injury. But Baas suffered a knee injury on the Giants' first possession and was replaced for the rest of the game by Jim Cordle.
*Justin Tuck had the Giants' only sack, a 14-yarder of Freeman in the third quarter.
*Antrel Rolle got his second interception of the season on a one-handed grab of a Freeman pass intended for tight end Kyle Rudolph.
*Middle linebacker Jon Beason led the Giants with nine tackles (five solo).
*Mathias Kiwanuka started for Jason Pierre-Paul at right defensive end.
*Cornerback Trumaine McBride made his second start of the season at left cornerback for Corey Webster, who was in uniform for the first time since the game vs. Denver on Sept. 15. Webster has a groin injury.
*Marcus Sherels scored the Vikings' only touchdown on an 86-yard punt return. It was the third punt return touchdown scored against the Giants this season (one less than the other 31 teams together have given up). The others were by Denver's Trindon Holliday (81 yards on Sept. 15) and Kansas City's Dexter McCluster (89 yards on Sept. 29).
*Minnesota kicker Blair Walsh missed a 53-yard field goal attempt in the second quarter, the first unsuccessful try by a Giants opponent this season. Opposing kickers were 14-for-14 prior to Walsh's attempt, which came up short. Walsh was 12-for-12 on attempts 50 yards or longer in his career, including two this season.
*The Giants' inactive players were running backs Brandon Jacobs (hamstring) and David Wilson (neck), cornerback Jayron Hosley (hamstring), safety Taylor Cooper (shoulder), tight end Adrien Robinson (foot), defensive tackle Johnathan Hankins and quarterback Ryan Nassib.
*Mariano Rivera, the great New York Yankees relief pitcher who retired after the 2013 season, participated in the pregame coin toss. The Giants honored Rivera with a tribute after the teams took the field. Rivera then ran onto the field wearing a blue Eli Manning jersey accompanied by Metalica's familiar "Enter Sandman."
*The Giants trail in the regular season series with Minnesota, 13-10.
*The Giants improved to 23-33-1 on Monday night, including 8-8 at home.