EAST RUTHERFORD - Like a wedding or a graduation, the NFL Draft is an unforgettable event for those players selected. Almost every veteran player can recite where he was, who he was with and who broke the news to him. As the Giants prepare for this year's draft, which is scheduled for April 22-24, several players this week looked back on the day they entered the NFL.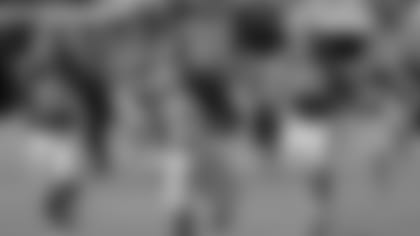 Q: What do you recall about the day you were drafted?
Webster: "Just being anxious, wanting to be a part of somebody's club and just trying to get it all behind me. When Coach (Tim) Lewis (the former defensive coordinator) and Coach Coughlin called me, I was excited to move forward and start working for a team. Before the draft you're just kind of out there. You don't belong to anybody. So I was happy and excited to be part of a team and get that behind me."
Q: Where were you on draft day?
Webster: "I was home with my family in Louisiana. My whole family was there. My dad cooked like he always does. And I greatly appreciated the fact that I got to hear my name called."
Q: Did you get the call before you heard your name?
Webster: "I did. I was going back and forth at the time with my agent, Jimmy Sexton. He told me at the time that Miami was trying to move up to get me. (The Dolphins were then coached by Nick Saban, who had been Webster's coach at LSU.) But he said, 'The Giants are right there and they're going to get you.' So I kind of knew what was happening before it happened. I was on the phone with my agent when Coach Lewis beeped in and said, 'You're going to be a Giant.' I talked to Coach Coughlin after that."
Q: What is it like when you're sitting at home and you hear your named called on the television?
Webster: "It's a good feeling. It lets everybody in the world know you're part of something. You're out there on your own, you're competing against everybody and once you're part of a team, you get to move forward and help them work for a championship."
Q: You grew up in and played college football in Louisiana. What were your feelings about coming to the New York/New Jersey area?
Webster: "I was just happy and blessed that I was going to be a part of any team, any organization. I was ready for the move from Baton Rouge to the Big Apple."
Q: You were the Giants' first draft choice that year (they had traded their first round selection to San Diego in the Eli Manning deal). Does that mean something to you?
Webster: "It does. It means a lot when a team goes out and uses its first pick on you."