EAST RUTHERFORD - Like a wedding or a graduation, the NFL Draft is an unforgettable event for those players selected. Almost every veteran player can recite where he was, who he was with and who broke the news to him. As the Giants prepare for this year's draft, which is scheduled for April 22-24, several players this week looked back on the day they entered the NFL.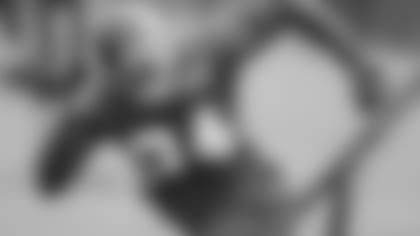 DE Mathias Kiwanuka, Boston College, first round selection by the Giants in 2006 (32nd overall pick)
---
Q: Can you tell me about the day you were drafted?
Kiwanuka: "It was probably the most stressful part of my career. I was sitting on the couch and I remember my family got up immediately to watch the beginning and all the pre-draft shows. I wanted to just relax and try and get my mind away from it. As the picks started rolling off, I remember just staring at my cell phone every time another team was announced. Just hoping and dreaming, and having no idea where I was going to end up in the next couple of hours or days. It was very exciting, but it was also very intense."
Q: Were you at home in Indianapolis?
Kiwanuka: "I was at home sitting on the couch in Indy with my family all around me."
Q: Was there a party or just your family?
Kiwanuka: "It wasn't a big party, just close family and a couple of friends. I didn't do a whole lot. Like I said, I was more stressed out than anything. I just wanted to get the whole thing over with."
Q: You had to wait until the very end of the first round. Was it interminable?
Kiwanuka: "With every pick, starting in the middle of the first round, I started thinking, 'Okay, there is a realistic chance of me going to this team or that team.' Every time another team was put on the board, I just started envisioning my life in that city and how I would fit into that team. I did that for a good 10-12 teams, every time they were up."
Q: Were you still watching when your name was called?
Kiwanuka: "I was still watching. I got a phone call from coach (Tom Coughlin) and he said, 'We are going to take you with our next pick,' and the weight of the world got lifted off my shoulders. I didn't understand it was going to be New York, since I knew they had (Justin) Tuck, Osi (Umenyiora) and (Michael) Strahan. They had a number of pass rushers, but knowing that the whole process was over and that I knew where I was starting my career and where I would be for the next few years – it was an unbelievable feeling, and I was so happy and appreciative. I talked to (equipment manager Joe) Skiba, (former defensive line coach Mike) Waufle and a couple other people on the phone. By that time though, my head was just spinning and I was so happy and excited to get to New York."
Q: What is it like to see your name come up as a draft choice on TV?
Kiwanuka: "It's amazing, it really is the culmination of a dream. You think about all the hard work you put into it as a little kid and you're watching the draft when you're growing up and one day, poof, they're showing your highlights on there. The announcers are talking about you and they are comparing you to other players, and it really is a dream-come-true."
Q: Did Paul Tagliabue pronounce your name correctly?
Kiwanuka: "I think he did. The trivia thing is that I'm the last person's name he ever announced at the draft. But I'm pretty sure he got it right."
Q: Is it still a point of pride for you that you were a first round selection?
Kiwanuka: "Yes. I think that I'll always be proud that I was a first round pick. At this point, I think it's more important to other people than it is to me. I think once you get here, you realize you're going to be humbled again real quick. So I got here and started working and proved that I was deserving of that first round pick. I spent a lot of time to prove that the Giants made a good decision, and I feel you're always going to have that little extra pressure in the league as a first round pick, because that's how people look at you. It's a good motivating factor and it's something I always use to push me."