EAST RUTHERFORD, NJ - Just 16 days ago, the Giants defeated the Dallas Cowboys in a Monday night game. On Sunday, they will play a rematch in New Meadowlands Stadium.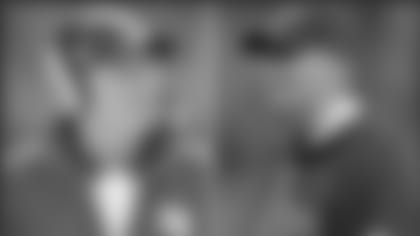 But any advantages the Giants might have had by playing their NFC East rivals twice in three games have likely been mitigated by the significant changes that have rocked Dallas this week. The Cowboys, mired in a five-game losing streak and saddled with a 1-7 record, fired head coach Wade Phillips and replaced him with offensive coordinator Jason Garrett, the Giants' former backup quarterback. Phillips' duties as defensive coordinator were assumed by Paul Pasqualoni, the defensive line coach who was the coordinator in Miami last season. The Cowboys also have a new starting quarterback, since Tony Romo suffered a fractured clavicle when he was tackled by Michael Boley in the second quarter of the game in Dallas. Jon Kitna, who played the majority of the Giants' 41-35 victory on Oct. 25, will start his third game in a row.
The Giants expect the switch to Garrett and Pasqualoni to produce new wrinkles in the Cowboys' offensive and defensive schemes and to inspire the players to turn around their season.
"I would imagine that there will be something different," Coach Tom Coughlin said today. "There's no doubt. Paul Pasqualoni being the defensive coordinator, having returned back from Miami where he was the defensive coordinator there – he's been there with Wade, been to all of the meetings and probably has some ideas of his own that we may see, but we've done a little research on that. Whether or not there will be something we would be surprised by, I'm not sure."
"They can put in a few new things and a few new tricks," quarterback Eli Manning said. "Maybe a different blitz here or have a different philosophy on defense. They can't come in and completely change everything, but you can have a different approach and mix up some things. We expect that. They'll have some new wrinkles and we have to be prepared for that."
Garrett has been calling Dallas' offensive plays since Phillips arrived in 2007, so it's unlikely he'll radically change his approach. But with the Cowboys desperate to end their slide and Garrett eager to prove he's head coaching timber, the Giants must expect the unexpected.
"If I had to guess, I would think that they would try and get back to their running game a little more," linebacker Keith Bulluck said. "They're just kind of abandoning it or they just haven't gotten it going. So I think usually good offenses channel through their running game."
Not surprisingly, Garrett provided no clues about specific changes he hopes to make.
"What we're going to do is we're going to continue to do the things that we think are good for us," he said on a conference call. "We're going to continue to try and address the things that haven't been good and correct those things. We did see the Giants just a couple weeks ago, and any time you're playing a division opponent, it's an opponent that you study throughout the offseason and you have a history with them. I know there have been some coaching changes there, but we feel like we know their team just because we have worked hard trying to get to know their team. I'm sure they feel the same way about us. Having said all that, again, it'll present a great challenge for us going forward on Sunday afternoon."
At least the quarterback is not a mystery to the Giants. Kitna threw 33 passes against them in Dallas, completing 16 for 187 yards, two touchdowns and no interceptions. His last start against the Giants was on Nov. 18, 2007 for the Lions in Detroit. Kitna threw for 377 yards that day. But he also tossed three interceptions, including two in the final 2:04, and the Giants prevailed, 16-10.
Since replacing Romo in the Giants game, Kitna started the Cowboys' losses to Jacksonville and Green Bay. He completed 67 percent of his passes in those games, but threw six interceptions against only two touchdowns. Kitna, who has also played for Seattle and Cincinnati, is 46-71 as an NFL starting quarterback.
"They (Romo and Kitna) both present challenges," said defensive tackle Chris Canty, a former Cowboy. "Both of them can sling it around the park. Both of them have run very, very explosive offenses. You know it's pretty much more of the same. They're more similar than they are different, and so they have little nuances here and there that we have to be prepared for with Kitna, little wrinkles here and there. But other than that, it's pretty much their same offense."
"We've had almost three games to look at Jon in that position and it's not a whole lot different from what was happening before other than the individual playing the spot," Coughlin said. "In terms of how the design is, they're doing a few things differently. (Rookie receiver Dez) Bryant is playing a little bit more on first and second downs. He is the third receiver. Those types of things, which we study and look at, and then the design of what they're doing, putting the ball up the field, so we're aware of that."
Garrett instituted one noticeable change today. For the first time all season, the Cowboys practiced in full pads.
"I know we have to get to work," he said. "We have to put what's happened so far this season behind us and get going forward. It's important to have a great Wednesday in the NFL. The Giants will present a great challenge for us on Sunday afternoon. They're an awfully good football team in all three areas. What the players and coaches need to know is that we need to get to work to get ready for this challenge that we have coming ahead."
Because of the coaching changes, because they believe the Cowboys are more talented than their record indicates, the Giants expect to see a different Dallas team than the one they encountered two weeks ago.
"It's like new life," Bulluck said. "It's like they're getting new life pumped into that team, pumped into the building. So they're going to come out definitely with a different energy, a more positive energy, because I'm sure the last two months things haven't been going well. So I'm sure that Coach Garrett is definitely going to rejuvenate them and have them coming in fighting like the Cowboy team that they were supposed to be the last 10 years."
"You can most definitely expect them to be more fired up," linebacker Michael Boley said. "I mean for us going down there and getting a win in their home field, they definitely want to come here and return the favor."
*Garrett wore a Giants uniform as Kerry Collins' seldom-used backup from 2000-2003.
"I had a great experience," Garrett said. "I was there for four years. The first year I was there was 2000, and we went to the Super Bowl and it was the year we lost to the Ravens. We had a great year and I had a great experience over the course of my four years. It's an outstanding organization. I think everyone who has ever been around it can understand that it starts at the top with the Maras and the Tisches, and it works all the way down through. They have done an outstanding job there for 75-plus years, and I feel fortunate to have been a part of that organization for four of those. I have great memories from that time."
Offensive lineman Rich Seubert is one of just three Giants players remaining from Garrett's tenure here.
"He was a good teammate," Seubert said. "He knew a lot of stuff. I was a rookie, he was going into his, what, 15th year maybe, I don't know. No, but I remember him and his wife well. He looked out for us. One thing I remember about him is he gave everybody a Christmas gift every year, everybody on the whole offense. It was just something little, but it was nice."
Seubert is not surprised Garrett has climbed up the coaching ranks.
"You could see that in him, yes," Seubert said. "He was very football smart. He was a great backup quarterback to have, and if you need to play, he knew what he was doing every week. He's smart, yeah. I'm happy for him."
*The Giants must reconfigure their offensive line for the second week in a row. Neither Shaun O'Hara (foot), nor David Diehl (hamstring/hip) practiced today.
Coughlin said O'Hara is "pretty much day-to-day. We are preparing the guys that are healthy to play."
Seubert, normally the starting left guard, was the center in the Giants' 41-7 victory last week in Seattle.
Coughlin would not say who will play left guard, where Diehl, normally the left tackle, lined up against the Seahawks until he was injured. Kevin Boothe, just activated off the physically unable to perform list yesterday, and rookie Mitch Petrus are candidates.
"I think I'm ready to come back," Boothe said. "Coach presented this opportunity for me to be out there and I'm looking forward to it."
Shawn Andrews is expected to remain at left tackle.
With O'Hara, Diehl and Will Beatty sidelined and Adam Koets on injured reserve after tearing his ACL in Seattle, the Giants are down to seven healthy offensive linemen.
"The idea is to have the backups - the second group, what have you - be just as good or as talented as the first guys because injuries do happen in this league," Andrews said. "So you have to be aware of that and you have to have a game plan in place to counter injuries."
*O'Hara and Diehl were two of the six Giants players who did not practice today. The others were end Osi Umenyiora (who has not been practicing on Wednesdays to manage his knee issues), running back Brandon Jacobs (illness), fullback Madison Hedgecock (hamstring) and wide receiver/return specialist Darius Reynaud (hamstring).
Tackle Will Beatty, who had foot surgery in September, practiced on a limited basis.
Linebacker Gerris Wilkinson, who has a broken hand, practiced fully.
*The game Sunday against Dallas has been designated as the Giants' Military Recognition Game as part of the NFL's and its teams observance of Veterans Day and their salute to members of the Armed Forces throughout the month of November.
Tomorrow – Veterans Day - the Giants will host local Wounded Warriors at practice, after which they will have lunch with the team.
On Sunday, 25 Wounded Warriors and 125 Servicemen and women will be on the field for special pregame and halftime ceremonies. Major General Richard P. Mills will introduce the Giants when they run out of their tunnel onto the field. General Mills is currently deployed to Afghanistan in support of Operation Enduring Freedom, where he serves as the Commander, Regional Command (Southwest) and the Commanding General, I Marine Expeditionary Force (Forward).
Reigning American Idol Winner Lee DeWyze will sing the national anthem and Roc Nation's Bridget Kelly, accompanied by the Navy Band, will perform a soulful rendition of America the Beautiful at halftime.
Throughout the game, live two way talk backs will be conducted with the troops at Camp Leatherneck in Afghanistan.
"Veterans Day is a chance for us to honor our great warriors and those that have provided us with the opportunities that we have in this great country to live under the blanket of freedom," Coughlin said. "We can't do enough for these people. I was able during the bye week to attend a Wounded Warriors function over in the city – General (Raymond T.) Odierno was there, Colonel (Greg) Gadson, was there – it was an incredible night. We had testimony from one wounded warrior about his particular story and I mean there wasn't a dry eye in the place. So the more we can do to acknowledge what these men and women have done for us, the better and to put them in a very high place and to recognize this day as a very important day in our country's history, if you will, just to say thank you for all that has been done for us."