EAST RUTHERFORD, N.J. –** He's coming off a five-interception game, his team is out of playoff contention, his injury-weakened offensive line may have to further mine the depth chart and his leading receiver might be done for the season.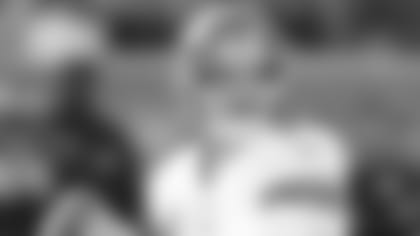 Know Your Opponent: Lions But Eli Manning soldiers on, concerned only with winning football games and improving the performance of the offense, his team and himself.
"I want to compete," Manning said today. "I want to make improvements and try to run this offense more efficiently and go out there and try to do the best I can and try to get a win."
That gets more difficult as more teammates succumb to injuries. Victor Cruz, who has 23 more receptions than anyone else on the team, missed practice with a concussion and knee sprain suffered in a 23-0 loss to Seattle last Sunday. Starting guards David Diehl (knee) and James Brewer (ankle) were also MIA, presumably leaving Brandon Mosley and Dallas Reynolds to line up with the first team.
Asked if Diehl and Brewer will be available when the Giants face the Lions Sunday in Detroit, coach Tom Coughlin said, "I hope so."
Manning has already been sacked a career-high 36 times. His five picks against the Seahawks raised his league-leading season total to a career high-tying 25. The Giants are 5-9 and guaranteed to finish with a losing record and in third place in the NFC East. Given the protection issues, particularly against a Lions defense that features outstanding tackles Ndamukong Suh and Nick Fairley, plus the record and Cruz's potential absence, Coughlin was asked if he would be wary keeping Manning on the field for the entire game.
"He wants to play," Coughlin said, "and he's looking forward to playing and competing and having a better game. I wouldn't expect anything different."
"I talked to coach," Manning said. "It never came up as a question whether I wanted to play or not and I never thought about it any other way but going out there and playing.
"We talked on Monday and we've done that over the years fairly frequently. I just go in there talking about things, how to get things back on track. What are some ways to get things going, to be better offensively?"
As always, Manning refused to make excuses for either the offense's poor performance or his own. The Giants have three offensive linemen on injured reserve (Chris Snee, David Baas and Jim Cordle), plus running backs David Wilson and Brandon Jacobs and fullback Henry Hynoski.
But Manning's approach remains unchanged, no matter who is on the field, what happened in the previous outing or what challenges the Giants face next.
"I think you've just got to forget about the last game," Manning said. "Whether you had a great game or a terrible one, you move forward and you prepare for that next game and you have ideas in your head on what plays are going to work and how they're going to turn out. Hopefully, they turn out that way and you make the throws and you make the plays that you know you can and so that's all I'm doing and I'm going to keep throwing it and keep trying to compete and doing whatever I can to try to win a game."
Manning is reluctant to even admit that issues exist - for example when he was asked about "playing behind some third or fourth-string offensive linemen."
"They'll be ready," Manning said. "They'll compete. Hopefully, we get some guys back, but whoever is in there we'll handle, we'll have a good plan and have all the faith in the world they'll do a good job.
"That's just part of it. You go out there and you've got to have confidence in them that they're going to do their jobs just like they have confidence I'm going to do my job. It doesn't change. Obviously, you try to maybe do some things to protect that. We're not going to put a new guy playing one-on-one on Suh all day and take seven-step drops and pump and go this way and that way. You've got to be smart about it in a sense, but you've still have got to run our offense and we'll make the best of it."
Manning certainly doesn't seem obsessed about whether or not he'll have an opportunity to throw to Cruz, who leads the team with 73 receptions for 998 yards.
"I haven't heard one way or the other," Manning said. "I don't know. You just try to go in there and the guys that are practicing. I have a talk with them a bunch and I have a great understanding with them and playing that way and if Victor is able to come back and play, then that would be great."
If Cruz can't play, Rueben Randle and Jerrel Jernigan would likely play larger roles in the offense. It was suggested to Manning that he could work with those young receivers with an eye toward the 2014 season.
"I'm not focused on next year quite yet," Manning said. "I'm still looking forward to this year and getting guys and getting better and making improvements. Whoever's in there, these guys are going to have great opportunities, whether it's Rueben or Hakeem (Nicks). These young receivers will get an opportunity to step up and do some things. We'll see what they can do. It should be good."