EAST RUTHERFORD, NJ - Mike Sullivan very much enjoys working with the Giants' most precious commodity.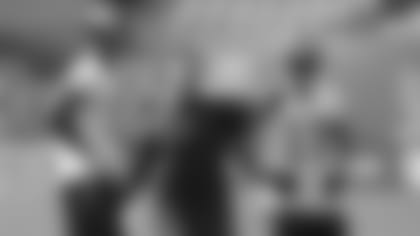 After six seasons as the team's wide receivers coach, Sullivan this year began tutoring the quarterbacks - including Eli Manning, whose performance dictates the Giants' success or failure more than any other player. Sullivan could have played it safe and stayed with the young, talented and rapidly improving wideouts. But when former quarterbacks coach Chris Palmer departed in January, Sullivan approached Tom Coughlin and expressed his desire to fill the vacancy.
"I enjoyed my time with the receiving corps and couldn't be more proud of the accomplishments of that young group, last year particularly," Sullivan said. "Being able to expand my horizons, so to speak, and coach a new position and be with a position that, quite frankly, is involved with every aspect of the play call and run game and pass game and is so broad that really it gives me a chance to sink my teeth into more of the offense. And I was really excited about the opportunity."
Both Manning and Sullivan are pleased with the early returns from their partnership. They've studied tape of Manning's performance in 2009, worked on fundamentals in offseason drills and are strengthening their bond in the organized team activities. The Giants were on the field for a spirited practice this morning, their last before a Memorial Day break.
"It's been going really well," Manning said. "It hasn't been a big transition, just because he's been in this offense. We came in the same year together (in 2004). And even before that, he was with Coach Coughlin in this offense. So he knows everything very well. A lot of it is just communication, how I see things, how I read things from a quarterback's perspective. He's used to looking at the receivers, what routes they have to run. A quarterback's a little different. It's how you read things, how you see things. It's little subtle movements and mechanics and footwork. A lot of it is meetings and talking to each other and seeing how each other thinks."
"The transition is going very well," Sullivan said. "I couldn't be happier with the progress that the group is making. It started early on in March once Eli and the rest of the vets came back in. (We had) some individual meetings and the process of looking at the cutups and looking at each passing play - just getting on the same page. I have seen things through the lens of the receivers as the receivers coach in the pass game perspective for the past six years. And to sit down and to look at every play with Eli and make sure we are seeing things the same way – and getting feedback and getting on the same page – it has been going very well so far."
Of course, Sullivan has taken a leading role in Manning's development at a much different point in the quarterback's career than Palmer, who assumed the position in early 2007. Manning was then still a young, developing quarterback with many lines to fill in on his resume.
Since then, Manning has won a Super Bowl, been selected to a Pro Bowl and, last year, had the finest statistical season of his career. In 2009, Manning completed 317 of 509 passes (62.3 percent) for 4,021 yards, 27 touchdowns, 14 interceptions and a passer rating of 93.1. The completions, percentage, yards, touchdowns and rating were all career highs.
Neither Manning nor the Giants believe he has approached his zenith. So a big part of Sullivan's job is to pull him up even higher and help him continue to improve.
"I have known Eli for six years and worked closely with him, (though) not to this extent," Sullivan said. "And it has been very, very exciting and rewarding for me to see a guy that is constantly trying to get better. We have done some little drills and some things one-on-one with the other quarterbacks you would think someone with his experience would take for granted and not take it seriously. But he is right up there asking, 'Hey, how does this look? Am I overstepping here?' And it makes my job easy when you have someone that is so committed to trying to improve.
"I think from the standpoint of what my role is, it is to make sure from a consistency standpoint, those great performances that we have seen him have in the past and some of the great things that he has done, that he has developed to this point, that we stay out of those valleys and to keep the type of performance consistency at a higher level and then to continue to help him improve in all of the small areas. And again, his attitude and his work ethic make my job a lot easier."
Consistency is a favorite Coughlin buzzword and an elusive attribute all players strive for yet find difficult to achieve. Which begs the question, how will Sullivan foster consistency in Manning?
"That is the challenge," Sullivan conceded. "I think it all starts with going back, looking at the tape, looking at a play and saying, 'Okay, what were you thinking here? Why were you inclined to make this decision?' And talk through – from my standpoint – 'Well, based upon that now, if we could go back in time, what if we went about it a different way?  What if we looked here, what if we made this adjustment, etc?' That kind of give and take makes sense. It is not memorization, it is not, 'I'm doing it because I have to do it.'  But it becomes natural, and then just continuing to reinforce the natural. And whether it is in a meeting, out at practice, putting him in those situations where we can again reinforce that habit. Again, with someone with such great talent that he is not out there thinking, he is not out there overanalyzing. He can just go out there and use his God-given ability and make good, fast, accurate decisions."
Like all coaches, Palmer had his beliefs and ideas and his own drills, which he thought were best to develop quarterbacks. Some bordered on the unusual, such as when he had the quarterbacks throw big rubber balls at each other last spring. The idea was to get them accustomed to using their feet to evade a rush. Those drills helped Manning to develop into one of the NFL's elite quarterbacks.
Sullivan is doing nothing radical, but he does have his own notions about how to improve Manning.
"Coach Sullivan has his own ideas," Manning said. "He's researched it and talked to other guys to get different things we need to work on. He might take some things from Coach Palmer, but he might not.
"You always work with drills and on your footwork and those things. I've asked him to watch those things closely and tell me if he sees something that I'm not doing right. I can see things on film, but some things you need another person to check out. But we're communicating very well and things are going smoothly."
*Guy Whimper, who has played tackle exclusively since 2006, is working at guard. Another backup lineman, Kevin Boothe, is sidelined indefinitely after tearing a pectoral muscle lifting weights.
"This is the first time he has gotten a chance to be a guard," line coach Pat Flaherty said of Whimper. "You want to have dual positions for everybody. Last year or the year before, David Diehl even took some snaps at the center-quarterback exchange, because Shaun (O'Hara), Chris (Snee) and Richie (Seubert) all had something. Something was wrong with Kevin Boothe, too, so there wasn't anybody else.
"For Guy Whimper to be exclusively a tackle, that doesn't help us. He's got to get some work at guard. He's handled the offseason very well. He's gotten stronger and bigger. But I'm not a big believer in making a lot of judgments in shorts. I want to see them in pads and how they hold up day-to-day when we start hitting and banging. That's when we're really going to make our decisions."
*Running backs coach Jerald Ingram has several surgically-repaired players in his group, including Brandon Jacobs (knee), Ahmad Bradshaw (feet and an ankle), Andre Brown (Achilles tendon), plus fullback Madison Hedgecock (shoulder). But he's not worried about how the players will perform after their operations.
"In his game, if you're not hurt, you're not playing the game," Ingram said. "Everybody plays hurt in this game. If you're worried about it, it's time for you to retire.
"To be honest, I think there are lessons learned in being hurt and having to overcome. You're either ready to say you're going to overcome to be the best player you can be or you're ready to retire. Who wants to retire early in their career if they haven't gotten to where they want to be? I've addressed it in our meetings – there isn't anyone around here ready to retire. I'm not, you're not, so let's overcome it. There are things you have to do to fight within it. But one thing you don't do is change who you are. If our identity is being physical and tough, play physical and tough. There's no need to play above the Xs and Os and make these superhuman cuts. Be the same physical guy you were to begin with. Our motto is, 'It starts with us, it ends with us.'"
*Defensive tackle Barry Cofield did not work today because his wife, Kendra, went into labor…Defensive end Osi Umenyiora sat out with a sore hip.
**[ ](http://www.nyg2010.com/)**
If you'd like to submit a question or comment to Michael, click here.