Giants Tackle Breast Cancer in October
Partner with Breast Treatment Task Force, ZTA and Susan G. Komen Foundation
EAST RUTHERFORD, N.J. – The New York Giants are pleased to announce that they will be partnering with several organizations during the month of October to raise critical funds for breast cancer research and assistance for patients without access to health insurance. The month's activities will include: the sale of pink Giants fundraiser hats, a PSA by the Giants' Gerris Wilkinson, musical performances, special honorary team captains, and pink team towels on the sidelines during games.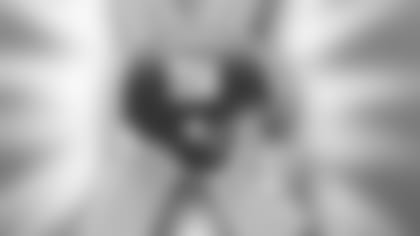 The Giants will join the NFL to "tackle breast cancer" during the month of October.
Beginning this Sunday, October 7th, the Giants will partner with the Breast Treatment Task Force to sell pink Giants hats with a pink ribbon on the side. Proceeds from the sale of the hats will benefit the Breast Treatment Task Force (BTTF), which provides funds and resources to facilitate free breast surgeries, treatments and educational outreach to patients without access to health insurance and underserved women. BTTF works though the Big Bam! Foundation, a 501 c3 organization. Gerris Wilkinson, the Giants' second year linebacker, has recorded a PSA to encourage fans to support the initiative. Wilkinson lost his mother, Denise Bowers, to cancer during his senior year of college. The goal is to raise $70,000 this year for BTTF, which will translate into one million dollars in health care for people with breast cancer who do not have access to health insurance. The Giants pink hat can be purchased in-stadium or online at www.Giants.com. Members of the ZTA sorority will also be selling the hats and distributing pink ribbons in the Giants Stadium parking lots prior to the game. ZTA has partnered with many NFL teams in recent years through their annual "Think Pink" community service campaign.
In order to celebrate the initiative, Melissa Jiminez, representative from Breast Treatment Task Force, will sing the National Anthem prior to the game against the Jets and will be surrounded by 25 survivors on the field in pink t-shirts. Marianne Vogt (NY Giants employee and breast cancer survivor) will be one of the honorary captains on the field for the coin toss and will be presented with one dozen pink roses. The four exterior spirals of Giants Stadium will be decorated with large pink ribbons and the message, "Giants Tackle Breast Cancer". In addition to the hats, pink wrist bands and temporary pink ribbon tattoos will be distributed to fans.
Giants coaches and players will also show their support by wearing "pins that touch hearts," which feature the NFL shield with a pink ribbon. Players will also use pink Gatorade towels on the sidelines, which will also be autographed after the game. The NFL will donate the pink towels to the Susan G. Komen Foundation and the American Cancer Society.
For more information on what the Giants are doing in your community, please visit www.giants.com. ](http://www.jointheteam.com/)