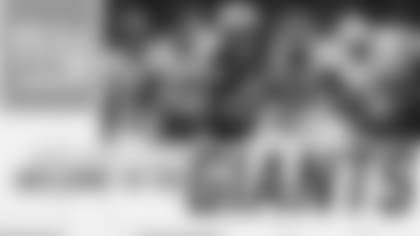 Experts grade the Giants' 2018 Draft Class:
Check back in five years to see to how these age.
Following the conclusion of the 2018 NFL Draft, media outlets handed out grades for all 32 teams, including the Giants in their first draft under general manager Dave Gettleman. First, here is a recap of the team's six picks:

Round 1 (2nd overall): RB Saquon Barkley, Penn State
Round 2 (34th): G Will Hernandez, UTEP
Round 3 (66th): LB Lorenzo Carter, Georgia
Round 3 (69th): DT B.J. Hill, N.C. State
Round 4 (108th): QB Kyle Lauletta, Richmond
Round 5 (139th): DT R.J. McIntosh, Miami
Grade: A+
NFC East: Eagles (B-), Cowboys (B), Redskins (C-)
"New GM Dave Gettleman just nailed it. First, give him credit for taking Penn State RB Saquon Barkley at No. 2 rather than reaching for a quarterback. Expect Barkley's impact to be wide-reaching in the short and long run. G Will Hernandez and OLB Lorenzo Carter should be starters by training camp. And Richmond QB Kyle Lauletta (Round 4) might quickly push aside 2017 third rounder Davis Webb as Eli Manning's backup and, perhaps, eventual successor." – Nate Davis
Grade: A
NFC East: Eagles (B+), Cowboys (C+), Redskins (C+)
"Praise yet another team for eschewing the temptation of gambling on tomorrow's quarterback and instead building a contender around the smart veteran it has today. GM Dave Gettleman told reporters during the draft that Eli Manning has shown no sign of physical decline—Manning is far from flawless, but he's certainly still a franchise QB.
"Saquon Barkley is the most intriguing running back to enter the league since Adrian Peterson in 2007, if not long before that. He and large, mobile guard Will Hernandez will give New York the ground game it has long been missing. Hernandez's movement ability can make it a more diverse ground game than the simplistic inside zone one we saw under Ben McAdoo, too. And with Manning's presnap IQ, the Giants can check in and out of the right run plays. Or, they can check into passes and different formations, since Barkley is dangerous as a receiver.
"With his next two picks, Gettleman restocked the front seven. Lorenzo Carter and B.J. Hill will both rush the passer in new defensive coordinator James Bettcher's aggressive, multifaceted scheme. The only downside to this draft is no slot corner was found. Using a fourth-round pick instead on Kyle Lauletta, particularly with last year's third-rounder Davis Webb on the roster, was a little bizarre." – Andy Benoit
Grade: A
NFC East: Eagles (A-), Cowboys (B), Redskins (B+)
"What a monster first draft in New York for Dave Gettleman. He transformed the Giants' running game with the banging Barkley-Hernandez combination. He also got good value when landing the types of front-seven players who fit their new 3-4 base defense under James Bettcher, led by Carter's pass-rush upside. The Giants didn't forget about QB, either, with Lauletta set to compete with Davis Webb for the right to succeed Eli Manning." – Vinnie Iyer
Day 1 grade: A-
Day 2 grade: A
Day 3 grade: A-
Overall grade: A-
NFC East: Eagles (A), Cowboys (A-), Redskins (B+)
"The skinny: Saquon Barkley was the No. 1 prospect on many teams' boards. Pass rusher Bradley Chubb, taken by Denver three spots later, could prove to be a better investment with this pick because of the attrition at running back, but there's no blaming them for taking Barkley. Hernandez is a brute of a left guard who will lead the way for Barkley. They had signed a couple of veterans inside, but Hernandez was good value near the top of the second round. Carter can play off the ball in coverage and against the run. He'll need to show the Giants he is committed football. Hill will disrupt things for offenses from his defensive tackle position. He ended up being the return from the Jason Pierre-Paul trade. The acquisition of linebacker Alec Ogletree took two picks from their Day 3 collection (fourth- and sixth- rounder), but that seems to be a worthwhile move for a team needing improvement at that position. The selection of Lauletta in the fourth round could prove to be a valuable pick in the next few years if the team is ready to move on from Eli Manning. McIntosh builds depth on the defensive line, but the team will need to find additional talent at wide receiver and cornerback after the draft to bolster those positions."
Grade: B+
NFC East: Eagles (C), Cowboys (A), Redskins (B-)
"General manager Dave Gettleman wasted no time making Penn State running back Saquon Barkley the No. 2 overall selection, raising criticism by some that he should have used up the allotted 15 minutes to pursue potential trade-down opportunities with Sam Darnold unexpectedly (more or less) still available. While it is true that the running back depth in this class could have afforded the Giants to look at other options, let's be clear, Barkley is an exceptional talent who complements the win-now moves already made in acquiring veterans Nate Solder and Alec Ogletree. Barkley is the hands-down favorite at this point to be the Offensive Rookie of the Year and New York will take a Giant step up in the win column in 2018 based largely on Gettleman's (and head coach Pat Shurmur's) wise decision to not get too cute. Guard Will Hernandez is the no-nonsense pile-mover to help assure Barkley's instant impact. I'm not quite as high on the hog-mollies Gettleman added along the defensive line, though there is no denying Lorenzo Carter's raw traits or defensive tackle B.J. Hill's bull rush. Frankly, I'm more intrigued by the Giants' fifth-round pick, long-armed defensive tackle R.J. McIntosh, though he will need to be much more consistent to earn playing time. Quarterback Kyle Lauletta lacks the big arm that generated so much buzz about Davis Webb a year ago, but he is savvy, highly accurate short to intermediate level passer who may prove a better fit in new head coach Pat Shurmur's offense." – Rob Rang
Grade: B
NFC East: Eagles (A-), Cowboys (B-), Redskins (B+)
"I'm not going to crush GM Dave Gettleman's first draft in charge of the Giants. I like the players he got, and we clearly have a different philosophy." – Mel Kiper Jr.