THE NFL MOVEMENT FOR AN ACTIVE GENERATION
NFL and Eli Manning help kids get moving with new national youth health and fitness campaign
New Orleans, LA –The NFL launched a new national youth health and fitness campaign today featuring players throughout the league during a community service event with the New Orleans Saints. NFL Play 60: The NFL Movement for an Active Generation will focus on the health and wellness of young fans by encouraging them to be active for at least 60 minutes a day.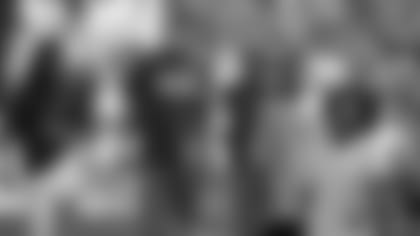 QB Eli Manning will join players across the league to bring the NFL Play 60 campaign to kids throughout the country.
Designed to tackle childhood obesity, NFL Play 60 brings together the NFL's long-standing commitment to health and fitness with an impressive roster of partner organizations— Action for Healthy Kids, Ad Council, American Heart Association, National Dairy Council, Nickelodeon, United Way, and the U.S. Department of Health and Human Services. In additional to national PSAs and online programs, Play 60 will also be implemented locally, as part of the NFL's in-school, after-school and team-based programs, from youth football to "What Moves U."
Players involved in NFL Play 60 include TOM BRADY (New England Patriots), STEVEN JACKSON (St. Louis Rams), and TONY ROMO (Dallas Cowboys), who will motivate and inspire kids as Play 60 team captains on NFLRUSH.com, the league's official website for kids; REGGIE BUSH (New Orleans Saints), ANTONIO GATES (San Diego Chargers), and JASON WITTEN (Dallas Cowboys), all of whom are featured in Ad Council public service announcements encouraging physical activity among children; GARY BAXTER (Cleveland Browns) and ROBERTO GARZA (Chicago Bears), who will post online health and fitness blogs at NFLRUSH.com; ELI MANNING (New York Giants), a national spokesman for "What Moves U," an in-school component of Play 60; and STEVE SMITH (Carolina Panthers), also a "What Moves U" spokesman and a featured player in Nickelodeon's "Let's Just Play" on-air health and fitness show. New York Jets COACH ERIC MANGINI is the official Coach Motivator for Play 60. His online messages on NFLRUSH.com will encourage kids to get and stay healthy.
To launch NFL Play 60, more than 25 teams helped build Youth Fitness Zones in their communities today, providing new places for local kids to be active. The fitness zone projects were part of the NFL's annual Hometown Huddle, a league-wide day of service in partnership with the United Way.
"We are taking a leadership role in the movement to get youngsters fit. Our players know the importance of staying healthy and it's important that young fans also understand the value of exercise," said COMMISSIONER ROGER GOODELL. "Play 60 is an important tool in ensuring children get their necessary daily physical activity as recommended by health and fitness experts."
As part of the day's focus on fitness, Saints players worked out with children from Dibert Elementary School and answered their questions about healthy living. RITA BENSON LEBLANC, owner and executive vice president of the New Orleans Saints; Acting Surgeon General STEVEN GALSON, M.D.; and NFL Vice President of Player and Employee Development, Hall of Famer MICHAEL HAYNES spoke at the Play 60 launch. Afterwards, as part of the Saints Hometown Huddle event, players joined students in building and painting a new track in the park, which was destroyed by Hurricane Katrina.
Young fans will be able to track their physical activity on NFLRUSH.com. Spurred on by online encouragement from Pro Bowl players Tom Brady, Antonio Gates, Steven Jackson, Tony Romo and New York Jets Coach Eric Mangini, kids can set fitness goals, get tips from NFL stars, encourage their teammates and win an opportunity to be on-field before Super Bowl XLII to hand the official game ball to the kicker before the opening kickoff.
Kids and parents can learn more on NFLRUSH.com.