EAST RUTHERFORD, N.J. – The blueprint the Giants used to win seven of their first nine games was shredded by the Detroit Lions on Sunday.
Use NFL rushing leader Saquon Barkley to hog the ball, control the clock and bludgeon the defense? The Lions held him to 22 yards on 15 carries, none longer than four yards.
Take such good care of the ball that the Giants' offense committed no turnovers of consequence in five consecutive games? Detroit intercepted two Daniel Jones passes and recovered an Isaiah Hodgins fumble. The Lions scored touchdowns after two of their takeaways and the third resulted in a field position change that saw the Giants move from the Detroit 40-yard line to their own seven.
Unleashing a defense that had harassed opposing quarterbacks and repeatedly forced the offense into miscues? The unit had neither a sack nor a takeaway. The Giants were also penalized eight times for 63 yards.
With their usual plans gone awry, the Giants couldn't find their way to victory and suffered a 31-18 defeat in MetLife Stadium. The Lions scored the most points by a Giants opponent this season, led for the final 34½ minutes and enjoyed an advantage of 19 points late in the fourth quarter.
The Giants couldn't even tack on points after their touchdowns, missing two PATs and a failing on a two-point conversion try.
As if that wasn't bad enough, the Giants suffered several injuries and the other three teams in the NFC East won. And they have three days to prepare for their next game, in Dallas on Thanksgiving.
"I think we're all pretty disappointed with our effort today and how we played," said Jones, who was intercepted for the first time since Sept. 26 against Dallas. "Not up to our standard, not up to what we're capable of doing. I think that's the disappointing part of it, and we've got to evaluate that, study it and make sure we can't let those things happen again. Another opportunity here in a few days to correct those things."
"Nothing was good enough," coach Brian Daboll said. "I'd say nothing was up to standard."
The Giants fell to 7-3, while the Lions won a third consecutive game for the first time since 2017 and are 4-6.
"I think they're a good football team," wide receiver Darius Slayton said. "They've scored points all year. That's what they did today, and we didn't do enough to score points back. We had turnovers, penalties, miscues, things of that nature. So, give them credit. They're a good team.
"I think one thing we've done great, actually, is not turn the ball over – not have these penalties that back us up. And that's how you play productive offense. But obviously today, we weren't as sharp on that."
The Giants entered the game third in the NFL with 164.8 rushing yards a game. They finished with a little more than half of that, 89. But that is misleading because Jones (team-high 50 yards) and wide receiver Wan'Dale Robinson accounted for 61% of the total. Barkley and backup Matt Breida combined for just 35 yards.
"They came out here, they played great," Barkley said. "We're not going to panic. We're not going to worry. We're not going to waver at all.
"We had a lot of drives where we were driving and had penalties. It was little things. That's what it all comes down to and that's just the theme of today. That's in every win and every loss. You can say that every week. And whatever team executes better and whatever team does the little things better is most likely going to come out with the win. You've got to move on."
Jones' three-yard touchdown run on a sweep to the right gave the Giants a 6-3 lead in the first quarter. But Graham Gano's extra point attempt was blocked by John Cominsky, which proved to be an ominous development. Little went right after that.
In the second quarter, Jones threw a pass to Slayton but didn't notice rookie defensive end Aidan Hutchinson had dropped into coverage. Hutchinson intercepted the ball and returned it 20 yards to the Giants' 18-yard line. The pick ended Jones' six-game, 153-pass streak without an interception.
"Got to see it, bad decision there," Jones said. "Good play by him, can't afford to do that."
It was Jones' third interception of the season and the first to really cost the Giants since Sept. 11 at Tennessee, because three plays later, Jamaal Williams scored from four yards out and Detroit had the lead for good at 10-6. Williams also scored on one-yard runs in the second and third quarters, and D'Andre Swift added a four-yarder in the fourth.
The Lions ran for 160 yards on 37 carries and scored more touchdowns on the ground than any Giants opponent since the Seattle Seahawks on Nov. 9, 2014.
After Jones' early touchdown, the Giants didn't score again until the fourth quarter. Breida ran into the end zone from four yards out and Jones connected with Richie James for a nine-yard touchdown pass. It was the first Giants score for both Breida and James. But the Giants couldn't fully celebrate because after Breida's score, Gano's extra point try hit the right upright, and after James' touchdown, tight end Lawrence Cager dropped Jones' pinpoint pass on the two-point conversion try. Amon-Ra St. Brown then recovered the onside kick, ending the Giants' chances for a comeback.
The residual damage from the game won't be known until Monday. Daboll had no updates on any of his injured players, but his meeting with the team's medical staff will likely be longer than usual.
Those hurt in the game were Robinson (knee), who caught nine passes for 100 yards; starting cornerbacks Adoree' Jackson (knee) and Fabian Moreau (ribs); safety Jason Pinnock (jaw); center Jon Feliciano (neck); and tackle Tyre Phillips (neck).
The Giants could be undermanned when they take a long flight to Dallas to face a strong opponent in front of a hostile crowd.
"They'll respond," Daboll said. "There were some good things, there was some bad things, just like there is every game. We're in an outcome, results-oriented business. We all understand that. But the things that we do during the week, the work we put in, how we study, that's what's important to me. Obviously, we want to win every game. But I think you stay consistent. I've talked about this plenty of times. We're going to be consistent. We're going to go through our preparation. And then we're going to go out and try to play the best we can play Thursday."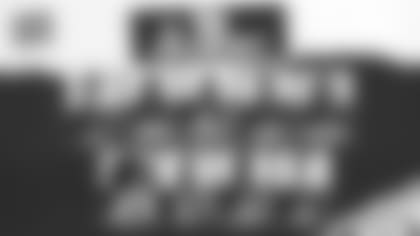 Vote Giants to 2023 Pro Bowl Games
Online voting is now open for the 2023 Pro Bowl Games. Vote for your favorite Giants players.