EAST RUTHERFORD, NJ - Guards are often the most anonymous players on a football team, but Rich Seubert of the Giants has a story worth telling.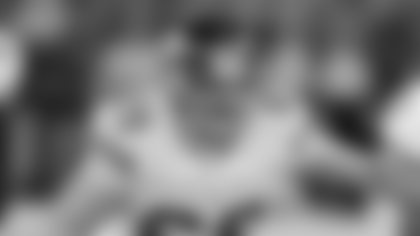 He entered the NFL with the club as a rookie free agent in 2001 from Western Illinois, a school not exactly known for producing pro football players. Today, he is preparing for his 10th season as the longest-tenured Giants player. David Diehl and Osi Umenyiora are tied for second in team longevity and they're two years behind Seubert.
Along the way, Seubert's fortunes have sunk lower and soared higher than most NFL players ever experience in their careers. A devastating leg injury kept him off the field for more than a year-and-a-half. But Seubert persevered and returned to the field, first as a reserve and then as a starter on a team that won a Super Bowl in 2007 and on a line that was widely considered among the NFL's best, a line that helped the Giants set a team rushing record in 2008 and started the same five players in 38 consecutive regular season games, a league record since the 1970 merger.
Seubert fully expects to join Diehl, Shaun O'Hara, Chris Snee and Kareem McKenzie on that line again this season. But Seubert understands as well as anyone that nothing is guaranteed in the NFL. And this year, that old gang up front could see some changes.
Ironically, it's a personnel move at another position that could result in Seubert's status changing. As the Giants continue their first week of training camp at the University at Albany, the coaches are taking a long look at second-year pro William Beatty at left tackle. If they decide to give him the job, then the versatile Diehl – who has played every line position but center since arriving in 2003 – would presumably move to left guard.
One big problem with that scenario: Seubert concedes nothing. That was evident when he was asked if he is confident he will emerge from this training camp at the University at Albany as a starter.
"Yes, I'm very confident," Seubert said. "If I felt that I couldn't play, it would be hard to come up here and do this, right? This is the last thing you want to do, you have to come up here and do this to get better as a team. But if deep down in your mind you don't think that you can make the team and play, then why would you come up here? So, I'm up here and I'm going 110 percent and I'm just looking forward to the season starting.
"I can play this game for a long time. I know I've been through some stuff that had me take a few years off but I feel great. I know I need to improve from last year but I feel healthy, my body feels good and I'm excited."
Seubert was bothered most of the 2009 season by a sore shoulder and a knee injury kept him out of the season's last 2½ games. But offensive line coach Pat Flaherty said Seubert is healthy enough to compete for his job.
"He's a guy that really understands his body, and I don't believe he has any limitations at all," Flaherty said. "You talk about a few years back when he had that injury against Philadelphia (he broke his leg in three places in 2003 and missed the entire 2004 season) and I was here through his rehab and through him coming back and I was totally amazed. There are not a lot of people that could have done what he did. His mental makeup is really what carried him through that. So when you are strong mentally and have a strong desire to play the game and love the game, that will carry you through. As an occupation, Rich loves it but more - he just loves the game and I think that will carry him through many years down the road. I really do."
Suebert has had an opportunity to display his versatility early in camp. With Shaun O'Hara sidelined with a swollen ankle, Seubert is taking perhaps half the first-team reps at center. When he does, Diehl plays left guard and Beatty steps in at tackle.
"The veterans that we have don't get comfortable at a position," Flaherty said. "Whether it's David, Sean, Chris, Rich or Kareem, there is always somebody that is going to try and take your job, whatever position you can play. Now (Diehl) has developed good footwork moving from inside to outside. Can he move back inside? Or can anybody move back inside? With time they'll get that footwork down, it becomes a little bit like riding a bicycle, you just have to have time to be able to do that. The versatility with these veterans is tremendous and David had even taken some center-quarterback snaps a couple years ago because of a situation against an opponent. That's what you need to be able to do and that is the way we approach them in meetings, where the players have to understand what each and every position does."
"I take reps at center all the time, but Shaun is fine," Seubert said. "That's our job. The more you can do, the better off you'll be. If you play guard, you better be able to snap the ball. If you play tackle, you better be able to play guard."
No one understands that better than Diehl, who has played in all 112 regular season games and seven postseason games since his arrival seven years ago. He played right guard as a rookie, right tackle in 2004 and left guard for most of the next two years before shifting to left tackle late in 2006. He played the entire Pro Bowl at left tackle last January, but could return to guard if Beatty shows he can handle the tackle position. The coaches have not tipped their hands, instead repeating that they want the five best players on the field.
"It's a battle between Beatty and I, but I've worked extremely hard," Diehl said. "I've been in battles before. I know what it takes to be a football player, and I know my work ethic and my attitude and my mentality. You're not going to move me.
"The only thing I can do is worry about me and what I'm doing out there on the field to be a better football player. I mean there are a million hypothetical scenarios that you can try coming up with but that's not what we're doing here now. We're working on not only making sure I'm a better football player individually, but I'm a team guy and I want to make sure our team gets better. The only thing that I can do is focus on my task at hand and that's playing left tackle. I'm in the best shape I have been in and I'm excited and ready to prove all the nay-sayers wrong and go out there and earn my position and do everything I have always done. I'm a blue collar guy that works and just earns everything. I'm doing everything I can to make sure I'm a better football player and make sure that I'm doing everything I can to see that our team turns things around and that's what training camp and this is all about."
Seubert, Diehl, O'Hara, Snee and McKenzie have been teammates since McKenzie arrived as a free agent in 2005. They have essentially lined up together as a starting unit since the final game of the '06 season, a streak that included three consecutive postseason berths and a Super Bowl victory. The five linemen take great pride in their collective accomplishments. But will they still be together when the regular season opens on Sept. 12?
"I think that we have had a really good offensive line and we have been playing together for a while," O'Hara said. "In this game, there are always people who want your job. That's really no different this year than any other year. When you look at our offensive line and some of the things we went through last year, you had some guys who had to step in and play. I think what we all learned is that this is a great time to give people reps and if someone ever needs to step up, they'll be ready to go."
"The ideal is for our best five to be out there and that will be proven at the end of the preseason," offensive coordinator Kevin Gilbride said. "But certainly the guys in that position now are the returners from last year. They have the edge, so someone's got to play well enough to unseat them. As I've said before many times, the five of them are very proud, tenacious competitors and I don't see any of them relinquishing their starting job easily. So someone's going to have to really come up and do a phenomenal job."
Seubert fully expects to be playing left guard when the Giants host the Carolina Panthers.
"Five of us are going to play, and whatever helps us to win a football game, that's what we're here for," Seubert said. "I was always told and thought that the five best guys are going to play. I feel that I can be one of those best five guys."
*Defensive tackle Jay Alford has been added to the list of players who will practice once a day. Alford missed the 2009 season after undergoing knee surgery and he "tweaked" his MCL in the spring, forcing him to miss minicamp.
"He's sore and that's to be expected," Coach Tom Coughlin said. "The next thing after the doctor discovers the soreness is probably to slow him down. So that's what they're doing."
"It's because of what happened in OTA's and minicamp when I had tweaked it that little bit," Alford said. "Now we've got full pads on so they're a little nervous, but it's fine."
The one-a-day group includes Kevin Boss, Hakeem Nicks, Keith Bulluck and Osi Umenyiora. Nicks underwent two MRIs after hyperextending his right knee on Tuesday, but is fine and will be on the field this evening.
"I just came down a little bit wrong, hyperextended (my knee) a little bit, but I won't be missing any time," Nicks said. "I just came down kind of straight legged. It was one of those things that just hurt for a second, but they wanted to check it out to make sure that it wasn't anything serious, because it looked a lot worse."
*O'Hara (ankle), wide receiver Mario Manningham (groin) and tight end Travis Beckum (hamstring) did not practice. Coughlin said he hopes O'Hara returns to the field on Monday.
"It feels a lot better," said O'Hara, who was examined at the Hospital for Special Surgery on Tuesday. "The toughest part was not knowing what was going on and why there was swelling. It's comforting to know it's not anything super-serious. We're taking it day-by-day to see how it responds and we're trying to get the swelling out."
An 11-year veteran, O'Hara won't fall too far behind by missing a few days. But he's eager to return to action.
"The only thing more miserable than two-a-day practices is watching two-a-day practices," he said. "I'm not a good spectator. I just want to be out there with my guys. I don't want to say we have plenty of time, which we do. I just want to get out there and start preparing myself for the season."
*Safety Deon Grant left practice early with a sore groin…In the seven-on-seven drill, Aaron Ross batted an Eli Manning pass away from Bear Pasco and Antrel Rolle intercepted Jim Sorgi…Terrell Thomas should have picked off Manning in a team period, but the ball slipped through his hands. Coughlin wanted tight end Scott Chandler to fight harder to prevent Thomas from getting to the ball…Mathias Kiwanuka picked up a muffed center/quarterback exchange and stepped into the end zone…Ross and Sinorice Moss handled the bulk of the punt returns.
*Twenty players will be inducted Saturday into the inaugural class of the Capital Region High School Football Hall of Fame. The group includes two of Coughlin's running backs at Boston College: Chuck Dukes (Colonie Central High) rushed for 1,999 yards and 12 touchdowns at BC from 1991-92 and Justice Smith (Amsterdam High) ran for 1,312 yards and seven scores from 1992-95. Coughlin left Boston College after three years following the 1993 season.
"Chucky was unbelievable," Coughlin said. "There was an unbelievable recruiting battle to get Justice at BC because everybody wanted Justice. But Chucky came out of junior college. He was a tough, hardnosed, multiple carry game in and game out guy that almost made it at the next level, almost did. Two outstanding athletes and really, really good football players and adjusted and did well at Boston College."
*Tickets are available for the first Giants Kickoff Luncheon to be held in the New Meadowlands Stadium. The charitable event will be held on Wednesday, September 1, 2010 from noon to 2 p.m. in the Gridiron Club, located between the Pepsi and Verizon gates at the New Meadowlands Stadium.
In addition to introducing the 2010 Giants, the team will honor Amani Toomer with the Giants Alumni Man of the Year Award.
Hackensack University Medical Center and the Giants have begun a partnership that gives fans a unique opportunity to support one of the nation's healthcare leaders while showing support for New York's favorite team. All proceeds from the luncheon and raffle will be donated to a very special program: the Touchdown Fund: Score for Kids, Cardiac and Cancer launched earlier this year by the Medical Center and the Giants and focusing on three core areas of healthcare.
Giants fans can join Head Coach Tom Coughlin and the entire team and the raffle will include a grand prize trip to Super Bowl XLV in Dallas (including round trip airfare and hotel accommodations for four nights).
For more information, call 201-996-3722.
--- ](http://www.nyg2010.com/)**
If you'd like to submit a question or comment to Michael, click here.