MINNESOTA - Notes and statistics from the Giants' 44-7 loss to the Minnesota Vikings.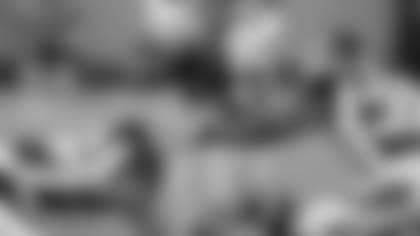 *The Giants lost for the third time in their last four games to finish the 2009 season with an 8-8 record. It was their first non-winning record since going 8-8 in 2006 and extended their streak of non-losing seasons to five, their longest since they went 10 in a row from 1954-63.
*The 37-point loss was the Giants' worst since a 38-point defeat (45-7) at New Orleans on Dec. 14, 2003.
*The Giants lost last week to Carolina, 41-9. This is the first time in their history the Giants lost consecutive games by at least 32 points each. In 1948, they lost by 31 and 45 points in back-to-back games.
*The Giants allowed at least 40 points in consecutive games for the first time since Dec. 12 and 19, 1971 (42-14 and 41-28 losses to Philadelphia and Dallas). The Giants gave up at least 40 points five times this season, the highest number of 40-point games by their opponents since 1966 (five).
*The Giants trailed at halftime, 31-0, one week after they faced a 24-0 deficit after two quarters. According to the Elias Sports Bureau, this was the first time in their history the Giants faced consecutive halftime deficits of at least 24 points.
*The 31-point halftime deficit was the Giants' largest since they trailed the Seahawks, 35-3, in Seattle on Sept. 24, 2006.
*This was the first time the Giants were shutout in consecutive first halves since Sept. 24 and Oct. 1, 2000, against Washington and Tennessee.
*The Giants trailed after three quarters, 44-0. That was their largest deficit in any game since Sept. 18, 1966, when they lost to Dallas, 52-7.
*The Giants have lost four consecutive games to the Vikings (2005, 2007, 2008 and Sunday). They will visit Minnesota again next season.
*Minnesota's 44 points increased the total allowed by the Giants this season to 427, the second-highest total in franchise history. The 1966 Giants surrendered 501 points.
*The Giants gained 181 yards, their lowest total since they had 142 yards vs. New Orleans on Dec. 24, 2006. Their previous low this season had been 267 at Denver on Thanksgiving night.
*The Giants' 11 first downs were their fewest in a game since they had six vs. the Saints in 2006.
*The Giants rushed for 35 yards, their lowest total since running for 25 yards at Jacksonville on Nov. 20, 2006.
*The Vikings gained 487 yards, the second-highest total allowed by the Giants this season; New Orleans totaled 493 yards on Oct. 18. Minnesota had 358 passing yards; New Orleans had 368. The Vikings' 28 first downs tied the Saints for the season-high total against the Giants.
*The Giants' were flagged for 13 penalties, their highest total since incurring 16 infractions at Seattle on Nov. 27, 2005.
*The Vikings took a 7-0 lead just 2:03 and five plays into the game when Brett Favre threw a 10-yard touchdown pass to former Giant Visanthe Shiancoe. They were the fourth team to score a first-possession touchdown this season, joining the Saints and the Eagles (twice). The Giants lost all four games and are 9-12 under Tom Coughlin in games in which the opposition scores a touchdown on its first drive.
*Minnesota scored on a 91-yard touchdown drive in the second quarter. That tied the longest distance an opponent traveled in one series vs. the Giants this season; Philadelphia scored on a 91-yard drive on Dec. 13.
*Eli Manning, playing on his 29th birthday, completed 17 of 23 passes for 141 yards, no touchdowns and an interception. He also lost a fumble. It was just the second time this season Manning did not throw a touchdown pass (also at Denver).
*Manning finished the season with 317 completions in 509 attempts (62.3 percent) for 4,021 yards, 27 touchdowns, 14 interceptions and a passer rating of 93.1. The completions, percentage, yards, touchdowns and rating are all career highs.
*The 509 attempts are the eighth-highest single-season total in team history and the 317 completions and completion percentage are both third.
*Manning is the third quarterback in Giants history to throw for more than 4,000 yards in a season, joining Kerry Collins (4,073 in 2002) and Phil Simms (4,044 in 1984). Vikings quarterback Brett Favre also passed the 4,000-yard mark and they became two of the record 10 quarterbacks to break that barrier in the 2009 season.
*Manning is the only quarterback in Giants history with five consecutive 3,000-yard seasons and five consecutive seasons with 20 touchdown passes.
*Steve Smith caught 10 passes for 57 yards, his third double-digit game of the season (also at Dallas and Kansas City). He finished the season with 107 receptions, 25 more than the franchise's previous single-season record-holder (Amani Toomer had 82 in 2002) and 50 more than this season's runner-up, Mario Manningham (who stayed at 57 because he didn't play).
*Smith's 1,220 receiving yards were the second-highest total in franchise history. Toomer had 1,343 in 2002. Smith joins Toomer, Plaxico Burress (1,214 yards in 2005) and Homer Jones (1,209 yards in 1967) as the only Giants with 1,200-yard receiving seasons.
*Hakeem Nicks caught only one pass, which lost five yards. The first-round draft choice finished the season with 47 receptions for 790 yards, both the third-highest total among Giants rookies. Jeremy Shockey had 74 catches for 894 yards in 2002 and Bobby Johnson had 48 for 795 in 1984. Nicks' six touchdown receptions were the most by a Giants rookie since Johnson had seven.
*Ahmad Bradshaw started in place of Brandon Jacobs (placed on injured reserve last week with a knee injury). He rushed for only 13 yards, but finished the season with a career-high 778 and a team-leading seven rushing touchdowns.
*The Giants did not register a sack for the fourth time this season and the first time since the New Orleans game on Oct. 18.
*Lawrence Tynes' extra point increased his season point total to 126, a career high. He scored 125 points with Kansas City in 2005. The 126 points tie him with Joe Morris for fourth place on the Giants' single-season list.
*Tynes did not attempt a field goal and finished the season 27-for-32, an 84.4 percentage that is the sixth-best in a single season in Giants history.
*Punter Jeff Feagles became just the second player in NFL history to play in four different decades. Feagles, whose career began with New England in 1988, has played in the 80s, 90s, 00s and 10s. The only other four-decade player was Hall of Famer George Blanda, who played from 1949-75.
Feagles concluded his 22nd season by playing in his 352nd regular season game, the third-highest total in history. He trails only Morten Andersen (382) and Gary Anderson (353). Feagles has never missed a game and has played in 353 consecutive games, an NFL record.
*The Giants' inactive players were cornerback Corey Webster (knee), tackle Kareem McKenzie (knee), guard Rich Seubert (knee), defensive tackle Chris Canty (knee), wide receiver Mario Manningham (shoulder), tight end Scott Chandler and safety Sha'reff Rashad. The third quarterback was Rhett Bomar. It was the first time the Giants had a third quarterback in uniform since Super Bowl XLII, when Jared Lorenzen suited up.
McKenzie missed his third game in a row and fourth this season. Webster sat out for the third consecutive game and Seubert for the second time in as many weeks. Canty missed his eighth game and Manningham his second.
Receivers Sinorice Moss and Ramses Barden were both in uniform. Moss suited up for his eighth game and for the first time since Nov. 1 at Philadelphia. Barden, the rookie third-round draft choice, was in uniform for the first time since Sept. 27 at Tampa Bay and for the third time this season.
*Barden caught his first NFL pass, a 16-yarder from Manning on the first play of the fourth quarter.
*D.J. Ware scored the Giants' only touchdown. It was the first of his career.
*Shaun O'Hara, Mathias Kiwanuka and Chase Blackburn were the Giants' game captains.
*The Giants' 2010 regular season opponents are set. In addition to home-and-home series with division rivals Dallas, Philadelphia and Washington, the Giants will host Chicago, Detroit, Jacksonville, Tennessee and Carolina (for the third consecutive season). The Giants' non-division road games will be in Green Bay, Minnesota (for the third year in a row), Houston, Indianapolis (the second professional meeting of Eli and Peyton Manning) and Seattle. The NFL schedule will be announced in April.