EAST RUTHERFORD, NJ - Notes and statistics from the Giants' 45-17 loss to the Green Bay Packers.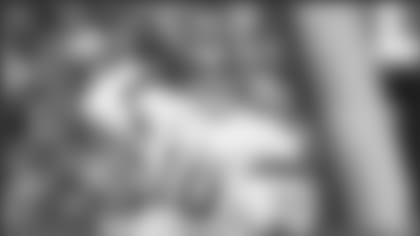 *The Giants lost their second game in a row and fell to 9-6. They are locked into second place in the NFC East and no longer control their postseason destiny. They can still reach the playoffs if they defeat Washington in their regular season finale on Sunday and Chicago beats Green Bay or if New Orleans loses to Atlanta Monday night and to Tampa Bay on Sunday.
*The 45 points were the most allowed by the Giants since a 48-27 loss at New Orleans on Oct. 18, 2009.
*The Giants have allowed 83 points in their last two games, the highest point total they have given up in back-to-back games since Carolina and Minnesota totaled 85 points in the final two games of the 2009 season.
*The Giants rushed for 90 yards, their second-lowest total of the season. They ran for 61 yards in a loss at Philadelphia on Nov. 21.
*The Giants' time of possession of 22:59 was their lowest since Dec. 6, 2009, when they owned the ball for 21:10 in a 31-24 victory over Dallas.
*The Giants committed six turnovers, their highest total since they had six at Baltimore on Dec. 12, 2004. Green Bay scored 24 points off of the turnovers. The Giants have an NFL-high 41 giveaways.
*The Giants did not score a touchdown in the second half for the third time this season. They were shutout in the last two quarters in a loss to Tennessee on Sept. 26 and were limited to two field goals after jumping out to a 35-0 lead at Seattle on Nov. 7.
*Green Bay gained 515 yards, the highest total allowed by the Giants since San Diego totaled 567 yards on Oct. 19, 1980.
*The Packers' 396 net passing yards were the highest total by a Giants opponent since Carolina threw for 418 yards in a 27-13 Giants victory on Dec. 10, 2006.
*Green Bay's 27 first downs were the most for a Giants opponent since Minnesota had 28 on Jan. 3, 2010.
*Eli Manning completed 17 of 33 passes for 301 yards, two touchdowns and a career high-tying four interceptions. Manning increased his season total to 30 touchdown passes. He is only the second quarterback in Giants history to reach that total. Y.A. Tittle threw a franchise-record 36 touchdown passes in 1963 and 33 in 1962. Fran Tarkenton's 29 touchdown throws in 1967 had been the highest total since then.
*Manning had thrown four picks in a game twice previously, both at home against the Minnesota Vikings, on Nov. 13, 2005 and Nov. 25, 2007. He has thrown a career-high 24 interceptions this season. His previous high was 20 in 2007.
*Manning's 85-yard touchdown pass to Mario Manningham was the longest completion of the quarterback's career and the Giants' longest since Dec. 6, 1998, when Kent Graham threw a 98-yarder to running back Tiki Barber at Arizona. It was the Giants' longest throw to a wide receiver since Nov. 27, 1988, when Jeff Hostetler and Stephen Baker hooked up for an 88-yard touchdown.
Manning's previous long pass was a 78-yard touchdown to Plaxico Burress at Oakland on Dec. 31, 2005.
*The 300-yard game was Manning's fourth of the season and the 14th of his career. The Giants are 1-3 this year and 7-7 overall when Manning throws for at least 300 yards.
*The 85-yard touchdown  was the longest reception of Manningham's career by 31 yards. His previous long was a 54-yard touchdown at Indianapolis on Sept. 19. That play and a 54-yarder to Kevin Boss against Tennessee on Sept. 26 had been the Giants' two longest passes of the season.
*Manningham gained 132 yards on just four catches. It was Manningham's second 100-yard game in a row (he had 113 yards last week vs. Philadelphia) and the second-highest total of his career (he had 150 receiving yards at Dallas on Sept. 20, 2009). His 132 yards were the most by a Giants receiver since Steve Smith had 134 at Kansas City on Oct. 4, 2009.
*Hakeem Nicks caught four passes for 93 yards and a touchdown. Nicks has 1,052 receiving yards this season and is the 10th player (and ninth wide receiver) in Giants history with 1,000 receiving yards in a season.
*Nicks has 11 touchdown receptions this season and needs two at Washington to tie Homer Jones' franchise record of 13, set in 1967.
*Justin Tuck had the Giants' only individual sack and took the team lead at 11.0 for the season. Osi Umenyiora has 10.0 sacks. Tuck now has 40 career sacks.
*Tuck also recovered a fumble, his NFL-best fifth of the season.
*Aaron Ross returned punts for the first time in a regular season game. He ran back three for 13 yards, a 4.3-yard average.
*Kevin Boss did not have a catch, ending his streak of 33 games in which he played with at least one reception.
*Green Bay quarterback Aaron Rodgers completed 25 of 37 passes for 404 yards, four touchdowns and no interceptions. The yardage total was the highest by a quarterback against the Giants since Carolina's Chris Weinke threw for 423 yards on Dec. 10, 2006. Rodgers is the first opposing quarterback to throw four touchdown passes vs. the Giants since Minnesota's Brett Favre on Jan. 3, 2010.
*The Packers scored first when Rodgers threw an 80-yard touchdown pass to Jordy Nelson with 7:53 remaining in the first quarter. It was the second-longest pass thrown against the Giants this season. On Oct. 17, Detroit's Calvin Johnson scored on an 87-yard touchdown pass from Drew Stanton.
*Green Bay's John Kuhn scored three touchdowns – runs of one and eight yards and a five-yard reception. He is the second Giants opponent to score three times this season. On Oct. 25, Dallas' Dez Bryant scored on two 15-yard receptions and a 93-yard punt return.
*Greg Jennings caught seven passes for 142 yards and Jordy Nelson had four for 124 yards to become the first pair of teammates to exceed 100 receiving yards vs. the Giants since Dallas' Jason Witten had 156 yards and Miles Austin had 104 on Dec. 6, 2009.
*Tom Coughlin won and lost replay challenges less than three minutes apart in the third quarter.
With 4:41 remaining, Nicks lost the ball on a kickoff return and the officials ruled the play a fumble that was recovered by the Packers. Coughlin challenged, saying Nicks was down by contact before the ball came loose. After review, referee Walt Anderson reversed the call and said Nicks was down and the Giants kept the ball.
With 2:15 left in the quarter, Brandon Jacobs fumbled the ball after a 21-yard run. The Packers recovered, but Coughlin challenged, hoping either Jacobs was out of bounds or safety Nick Collins was when he touched the ball. But after review, Anderson confirmed the ruling on the field and the fumble. Coughlin is 7-5 this season, 30-32 with the Giants and 40-41 in his career on replay challenges.
*The Giants started 11 players who also started the epic 2007 NFC Championship Game victory in Lambeau. Eight starters on offense were the same: Manning, Jacobs, Boss and offensive linemen David Diehl, Rich Seubert, Shaun O'Hara, Chris Snee and Kareem McKenzie. On defense, Umenyiora, Barry Cofield and Corey Webster started then and now.
*The Giants' inactive players were wide receiver/return specialist Darius Reynaud, defensive back/return specialist Will Blackmon, offensive linemen Will Beatty, Mitch Petrus and Jamon Meredith, defensive end Dave Tollefson, wide receiver Duke Calhoun and tight end Jake Ballard.
*The game captains were Wisconsin native Rich Seubert and Deon Grant.