EAST RUTHERFORD, NJ - Notes and statistics from the Giants' 41-7 victory over the Seattle Seahawks.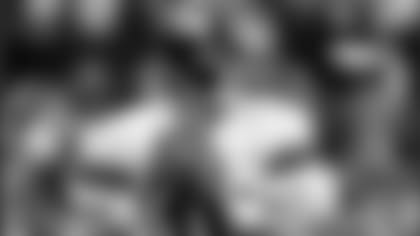 *The Giants won their fifth consecutive game and improved to 6-2 midway through their season. This is the fifth time in Tom Coughlin's seven seasons as head coach they have been 6-2 or better at the season's halfway point. They were 6-2 in 2005, 2006 and 2007 and 7-1 in 2008.
*The 34-point margin of victory was the Giants' largest on the road since Oct. 10, 1993, when they defeated the Redskins in Washington, also 41-7. It was their largest victory margin in any game since a 44-7 defeat of Oakland on Oct. 11, 2009.
*The Giants won in Dallas in their previous game, 41-35. This is the first time they have scored at least 40 points in consecutive road games since Nov. 27 and Dec. 4, 1966. However, the Giants lost both of those games, 72-41 at Washington and 49-40 at Cleveland.
*The Giants won their third game in a row after a regular season bye and improved to 7-15 in such games, including 4-3 under Tom Coughlin, who is 9-6 in his career in games following a week off.
*This is the second time in three seasons the Giants played Seattle in their first game after a bye. They won those two games by a combined score of 85-13, including a 44-6 victory in Giants Stadium on Oct. 5, 2008.
*The Giants scored the game's first 41 points, the first time they did that since Nov. 5, 1961, when they defeated the Redskins, 53-0.
*The Giants led at halftime, 35-0, their largest lead after two quarters since Nov. 29, 1959, when they led Washington, 38-0. Ironically, the last time they played in Seattle, on Sept. 24, 2006, they allowed 35 first-half points.
*The 35 points were the most scored by the Giants in a first half since they had 35 at Houston on Dec. 8, 1985 and their highest total in any half since Sept. 11, 2005, when they scored 35 in the second half vs. Arizona.
*The Giants led after one quarter, 21-0. It was the first time the Giants scored 21 points in a first quarter and their first 21-0 lead after one quarter since Dec. 15, 2002 vs. Dallas. The 21 points is their highest total in any quarter since they scored 21 in the fourth at St. Louis on Sept. 14, 2008.
*The Giants led after three quarters, 41-0. It was the second time this season they shut out their opponent in the first three quarters. They led Chicago, 10-0, on Oct. 3.
*The Giants scored two touchdowns in 15 seconds in the first quarter, their shortest time span between scores since Dec. 21, 2009 at Washington, where they scored two touchdowns in 14 seconds – the first on a Derek Hagan reception, the second on Terrell Thomas' interception return.
*The Giants' 30 first downs is their highest total since they had 31 vs. New Orleans on Sept. 24, 1995.
*The Giants gained 487 yards, their second-highest total of the season. They totaled 497 yards at Dallas in their previous game.
*The Giants' 197 rushing yards were three yards short of their season high set two weeks ago in Dallas.
*The Giants' time of possession of 42:34 is their highest since they owned the ball for 43:38 in a 24-0 victory at Tampa Bay on Sept. 27, 2009.
*The Giants' offense did not allow a sack for the second time this season (also at Houston on Oct. 10). The defense did not record a sack for the first time since the 2009 season finale at Minnesota.
*Seattle's 162 yards is the second-lowest total allowed by the Giants this season. Chicago gained 110 yards in a 17-3 Giants victory on Oct. 3.
*The Seahawks rushed for 49 yards, the fifth consecutive game in which the Giants have held their opponents to less than 65 yards on the ground. This is the first time the Giants have allowed fewer than 65 rushing yards in five consecutive games since the stats were first kept in 1933.
*Seattle's eight first downs are the fewest by a Giants opponent since Oakland had nine on Oct. 11, 2009.
*The 34-point margin of victory is Tom Coughlin's largest in a road game in his 15 seasons as an NFL head coach. The previous best of 33 points was set in the Giants' 45-12 victory in Washington last Dec. 21.
*It is the fourth time in Coughlin's 111 games as the Giants coach (104 regular season) that they beat an opponent by at least 34 points. The Seahawks lost two of those games, including the 44-6 decision in 2008.
*The victory is the 137th of Coughlin's NFL career (129 regular season, eight postseason). That moves him past Hank Stram and into 21st place on the NFL's career list.
*The Giants had three players rush for more than 50 yards: Brandon Jacobs (78), D.J. Ware (66) and Ahmad Bradshaw (57). It's the first time they have had three 50-yard rushers since Sept. 14, 2008 at St. Louis, where the backs were Jacobs (93), Derrick Ward (58) and Bradshaw (52).
*Bradshaw scored on touchdown runs of two and four yards. He is the third Giants player to score at least two touchdowns in a game this season, joining Nicks (three times) and Jacobs (once). It is the first time Bradshaw scored twice in a game since last Dec. 21 in Washington, where he scored on runs of three and four yards.
*Ware's 66 yards are a career-high, easily surpassing the 27 yards he had at Denver on Nov. 26, 2009.
*Eli Manning completed 21 of 32 passes for 290 yards, three touchdowns and no interceptions. He was not sacked. It is the 15th time in his career than Manning has thrown three touchdowns. The Giants are 13-2 in those games. They are 25-8 when he does not throw an interception and 13-5 when he is not sacked.
*Manning has thrown 12 touchdown passes in the last four games, the most prolific four-game streak in his career.
*Manning's eight touchdown passes in Qwest Field tie his total in Lincoln Financial Field, which are the most he's thrown in any visiting stadium.
*Hakeem Nicks caught six passes for 128 yards, including a 46-yard touchdown. The 128 yards were two shy of his season high, set at Houston on Oct. 10. Nicks has had at least 110 receiving yards in four of the last five games. The 46-yarder is Nicks' longest reception since he scored a 68-yard touchdown vs. Philadelphia on Dec. 13, 2009. His previous long this year was a 31-yarder at Indianapolis on Sept. 19.
*Kevin Boss, playing for the first time close to his Oregon hometown, was a game captain and caught his first touchdown pass of the season, a five-yarder. The other game captain, cornerback Terrell Thomas, had his team-high third interception of the season.
*Corey Webster also intercepted a pass and led the Giants with five tackles (four solo). That may not seem like a lot, but Seattle ran only 37 offensive plays.
*Will Blackmon made his Giants debut as a substitute defensive back and by returning a kickoff 17 yards and averaging 9.7 yards on three punt returns.
*Backup Sage Rosenfels saw his first action of the season at quarterback in the fourth quarter but did not throw a pass.
*Rookie linebacker Phillip Dillard was in uniform for the first time this season and had a special teams tackle.
*When Shaun O'Hara missed three games earlier this season because of injuries to his ankle and Achilles tendon, the Giants plugged in fourth-year pro Adam Koets to take his place at center. O'Hara missed the game in Seattle because of a sprained foot and the Giants compensated for his absence by reshuffling 60 percent of the offensive line.
Rich Seubert moved over from left guard to play center, David Diehl slid over from left tackle to play guard and Shawn Andrews made his first start as a Giant and the first of his career at left tackle.
Seubert, a 10-year veteran who is the longest-tenured Giants player, had one previous regular season start at center, on Dec. 17, 2006 vs. Philadelphia. He started the Aug. 28 preseason game in Baltimore at center and has filled in at the position at other times.
Since his arrival in 2003, Diehl has started all 120 regular season and postseason games while playing every position but center. Diehl has started 31 games at left guard, 15 each in 2005 and 2006 and Sunday in Seattle. His previous start at guard was on Dec. 24, 2006 vs. New Orleans. He moved to left tackle the following week and started every subsequent game there until Sunday.
Andrews had made 52 NFL starts, including two in the postseason, at right guard with Philadelphia from 2004-08. He was a Pro Bowler at the position in 2006 and 2007. His most recent start was at Dallas on Sept. 15, 2008. He suffered a back injury that night that forced him to miss the rest of the 2008 season and all of 2009. This was his first-ever game action at left tackle.
"We felt that coming in here that with the noise and what have you – we just felt like we would have a better handle of what was going on in terms of veterans on the field," Coughlin said. "Of course, the other thing is Adam gives us total flexibility.  He played tackle on Wednesday, played center and guard on Thursday and Friday.  We just felt like when we came in here the right move was to try and put as many veterans out there as you can."
The Giants had to maneuver the line during the game. When right tackle Kareem McKenzie missed a play because one of his shoes ripped, Diehl replaced him, Seubert returned to guard and Koets played center. Diehl missed the second half with a hip injury, so Seubert again went back to guard and Koets snapped the ball. When Koets hurt his knee in the fourth quarter, Seubert swung back to center and rookie Mitch Petrus took over at guard.
*The Giants won in Seattle for the first since 1981. They had lost there in 1986, 1995, 2005 and 2006, the first two in the Kingdome, the latter two in Qwest Field.
*Charlie Whitehurst made his first NFL start at quarterback for the Seahawks. The Giants are now 4-2 against quarterbacks making their starting debut (since 1990).
| | | | |
| --- | --- | --- | --- |
| Date | Quarterback | Team | Result |
| 9/12/93 | Craig Erickson | Tampa Bay | W |
| 10/13/96 | Ty Detmer | Philadelphia | L |
| 9/7/97 | Steve Matthews | Jacksonville | L |
| 12/17/00 | Anthony Wright | Dallas | W |
| 11/6/05 | Cody Pickett | San Francisco | W |
| 11/7/10 | Charlie Whitehurst | Seattle | W |
*The Giants' first offensive possession ended when Kevin Boss fumbled. The ball was recovered by David Hawthorne. It was the fourth time in eight games the Giants have had a turnover on their first offensive possession.
*Boss was originally ruled down by contact. Seattle coach Pete Carroll challenged the call, which was overturned after review by referee Peter Morelli. It was the first time an opposing coach succeeded on a challenge in three tries this season.
"The best play of the day was the challenge for us," Carroll said.
*The Giants inactive players were O'Hara (foot), return specialist Darius Reynaud (hamstring), tackle William Beatty (foot), fullback Madison Hedgecock (hamstring), linebacker Gerris Wilkinson (hand), defensive end Alex Hall, defensive tackle Linval Joseph and offensive lineman Jamon Meredith.