EAST RUTHERFORD, NJ - Notes and statistics from the Giants' 24-20 victory over the Jacksonville Jaguars.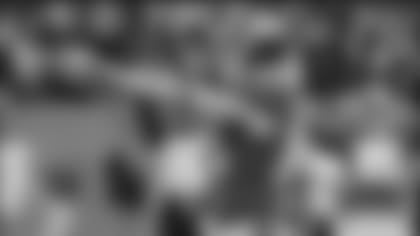 *The Giants ended a two-game losing streak and improved to 7-4.
*The Giants trailed at halftime, 17-6. This was the second time in their last three victories that they rallied from a double-digit deficit to win. On Oct. 25 in Dallas, they trailed the Cowboys in the first half, 20-7, before winning, 41-35. They led at halftime in that game, 24-20.
*The 11-point halftime deficit was the largest the Giants have overcome to win a game since Sept. 23, 2007, when they trailed Washington, 17-3, but won, 24-17.
*This was the second game this season in which the Giants overcame a halftime deficit to win. In the season opener vs. Carolina on Sept. 12, the Giants were behind 16-14 at the half, but won, 31-18. They had since lost their last three games when they trailed at halftime (at Indianapolis, vs. Dallas and at Philadelphia).
*The Giants broke a 12-game losing streak in games in which they trailed after three quarters (when the score was 17-9, Jaguars). They last overcame a deficit after three quarters on Sept. 20, 2009 in Dallas. They won, 33-31, after trailing at the end of three quarters, 24-20.
*The Giants trailed early in the fourth quarter, 17-9. The eight-point deficit in the final quarter was the largest they overcame to win a game since Dec. 21, 2008 vs. Carolina. They trailed, 28-20, before rallying to win, 34-28 in overtime.
*The Giants did not allow a sack for the fourth consecutive game, their longest such streak since Nov. 5-26, 1972, when they also played four games in a row without allowing a sack. Eli Manning has thrown 140 passes since he was last sacked by DeMarcus Ware in the fourth quarter at Dallas on Oct. 25. The Giants have allowed one sack in five games and three in seven games.
*The Giants' defense had four sacks, its highest total since a 10-sack game against Chicago on Oct. 3.
*The Giants did not have a turnover for the first time since Dec. 21, 2009 at Washington. It was the second time this season they had no offensive turnovers; their only turnover vs. Detroit on Oct. 17 was on special teams.
*The Giants did not score a first-half touchdown for the third consecutive game, the first time that's happened since Nov. 21-Dec. 5, 2004.
*The Giants did not allow a second-half touchdown for the third time this season (also Carolina and Chicago).
*Lawrence Tynes kicked a 22-yard field goal with 9:06 remaining in the first quarter for both the first points of the game and the Giants' first points this season on an opening offensive possession. In the first 10 games, the Giants' first offensive series ended five times with punts and five times with turnovers (three interceptions, two fumbles). When Ahmad Bradshaw was stopped short on a third-down run, the Giants failed to score an opening-possession touchdown for the 13th consecutive game, the NFL's longest active streak.
*When Rashad Jennings ran into the end zone from five yards out, the Jaguars because the fourth Giants opponent this season to score a touchdown on its first offensive possession (joining Indianapolis, Detroit and Dallas). Under Coughlin, the Giants are 12-13 in games in which the opposing team scores a touchdown on its opening possession.
*Jacksonville rushed for 207 yards, the highest total by a Giants opponent since Carolina ran for 247 yards in the Giants Stadium finale last Dec. 27.
*The Jaguars had 121 net passing yards, the fourth time this season a Giants opponent threw for less than 125 yards. Chicago had 51 passing yards. Tennessee had 110 and Seattle 113.
*Bradshaw's run gave the Giants a successful two-point conversion attempt on their first touchdown early in the fourth quarter. It was the Giants' first two-point conversion since Dec. 21, 2008, when Eli Manning threw to Domenik Hixon in an overtime victory over Carolina.
*This was Tom Coughlin's 250th game as an NFL head coach (235 in the regular season and 15 in the postseason). He is 138-112, including 130-105 in the regular season.
*Coughlin's 130th regular season victory ties him with Hall of Famer Weeb Ewbank for 22nd on the NFL's career list.
*Coughlin is now 1-1 against the Jaguars, the team he coached from its inception in 1995 through 2002.
*Eli Manning played in his 100th NFL game and made his 98th consecutive start. His 14 completions were his second-lowest total of the season (he had 13 at Indianapolis on Sept. 19), but his rating of 117.7 was his second-highest of the season (he had a 125.8 rating at Seattle on Nov. 7).
*This was the 15th time Manning has led the Giants back from a fourth-quarter deficit to win a game (13 regular season, two postseason).
*Running back Brandon Jacobs made his first start of 2010 and posted season-high totals of 14 carries for 87 yards.
*Mario Manningham scored the Giants' first touchdown on a 26-yard pass from Manning. Manningham has a touchdown reception in each of the Giants' last three home games. Manningham's three receptions increased his career total to 102.
*Terrell Thomas had his team-high fourth interception of the season.
*First-round draft choice Jason Pierre-Paul had his first two career sacks and he forced David Garrard fumbles on each of them. Pierre-Paul also had a season-high six tackles (five solo).
*Derek Hagan made his second career start, and first for the Giants, at wide receiver. His only other NFL start was for Miami at Buffalo on Dec. 9, 2007.
*Will Beatty made his first career start at left tackle. As a rookie in 2009, he started three games at right tackle.
*Wide receiver Michael Clayton made his Giants debut, but did not catch a pass.
*D.J. Ware returned four kickoffs for 89 yards, a 22.3-yard average.
*Michael Coe, who played two games for Jacksonville early this season, made his Giants debut.
Coe was signed to the active roster yesterday. He had been on the practice squad since Sept. 29.
*Jacksonville's Maurice Jones-Drew rushed for 113 yards on 21 carries. He is the third back to run for more than 100 yards against the Giants this season, joining Tennessee's Chris Johnson (125) and Philadelphia's LeSean McCoy (111).
*The Giants' inactive players were wide receivers Steve Smith (pectoral), Hakeem Nicks (lower leg) and Devin Thomas, offensive linemen Shaun O'Hara (foot), David Diehl (hamstring/hip) and Shaun Andrews (back), cornerback/return specialist Will Blackmon (chest) and linebacker Phillip Dillard.
*The game captains were Chris Snee and Michael Boley.