EAST RUTHERFORD, NJ - Notes and statistics from the Giants' 28-20 victory over the Detroit Lions: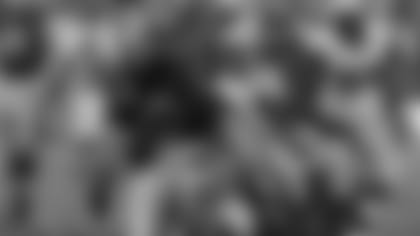 *The Giants won their third consecutive game and improved to 4-2, including 3-1 in the New Meadowlands Stadium.
*The victory was the 650th in Giants franchise history – 630 in the regular season, plus 20 in the postseason.
*The Giants had the same number of rushing yards and net passing yards – 167 of each.
*The Giants' defense allowed only 64 rushing yards, the third consecutive game the unit held its opponent to less than 65 yards on the ground.
*The victory was Tom Coughlin's 59th regular season triumph as the Giants' head coach. That broke a tie with Jim Fassel and moved him into third place on the franchise's all-time list. Coughlin trails only Hall of Famer Steve Owen (153) and Bill Parcells (77).
*The Giants' 93-yard touchdown drive in the second quarter was their longest since a 94-yarder vs. Oakland on Oct. 11, 2009.
*The Giants did not have an offensive turnover for the first time since Dec. 21, 2009 at Washington, in a 45-12 win. They did have a special teams turnover when Matt Dodge dropped the ball as he went to boot his first punt. Dodge wore a glove on his left hand the rest of the game and finished with a 46.7-yard gross average and 38.5 net average on six punts.
"It was a case like, 'Here we go again,'" said Dodge, who also dropped the ball on his first punt two weeks ago. "But I was a happy that the next play ended up being alright. So it was good. I forgot about it after that one punt."
Asked about the glove, Dodge said, "Lawrence (Tynes) said, 'Alright, you're putting a glove on.' He's like, 'We can't - you're putting the glove on.' I said, 'alright' and put a glove on."
*The Lions became the second Giants opponent this season to score a touchdown on its first offensive possession when Shaun Hill threw a 14-yard touchdown pass to Nate Burleson. Indianapolis scored on its first series last month. Under Coughlin, the Giants are 10-13 in games in which the opposing team scores a touchdown on its opening possession.
*Ahmad Bradshaw carried 19 times for 133 yards (a 7.0-yard average), the second-highest total of his career. He ran for 151 yards as a rookie at Buffalo on Dec. 23, 2007. It was Bradshaw's second 100-yard game of the season; he ran for 129 yards two weeks ago against Chicago.
*Bradshaw's 45-yard run on the Giants' final touchdown drive was the Giants' longest since Derrick Ward had a 51-yard run vs. Carolina on Dec. 21, 2008. The Giants' longest run in 2009 was a 38-yarder by Bradshaw at Tampa Bay.
*Brandon Jacobs scored two touchdowns on runs of four and six yards. It was the second week in a row a Giants player scored two touchdowns. Last week in Houston, Hakeem Nicks caught two touchdown passes. The last Giant to rush for two scores in a game was Bradshaw, who had touchdown runs of three and four yards at Washington last Dec. 21.
*Jacobs has 44 career rushing touchdowns. That is fourth on the Giants' career list, four behind Joe Morris.
*Eli Manning completed 20 of 30 passes for 177 yards, two touchdowns and no interceptions. Manning increased his career yardage total to 20,123. He is the second quarterback in Giants history to pass for 20,000 yards. Phil Simms is first on the franchise list with 33,462.
*Travis Beckum, who has caught at least one pass in every game this season, scored his first career touchdown on a one-yard reception in the third quarter.
*Steve Smith caught six passes to raise his career total to 206. That moves him past Howard Cross (201) and into 19th place on the Giants' career list.
*Tight end turned fullback Bear Pascoe caught two passes for 10 yards.
*Osi Umenyiora had both of the Giants' sacks, raising his total this season to 8.0 in six games. In 2009, Umenyiora led the Giants with 7.0 sacks in 16 games.
*Detroit's Calvin Johnson had five receptions for 146 yards, the most receiving yards by a Giants opponent since Dallas tight end Jason Witten had 156 yards on Dec. 6, 2009. The last wide receiver with so many yards against the Giants was New Orleans' Marques Colston (166) on Oct. 18, 2009.
*Johnson's 87-yard touchdown reception was the longest touchdown pass thrown against the Giants since Jan. 2, 2000, when Jason Tucker of Dallas caught a 90-yarder from Hall of Famer Troy Aikman.
*Lions kicker Jason Hanson kicked a pair of 50-yard field goals, the first Giants opponent with two 50-yarders in a game since Josh Brown of St. Louis kicked a pair of 54-yard three-pointers on Sept. 14, 2008.
*Shayne Graham, the kicker the Giants signed Saturday after Lawrence Tynes sprained his ankle the previous day, kicked four extra points and did not attempt a field goal.
*Center Shaun O'Hara returned to the starting lineup after missing three games with ankle and Achilles injuries.
*The Giants' inactive players were kicker Lawrence Tynes (ankle), linebacker Keith Bulluck (toe), defensive end Mathias Kiwanuka (neck), fullback Madison Hedgecock (hamstring), running back D.J. Ware (groin), defensive back Brian Jackson (neck), tackle Will Beatty (foot surgery) and linebacker Phillip Dillard.
*The game captains were Kareem McKenzie and Barry Cofield. They were joined by Giants legends Frank Gifford, Andy Robustelli and Alex Webster for the pregame coin toss. Also joining them at midfield was former Giants wide receiver Amani Toomer has traded in his football cleats for a pair of running shoes. The Giants' all-time receiving leader will become the first former football star in more than 15 years to lace up for a marathon when he competes in this year's ING New York City Marathon as a member of Team Timex on Nov. 7.  Toomer is training with Timex's new GPS watch and has run more than 20 miles in a workout and has dropped almost 40 pounds during his training. As an added element, Timex has arranged for Toomer to start the race in last place, and he will donate $1 to New York Road Runners' youth programs for every runner he passes on his way to the finish line. To celebrate this achievement, Toomer will be at the Giants' game Sunday vs. Detroit to participate in the pre-game coin toss with two kids from the New York Road Runners Youth Program. Toomer was one of the 30 Giants legends inducted into the franchise's Ring of Honor on Oct. 3.
*The Giants won their first home game vs. Detroit since Nov. 18, 1990. They lost to the Lions in Giants Stadium in 1994, 2000 and 2004. The Giants trail in the regular season series, 20-19-1.