EAST RUTHERFORD, NJ - Notes and statistics from the Giants' 41-35 victory over the Dallas Cowboys.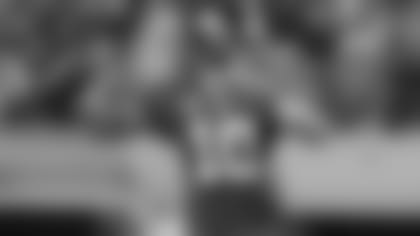 *The Giants won their fourth consecutive games and improved to 5-2. They are tied with the Atlanta Falcons for the NFC's best record and they lead the NFC East by a game over Philadelphia and Washington.
*The Giants are 2-0 in Cowboys Stadium, which opened last year, and they have won in Dallas in consecutive seasons for the first time since winning three in a row in Texas Stadium from 1988-90.
*The Giants improved to 17-5 (.773) in games prior to a regular season bye. They are 5-2 in pre-bye games under Tom Coughlin, who is 10-5 in his career prior to an off week.
*The Giants' 41 points was their highest total since their previous Monday night game, a 45-12 rout of the Redskins last Dec. 21. The Giants' offense scored five touchdowns for the first time since that game.
*The Giants scored 17 points in the second quarter, their highest-scoring quarter since they had 17 points in the second at Washington last season.
*The Giants led at halftime, 24-20. It was the second time in three games they scored 24 first-half points. Their lead in Houston after two quarters was 24-3.
*The Giants trailed in the second quarter, 20-7. The 13-point deficit was the largest they overcame in a victory since Dec. 23, 2007 at Buffalo, where they fell behind 14-0 before winning, 38-21.
*The Giants gained 497 yards, their highest total since they totaled 512 yards in a 45-38 loss to Philadelphia on Dec. 13, 2009.
*The Giants' 200 rushing yards was their highest total since they ran for 220 yards in a 44-7 victory over Oakland on Oct. 11, 2009.
*The Giants had 297 net passing yards, the exact total they had on their previous visit to Texas, a 34-10 victory in Houston on Oct. 10.
*The defense limited Dallas to 41 rushing yards. The Cowboys were the fourth consecutive Giants opponent to run for less than 65 yards.
*The Cowboys were 0-for-10 on third down conversion attempts. Dallas was the second Giants opponent this season to fail to convert a third down. Chicago was 0-for-13 on Oct. 3.
*The Giants had five turnovers (three interceptions and two lost fumbles), their highest total since Jan. 8, 2006, when they had the same breakdown in an NFC Wild Card Game loss to Carolina. They last had five turnovers in a regular season game on Nov. 13, 2005 (four interceptions and one fumble) in a 24-21 loss to Minnesota. The Giants had last won a game while committing at least five turnovers on Nov. 4, 2001 (two picks and three fumbles), when they beat Dallas in overtime, 27-24.
*The game took 3:28 to complete, making it the Giants' longest non-overtime game since Dec. 31 2005, at Oakland, where the beat the Raiders, 30-21, in 3:32.
*The visit to Dallas was the Giants' only Monday night game of the season. It was the eighth consecutive Monday night game in which the Giants were the visiting team (including the 2005 game vs. New Orleans that was played in Giants Stadium). The Giants have not been the home team on a Monday night since Sept. 15, 2003, a 35-32 overtime loss to Dallas. The Giants are 20-31-1 on Monday night.
*Dallas scored a touchdown on its first offensive series which began at the Giants' five-yard line after an Eli Manning interception). They were the second opponent in a row to score a first- possession touchdown. Detroit did it on Oct. 17 after a Matt Dodge fumble. It's the first time the Giants have allowed touchdowns on an opponent's opening series in back-to-back games since Minnesota, Chicago and Philadelphia did it three weeks in a row from Nov. 25-Dec. 9, 2007.
*The victory was Tom Coughlin's 136th as an NFL head coach (128 regular season, eight postseason). That ties him with Hank Stram for 21st on the NFL's all-time list.
*Manning raised his record as a starting quarterback in October to 20-4 (.833), the best of any quarterback with at least 20 starts in the Super Bowl era.
*Manning completed 25 of 35 passes for 306 yards, four touchdowns and three interceptions. It was his second 300-yard game of the season (he threw for 386 yards vs. Tennessee) and the 12th of his career. The Giants are 7-5 in those games.
*It was the fourth time in Manning's career that he threw four touchdown passes in a game. He had last accomplished the feat on Dec. 29, 2007 vs. New England.
*Manning's 35 passes increased his career total to 3,032. He is the second quarterback in Giants history to throw at least 3,000 passes. Phil Simms holds the franchise record with 4,647 passes.
*The Giants had a pair of 100-yard receivers. Hakeem Nicks and Steve Smith each caught nine passes. Nicks totaled 108 yards and scored two touchdowns and Smith gained 101 yards and scored once. It was the fifth career 100-yard game for each receiver. Nicks has three and Smith has two this season. This was the first time the Giants had two 100-yard receivers in a game since … the last time the Giants played in Dallas. On Sept. 20, 2009, Smith and Mario Manningham had 10 catches apiece, Smith for 134 yards and Manningham for 150.
*Smith's nine catches increased his career total to 215, moving him past Homer Jones (214) and into 18th place on the Giants' career list.
*Nicks leads all NFL wide receivers with eight touchdown receptions. He scored three touchdowns in the season opener vs. Carolina and two apiece against Houston and Dallas.
*Ahmad Bradshaw rushed for 126 yards on 24 carries one week after running for 133 yards vs. Detroit. This is the first time the Giants have had a 100-yard rusher in consecutive games since Oct. 5 and 13, 2008 when Brandon Jacobs and Derrick Ward accomplished the feat against Seattle and Cleveland, respectively. Bradshaw is the first Giants back with consecutive 100-yard games since Jacobs did it on Dec. 16 and 23, 2007 vs. Washington and Buffalo (Bradshaw joined him against the Bills).
*The Giants are 6-0 when Bradshaw rushes for at least 100 yards.
*Bradshaw increased his career total to 2,031 yards.
*Brandon Jacobs had season-high totals of 12 carries and 75 yards and scored his fifth rushing touchdown of the year, equaling his total for the entire 2009 season. Jacobs has 45 career rushing touchdowns, fourth on the Giants' career list.
*The victory in Dallas was the first game in which the Giants had a 300-yard passer, a 100-yard rusher and a 100-yard receiver since Nov. 16, 2005 at Seattle, where Manning threw for 344 yards, Tiki Barber rushed for 151 yards and Jeremy Shockey (127 receiving yards) and Plaxico Burress (109) crossed the century mark.
*Safety Deon Grant had one of the Giants' three sacks, his first since 2005, when he was with Jacksonville.
*Michael Boley had a sack, his first of the season.
*Dallas quarterback Tony Romo suffered a fractured left tackle when he was hit by Boley in the second quarter (Romo completed a 14-yard pass to Miles Austin on the play). Romo is the fifth quarterback this season to be knocked out of a game by the Giants defense. The others were Carolina's Matt Moore, Chicago's Jay Cutler and Todd Collins and Detroit's Shaun Hill.
*Lawrence Tynes kicked field goals of 53 and 26 yards. The 53-yarder tied his career long, set on Oct. 22, 2006, when he played for Kansas City against San Diego. His previous long field goal as a Giant was a 52-yarder at Denver last Thanksgiving.
*Tom Coughlin was successful on two replay challenges and the Giants benefitted when Dallas coach Wade Phillips lost his challenge.
With 6:15 remaining in the first quarter, Manning completed a two-yard pass to Manningham for what the officials ruled was a first down. Phillips challenged the spot, claiming Manningham was short of the marker. But after review, referee John Parry upheld the call on the field and the Giants had a first down at their 44-yard line.
Three plays later, Manning threw a short pass to the right sideline for Nicks. The ruling on the field was that Nicks was out of bounds. But Coughlin challenged and after going under the hood and watching the play, Parry said Nicks got both feet inbounds and reversed the call, giving the Giants an 11-yard gain and another first down at the Cowboys'40. Nicks scored four lays later.
On the final play of the quarter, a Dallas punt was ruled downed on the Giants' one-yard line after Danny McCray tipped the ball to Sean Lee. Coughlin challenged the call, saying McCray was the first to touch the ball after stepping out of bounds. Parry ruled that McCray was legally chucked out of bounds (by Terrell Thomas) and upheld the Giants' request to make it a touchback. Coughlin is 3-2 this year, 26-29 with the Giants and 36-38 in his career on replay challenges.
*Dallas rookie Dez Bryant scored three touchdowns (two 15-yard receptions and a 93-yard punt return), the most scores by a Giants opponent since Carolina's DeAngelo Williams ran for four touchdowns on Dec. 28, 2008.
*Bryant's punt return touchdown was the first against the Giants since another rookie receiver, Philadelphia's DeSean Jackson brought one back 72 yards last Dec. 13. The 93-yarder was the longest by a Giants opponent since Chicago's Dennis McKinnon scored on a 94-yard return on Sept. 14, 1987.
*Dallas Jay Witten caught nine passes for 95 yards and a touchdown, the most receptions by a Giants opponent since Dec. 6, 2009 when Witten had 14 in Giants Stadium.
*The Giants' inactive players were defensive end Mathias Kiwanuka (neck), fullback Madison Hedgecock (hamstring), cornerback D.J. Johnson, linebacker Phillip Dillard, offensive linemen Will Beatty (foot surgery), Mitch Petrus and Jamon Meredith and defensive tackle Linval Joseph.
*Osi Umenyiora and Shaun O'Hara were the game captains and joined season captains Eli Manning, Justin Tuck and Chase Blackburn for the coin toss – which the Giants won.