EAST RUTHERFORD, NJ - Notes and statistics from the Giants' 17-3 victory over the Chicago Bears.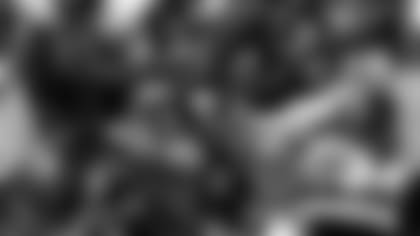 *The Giants broke a two-game losing streak and improved to 2-2.
*The Giants' defense held the Bears to 110 yards and six first downs, the lowest totals by an opponent since Tampa Bay gained 86 yards and had five first downs on Sept. 27, 2009.
*Chicago's 59 rushing yards was the lowest total by a Giants opponent since Dallas ran for 45 yards on Dec. 6, 2009.
*The Bears did not have a successful third down conversion in 13 attempts, the first opponent that did not convert a third down since the Buccaneers on Sept. 27, 2009.
*The Giants did not allow a touchdown for the first time since the victory at Tampa Bay on Sept. 27, 2009. They did not allow a point in the first three quarters for the first time since the same game.
*The Giants had last pitched a shutout in the first half on Dec. 21, 2009 at Washington, where they led, 24-0.
*The Giants defense sacked Bears quarterbacks 10 times (Jay Cutler – nine, all in the first half, and Caleb Hanie once). It was the Giants' highest sack total since they set a franchise record and tied the NFL mark with 12 sacks vs. Philadelphia on Sept. 13, 2007 – also a Sunday night home game. This was the third game in Giant history in which the team had at least 10 sacks. The third was an 11-sack performance vs. the St. Louis Cardinals on Nov. 1, 1964, 18 years before sacks became an official statistic.
*The Giants entered the game with six sacks in three games, four by Mathias Kiwanuka – who did not play against Chicago because of a bulging cervical disc.
*Osi Umenyiora and Justin Tuck led the sack charge with three apiece. It was Umenyiora's highest total in one game since he set a team record with six sacks against the Eagles the night the team had 12 three years ago. It was the 10th multiple sack game of his career and the first since he had two sacks at Kansas City on Oct. 4, 2009. Umenyiora entered the game with one sack this season.
*Tuck set a career high with his three sacks. He had recorded two sacks on six occasions – five in the regular season and Super Bowl XLII.
*Umenyiora forced two fumbles and Tuck one.
*Barry Cofield (1.5), Chris Canty (1.0), Aaron Ross (1.0) and Jonathan Goff (one-half) had the other sacks. Ross' sack was his first since 2007.
*Deon Grant intercepted a pass and recovered a fumble for the Giants and Terrell Thomas also had an interception.
*The Giants rushed for 189 yards against a run defense that entered the game ranked No. 1 in the NFL, allowing only 39.7 yards a game. It was their highest total since rushing for 220 yards vs. Oakland on Oct. 11. 2009.
*This was Tom Coughlin's 100th regular season game as the Giants' head coach. He is 57-43. The 57 victories tie him with Allie Sherman for fourth on the Giants career list, one behind Jim Fassel. He is the fifth coach in franchise history to lead the team in at least 100 games. The others are Hall of Famer Steve Owen, Sherman, Bill Parcells and Fassel.
*Ahmad Bradshaw rushed for 129 yards and a touchdown on 23 carries. It ended a Giants streak of 14 games without a 100-yard rusher. It was the first 100-yard game by a Giants running back since Bradshaw ran for 110 yards vs. Oakland on Oct. 11, 2009. The 129 yards were the second-highest total of his career, surpassed only by his 151-yard outing at Buffalo on Dec. 23, 2007.  The Giants are 4-0 when Bradshaw rushes for more than 100 yards.
*Since 1990, the Giants are 8-15 against teams that played the previous Monday night.
*The Giants improved to 15-19-1 on Sunday night.
*This was the Giants' first regular season home victory over Chicago since a 28-24 win in Yankee Stadium on Oct. 5, 1969 (though the Giants routed the Bears, 31-3, in a 1990 NFC Divisional Playoff Game in Giants Stadium). Chicago won in the Bronx in 1970 and in Giants Stadium in 1977, 1995, 2004 and most recently, on Nov. 12, 2006 (38-20). The Giants trail in the regular season s series, 27-19-2.
*Eli Manning completed 18 of 30 passes for 195 yards. That increased his career yardage total to 19,649, moving him past Charlie Conerly (19,488) and into second place on the Giants' career list. Phil Simms is No. 1 with 33,462 yards.
*Rookie punter Matt Dodge overcame a rough start – dropping the ball on his first attempt – to finish with a 42.0-yard gross average and a 35.4-yard net average on seven kicks.
*Coughlin lost a replay challenge with 5:07 remaining in the second quarter. Manning was sacked by Julius Peppers, who forced a fumble that was recovered by Brian Urlacher at the Bears' 48-yard line. Coughlin challenged the ruling, claiming Manning's arm was moving forward, which would make it an incomplete pass, not a fumble. But after review, referee Carl Cheffers upheld the ruling on the field and Chicago kept the ball. Coughlin is 1-2 this year, 24-29 the Giants coach and 34-38 in his career on replay challenges.
*The Giants' eight inactive players included the team's sack leader, Kiwanuka (bulging cervical disk) and two starters: center Shaun O'Hara (ankle/Achilles) and linebacker Keith Bulluck (toe). Adam Koets again started for O'Hara.
Also inactive were wide receiver Ramses Barden, cornerback Bruce Johnson, linebacker Phillip Dillard, tackle Will Beatty and defensive tackle Rocky Bernard.
Three rookies were in uniform for the first time: defensive tackle Linval Joseph, wide receiver Duke Calhoun and cornerback Brian Jackson, who was signed off the practice squad last week. Joseph was credited with one tackle. Calhoun and Jackson played on special teams.
*This is only the third game Bulluck has missed since the start of the 2002 season. When he was with the Tennessee Titans, he started 127 consecutive games until he tore his ACL last Dec. 20, forcing him to sit out the final two games of the season. Bulluck had 10 tackles (six solo) in the first three games this season.
O'Hara had not missed more than one game in a season since 2004, when he sat out four games, first with a leg infection and then with an ankle injury.
*Wide receiver Hakeem Nicks caught eight passes for 110 yards. It was his third career 100-yard game and first since another 110-yard outing vs. Philadelphia on Dec. 13, 2009.
*This was the first game in which the Giants had both a 100-yard rusher and 100-yard receiver since Oct. 5, 2008, when Brandon Jacobs ran for 136 yards and Domenik Hixon caught four passes for 102 yards in a 44-6 victory over Seattle.
*Giants captains Eli Manning, Justin Tuck and Chase Blackburn were joined at midfield for the coin toss by Chris Canty and Hall of Famers Y.A. Tittle and Andy Rubustelli, who were inducted into the Giants Ring of Honor at halftime.
*The Giants unveiled their 30-man Ring of Honor at halftime. Fifteen names will be displayed in each end zone for every home game. The list begins with franchise founder Tim Mara and includes fellow owners Wellington Mara, Jack Mara and Bob Tisch. It includes George Young, the general manager who built two Super Bowl-winning teams, and championship-winning coaches Steve Owen, Jim Lee Howell and Bill Parcells. The 22 players in the Ring of Honor include 11 Hall of Famers: Mel Hein, Ken Strong, Tuffy Leemans, Emlen Tunnell, Frank Gifford, Rosie Brown, Sam Huff, Andy Robustelli, Y.A. Tittle, Harry Carson and Lawrence Taylor. The other players in the ring are Al Bozis, Charlie Conerly, Dick Lynch, Joe Morrison, Pete Gogolak, George Martin, Phil Simms, Michael Strahan, Jessie Armstead, Amani Toomer and Tiki Barber.
Simms, Strahan, Carson, Martin, Gifford, Tittle, Robustelli, Toomer, Barber, Armstead and Gogolak were in attendance and stood on the field for the halftime ceremony. Jack Mara, Young, Howell, Tunnell, Lynch and Brown were represented by family members.