EAST RUTHERFORD, N.J. – The New York Giants have selected Mr. Joe Goerge of Jonathan Dayton High School (Springfield, NJ) as "The Lou Rettino High School Football Coach of the Week" for the week of September 17, 2007. Dayton snapped a 21 game losing streak with a defeat over Manville 22-20, earning their first victory since 1998. After going winless in 1999, the school dropped their football program until 2005 when they re-emerged as a junior varsity team. In 2006, their first year back as a varsity squad, they once again went winless. Their win over Manville brings their 2007 season record to 1-1.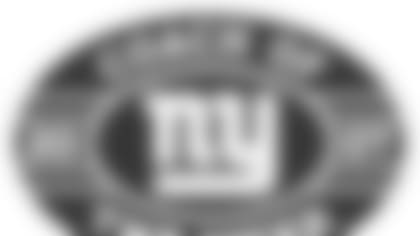 The Giants' Coach of the Week Award honors local coaches who are commited to youth football, their students, and the community they serve.
In recognition of Coach Goerge's success and commitment, he will receive a certificate of recognition signed by the NFL Commissioner Roger Goodell, NFL Director of Football Operations Gene Washington, and the Giants Head Coach Tom Coughlin. A $1,000 check will be granted to the Jonathan Dayton High School football program. Coach Goerge will be acknowledged by a stadium announcement when the Giants host the Philadelphia Eagles on September 30th. An announcement will also be posted on the Giants web site, **www.giants.com**
The Lou Rettino High School Football Coach of the Week Award, started in 1996, is part of the Giants' continuing effort to promote youth football. The Giants elected to name the award in memory of former Union High School (NJ) coach, Lou Rettino, for his fine commitment to the game of football, his community and the betterment of his athletes' lives.
Each week during the 2007 high school football season, the Giants will select one area high school head coach as the Coach of the Week winner. The selection is based on the coach's continuing commitment towards promoting youth football, developing motivated student-athletes and his overall community involvement. At the conclusion of the 2007 season, the Giants will choose a Coach of the Year. That coach will receive $2,000 for their school's football program.
Coach Goerge is in his 3rd season as Head Football Coach at Dayton High School, and is no stranger to coaching football. He began his career as an assistant coach in 1974 at Msgr. Farrell High School in Staten Island, where he remained until 1980. In 1981, he spent one year at the U.S. Merchant Marine Academy, but in 1982 became the Head Coach at Port Richmond High School in Staten Island. He remained there until 1991 and compiled a 56-37-2 overall record. Coach Goerge then moved to Franklin High School in Somerset, NJ where from 1992- 2004 he compiled a 74-55-2 overall record, and won 2 state championships.
A physical education teacher at Dayton High School, Coach George and his wife, Robyn, a teacher at the middle school in Springfield, are the proud parents of four children: Jennifer, 29, a teacher in Boston; Michael, 25, a teacher at the elementary school in Springfield and an assistant football coach at Dayton; Jason, 21, a student at Kean University; and Courtney 19, a student at the Alvin Ailey School for Dance in New York. ](http://www.jointheteam.com/)