EAST RUTHERFORD, N.J. – The New York Giants have selected Mr. Richard Glover of Dickinson High School (Jersey City, NJ) as "The Lou Rettino High School Football Coach of the Week" for the week of October 1, 2007. Dickinson improved to 2-2 on the season, Coach Glover's first as head coach, with a dramatic 21-20 win overtime win over Emerson.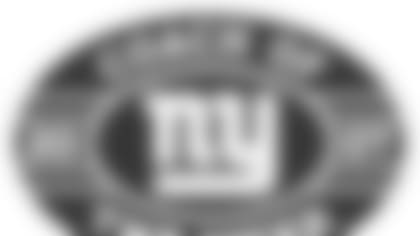 The Giants' Coach of the Week Award honors local coaches who are commited to youth football, their students, and the community they serve.
In recognition of Coach Glover's success and commitment, he will receive a certificate of recognition signed by the NFL Commissioner Roger Goodell, NFL Director of Football Operations Gene Washington, and the Giants Head Coach Tom Coughlin. A $1,000 check will be granted to the Dickinson High School football program. Coach Glover will be acknowledged by a stadium announcement when the Giants host the New York Jets on October 7th. An announcement will also be posted on the Giants web site, www.giants.com
The Lou Rettino High School Football Coach of the Week Award, started in 1996, is part of the Giants' continuing effort to promote youth football. The Giants elected to name the award in memory of former Union High School (NJ) coach, Lou Rettino, for his fine commitment to the game of football, his community and the betterment of his athletes' lives.
Each week during the 2007 high school football season, the Giants will select one area high school head coach as the Coach of the Week winner. The selection is based on the coach's continuing commitment towards promoting youth football, developing motivated student-athletes and his overall community involvement. At the conclusion of the 2007 season, the Giants will choose a Coach of the Year. That coach will receive $2,000 for their school's football program.
A native of Jersey City and a 1968 Snyder High School (Jersey City, NJ) graduate, Coach Glover was a star nose tackle at the University of Nebraska where is was an All American in 1971 and 1972, the Outland Trophy winner and Vince Lombardi Trophy winner in 1972, and a member of the 1971 National Championship team. He has received many accolades for his performance, including being named the Best College Football Player in History to wear #79, and being inducted to the National Football Foundation and College Football Hall of Fame. He was drafted by the New York Giants in 1973 and spent 2 seasons there and with the Philadelphia Eagles, before retiring due to injury in 1976.
Coach Glover is in his first season as Head Football Coach at Dickinson High School. After his retirement from professional football, he began his coaching and physical education career. From 1977-1980 he was the Defensive Line Coach at Washington State University, and from 1980-1983 he was Defensive Line Coach at San Jose City College. From 1983-1997 he was a physical education teacher at Quimby Oak Jr. High School, and from 1997-2005 he was the Defensive Line coach at New Mexico State University, where during that time he also completed Minority Fellowship Coaching internships with the Dallas Cowboys, Indianapolis Colts, and the Green Bay Packers.
He returned to Jersey City, his hometown, a few years ago and began the Richard Glover All Access to Life Foundation, and the Richard Glover Football Camps, a free football camp open to Jersey City youngsters. He also served as a consultant for the Jersey City high school football teams prior to joining the staff at Dickinson. His goal in working with students is to "coach, teach, inspire and motivate students to excel beyond expected potential", and he would like to thank his Dickinson High School assistant coaches and the players for their continued hard work this season.
Glover and his wife, Sonia, are the proud parents of four adult children, and four grandchildren. ](http://www.jointheteam.com/)