EAST RUTHERFORD, N.J. – The New York Giants have selected Mr. Carmine Calasanto of Herbert H. Lehman High School (Bronx, NY) as "The Lou Rettino High School Football Coach of the Week" for the week of September 24, 2007. With a 24-20 victory over New Utrecht High School, Coach Calasanto recorded his 200th career win in his 32nd year as Head Coach at Lehman High School.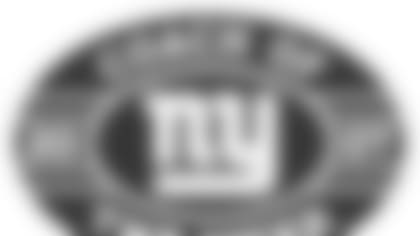 The Giants' Coach of the Week Award honors local coaches who are commited to youth football, their students, and the community they serve.
In recognition of Coach Calasanto's success and commitment, he will receive a certificate of recognition signed by the NFL Commissioner Roger Goodell, NFL Director of Football Operations Gene Washington, and the Giants Head Coach Tom Coughlin. A $1,000 check will be granted to the Lehman High School football program. Coach Calasanto will be acknowledged by a stadium announcement when the Giants host the Philadelphia Eagles on September 30th. An announcement will also be posted on the Giants web site, www.giants.com
The Lou Rettino High School Football Coach of the Week Award, started in 1996, is part of the Giants' continuing effort to promote youth football. The Giants elected to name the award in memory of former Union High School (NJ) coach, Lou Rettino, for his fine commitment to the game of football, his community and the betterment of his athletes' lives.
Each week during the 2007 high school football season, the Giants will select one area high school head coach as the Coach of the Week winner. The selection is based on the coach's continuing commitment towards promoting youth football, developing motivated student-athletes and his overall community involvement. At the conclusion of the 2007 season, the Giants will choose a Coach of the Year. That coach will receive $2,000 for their school's football program.
Coach Colasanto is in his 32nd year as Head Football Coach at Lehman High School.  His career record at Lehman is 200-97-2, and has coached four of his teams to the PSAL Championship game; in 1991, 1998, 2001, and in 2005.  In 2005, Coach Colasanto was recipient of the Legendary Coach's Award for the Tri-state area, which is awarded by the Heisman Foundation and MSG.
Coach Colasanto has dedicated over 35 years to helping the students of Lehman High School.  Although now retired from education, he was the former Assistant Principal of Administration, and prior to that he was the Health and Physical Education Assistant Principal at Lehman. Through coaching, however, he continues to educate and influence young men every day.  Coach Colasanto and his wife, Ellen, are the proud parents of three adult children; Dominick, James, and Christine. He resides in Long Island, but admits that his heart is in New York City. ](http://www.jointheteam.com/)