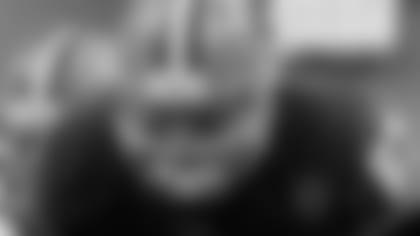 ](http://www.giants.com/media-vault/photo-gallery/Giants-draft-OT-Justin-Pugh/79ee2338-0d24-4016-979b-960d625ff445)
PHOTOS: JUSTIN PUGH GALLERY
EAST RUTHERFORD, N.J. –
When first-round draft choice Justin Pugh arrives for rookie minicamp next week, he will be issued his Giants helmet, pads and jersey.
Chris Snee suggests he bring another piece of equipment.
"Pugh, if you are reading this, get a credit card," Snee said.
Let the initiation begin. Pugh, the offensive lineman from Syracuse, was the 19th overall selection in the NFL Draft last week. The 6-4, 301-pounder will compete for a job on a line that includes David Diehl, David Baas, Kevin Boothe, Will Beatty and Snee. The veterans will provide insight and wisdom to help accelerate Pugh's development. But they will also take advantage of and have fun with his rookie status.
"That is the part of being an offensive lineman and being in that brotherhood and being part of a unit – and, most importantly, being a teammate," said Diehl, who is preparing for his 11th season as the longest-tenured Giant. "Yeah, you are going to have to buy food and pizza. Every one of us has done that stuff."
The requirement that rookie linemen buy food for the rest of the group is not as stringent as it was when the team was housed in Giants Stadium, when Diehl and Snee broke into the league. The Giants now have their own cafeteria in the Timex Performance Center. But that won't exempt Pugh from treating everyone to a few meals.
"I think we have actually gotten softer as the years have gone along," said Snee, who is entering his 10th season. "Listen, we will be there. We will help him with any question that he has. Despite as grumpy as I look sometimes, I'm always willing to help guys. Young guys around here know that now. That being said, he has to be on his toes because he is a rookie. He should make sure he has a credit card. We have had rookies come in here and claim they don't have credit cards right away.
"In my rookie year I had to buy pizza on Fridays and breakfast on Saturday. Now we don't do either. But we will find ways to make sure that plastic works."
Beatty understands what Pugh is about to experience on and off the field. In 2009, he was a second-round draft choice who made the same jump Pugh will now attempt, from the Big East to the Giants. Like all youngsters in his position, he was helped by veterans passing on their knowledge. And he bought his share of food, carried the veterans' helmets off the practice field, decorated the meeting room before the holidays and was pranked more than once.
"I remember my rookie year my right foot was dyed green for about two weeks," Beatty said. "But Eli (Manning) had it in his, so they weren't just pointing out the rookies. That's off the field. On the field, you're one of us. You're playing around off the field. On the field you're working.
"It's the initiation into becoming an O-lineman. It's not a hazing. It's something we all do. You're getting the food and the guys are messing with you. But they're also helping you and teaching you. They're telling you, 'this is how Flats (offensive line coach Pat Flaherty) wants it done,' or, 'this is how we do it in the league to get an advantage.'"
Soon after Pugh was drafted on Thursday, Tom Coughlin was asked if Pugh will one day play right tackle. "That is probably what will happen," Coughlin said.
Right tackle, of course, is Diehl's position. But he looks at Pugh's arrival as a challenge.
"That is part of being in the NFL – it is about competition and competing," Diehl said. "There are always going to be new guys coming in. It definitely does bring competition and that does nothing but help your football team win games."
Although Pugh is a potential candidate to take their jobs, the veterans said they are eager to help the top draft choice adjust to the NFL and reach his potential.
"Everybody is going to talk about the speed of the game; that is number one," Diehl said. "In the pros, you are playing up against the best of the best, week in and week out. It is about being quick with your reaction time, not being late. In college, if you are a split second late on a blitz pickup, you could still react and be able to adjust to it. In the pros, it's that split second and it is over. It is education, being a student of the game. When you're a rookie, they're going to try and throw whatever they can at you and use it to their advantage. As a rookie, you can't sit here and use youth as an excuse. It is not, because the other 10 guys in the huddle are counting on you to do your job. And, most importantly, know what you are doing each and every play."
"You are going to deal with physical differences – the speed of the game, the size of the guys, their strength," Snee said. "The quicker you get an understanding of what we are doing, then you will be able to play faster and your natural abilities will take over. I have seen some talented guys come in and they can't pick up the offense. And they are playing a step slower. It's not an easy transition."
Snee, a second-round draft choice in 2004, quickly learned playing in the NFL was going to be more challenging than what he experienced at Boston College.
"We scrimmaged the Jets during training camp," he said. "I had been through practices and I could tell it was more difficult than I had in college. But when you get to a heated scrimmage between the Jets and Giants – I think on the first play there was a massive brawl and I'm trying to figure out what the hell is going on. I remember I actually well played well in my first preseason game. I got some confidence and was maybe a little too confident. And the next game I didn't play well. There are going to be a lot of bumps in the road in a rookie year. Few guys can come in and play well throughout the whole season."
Beatty said it's been a rapid journey for him from untested rookie to a player eager to help a new teammate learn the NFL ropes.
"They embraced me when I came in," he said. "They tell you off the bat, 'You don't know it all.' You come into the organization and learning what these coaches want and learning the playbook and the techniques. I wasn't that UConn Big East player, I was a New York Giant. It was a transition from who you were to who they want you to be. But whether you're drafted in the first round or you're a free agent, we all have to make that change to stay in the league."