EAST RUTHERFORD, N.J. – As anticipated, Odell Beckham, Jr. participated in the Giants' mandatory minicamp today, though coach Pat Shurmur did not consider that to be the momentous event some others apparently did. Twelve of the 23 questions Shurmur fielded at his post-practice news conference concerned No. 13.
"He was out there today," Shurmur said. "He was cleared to train and he did a good job."
"He ran maybe three or four routes, but he looks good coming out of his breaks," quarterback Eli Manning said. "From what I have seen, he looks sharp and ready to go."
Of course, the sensational wide receiver generates news simply by walking into the Quest Diagnostics Training Center. Giants fans haven't seen him on the field since he fractured his ankle last Oct. 8 vs. the Los Angeles Chargers. Like some of his teammates, Beckham was a part-time participant in the Giants' OTAs.
Today, he took part in some individual and position drills, but not in the team segments of practice.
"He is out there practicing," Shurmur said. "If you all want to count the reps, then go ahead, but he was out there practicing.
"He is cleared to practice. I don't necessarily think it helps anybody to play the word game here."
That was Shurmur's way of saying he is not interested in further clarifying the meaning of "cleared."
"Let's not worry about it," Shurmur said. "He is cleared to practice and that's what he was doing…. He was cleared to be out there, and he practiced and he did a good job.
"Everyone is at different phases of their training and he was like a couple other guys that didn't do some teams drills, but he's cleared."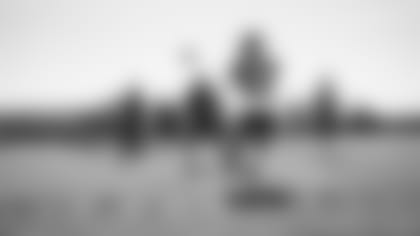 Asked if he anticipated Beckham participating in team drills during the three-day camp, Shurmur said, "We will see."
In response to a couple questions regarding Beckham's contractual status, Shurmur said, "I'm not worried about it and neither is he. I've said it before and I'll say it again, I look at a player that loves football, he's out there right now doing his thing and he wants to be here and as the coach and the player, that's what we talk about.
"What I'm concerned about is my relationship with him and him learning as much as he can through this offseason, so that when we get going he is ready to go. Then my job as the coach, and our job as coaches, is to get him trained up and put him on the field. That's what we worry about. This isn't the first time in the NFL we've talked about a player and a contract. We just keep moving, keep developing our relationship within what is going on, and then we move forward and that's where it's at."
And how has it been so far?
"It's been great," Shurmur said.
*Shurmur was asked what has changed regarding his working relationship with general manager Dave Gettleman, who last week announced he has lymphoma.
"Dave is going through his treatment and I talk to Dave daily," Shurmur said. "He's just going through his treatment, and I'm out here coaching the team."
*Defensive tackle Damon Harrison said the 3-4 defense installed by new coordinator James Bettcher reminds him on the scheme he played during his four seasons with the Jets.
"He's a good dude," Harrison said of Bettcher. "Obviously, I've played in a 3-4 before under (Jets) coach (Todd) Bowles, and coach Bettcher and Bowles work together, so I have a lot of familiarity with the system. It's just all about reaching in that memory bank. Everything I was told to forget, I've got to remember again."
Harrison said he's not surprised morale is high among the players after the disappointing 2017 season.
"I honestly don't think we were what our record was last year, and I know it's tough to understand that," Harrison said. "Going 3-13, you would expect guys to come back down on themselves. That was just a humbling season for everybody. So if anybody was on their high horse, they have no choice but to get down now and get back to the drawing board and work all over again, which is a good thing to see."
"I think the attitude is good," Eli Manning said. "There is definitely some excitement amongst the players, which is good. Guys are competing with guys in practice every day. Everyone has something to prove. I think guys are studying hard and going out there and competing. There are obviously mistakes every day, but guys are learning from it and not repeating them. I think it has been a good start. We have to keep it going and find ways to improve every day."
*Shurmur said all 90 players were in attendance today.
Photos from the Giants first practice of mandatory minicamp