KANSAS CITY –** It wasn't until the third quarter of the fourth game of the season that an opposing head coach challenged a decision by the officials in a game against the Giants. Andy Reid dropped his red flag with 2:06 remaining in the period and in keeping with the nature of this increasingly difficult Giants season, it was a turning point in their 31-7 loss to the Kansas City Chiefs in Arrowhead Stadium.
---
RELATED NEWS
Postgame Reactions
Coach Coughlin and Giants players meet the media following the loss...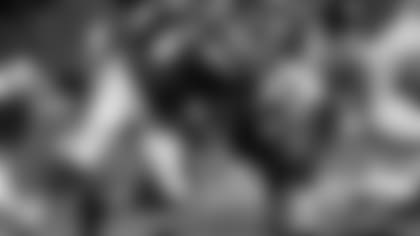 View Photos from Giants vs. Chiefs](http://www.giants.com/videos/interviews.html) As the quarter wound down, the Giants trailed the undefeated Chiefs, 10-7. It was shaping up as one of those games in which the next team to make a big play would have a decided advantage.
The Giants seemed to make that play when, on third-and-17 from their own 14-yard line, Eli Manning threw a pass down the middle to Victor Cruz, who caught it for what the officials said was a first down. Reid disagreed and challenged the ruling. After review, referee Terry McAulay ruled that Cruz had come up short. The ball was re-spotted, leaving the Giants with a fourth-and-one at the 30.
Their big play taken away, the Giants sent the punt team on the field. The Chiefs then enjoyed their own momentum-turning moment when Dexter McCluster caught Steve Weatherford's punt and zig-zagged his way up the middle of the field for an 89-yard touchdown. The Chiefs' lead was suddenly 17-7, though it seemed larger than 10 points given the struggles of the Giants' offense. Kansas City added two touchdowns late in the fourth quarter, but it was the punt return that quieted whatever wind the Giants had in their sails.
"If it hadn't been on the 30-yard line, I would have gone for it on fourth down," coach Tom Coughlin said. "But if I would have gone for it on fourth down and didn't make it at that point in the game, that would have been a foolish error. So we punted the ball and he punted it right down the middle of the field and, of course, back it came."
"You never want to give a team momentum," linebacker Spencer Paysinger said. "If you give a team momentum, that's death right there."
[
WATCH: POSTGAME INTERVIEWS AND REACTIONS](http://www.giants.com/videos/interviews.html)
McCluster's big moment was one of several breakdowns by the Giants that doomed them to an 0-4 record for the first time since 1987. They committed three more turnovers (that's 16 in four games) with two fumbles and an interception, all by Eli Manning (though one of the fumbles was on a poor handoff exchange with Da'Rel Scott).
The Giants had a chance to tie the score just before halftime, but Josh Brown pulled a 44-yard field goal attempt wide left.
Ryan Succop kicked a 53-yard field goal with 9:34 remaining in the game that would have left the Giants within two scores at 20-7. But the Giants were penalized for an illegal formation (they had seven players lined up on one side of the center). Reid took the points off the board and the Chiefs kept the ball for another four minutes before Alex Smith threw a two-yard touchdown pass to Jamaal Charles. That created a three-score margin at 24-7 with 5:43 remaining and essentially ended the game.
"The special team errors hurt very much," Coughlin said. "The punt return down the middle to the excellent returner, that's going to bite you. If you do it and continue to do it, it's going to come back and hurt you. Then allowing them to keep the ball and run more plays after the penalty and fourth down, there's no excuse for that."
But the Giants might have overcome all of those miscues and misadventures if they had a functioning offense. Their only moment of glory was a 69-yard touchdown pass from Manning to Victor Cruz. On their other 60 offensive plays, the Giants gained a total of 229 yards, or 3.8 yards a play. They rushed for 98 yards, their fourth consecutive game with less than 100. The Giants converted only one third down in 14 tries.
"Our inability to make a first down and then make another first down and drive the ball, we've seen way too much of that," Coughlin said."
"It is disappointing," Manning said. "Offensively, not being able to do anything, it's just bad. We had one big play to Victor and a pretty good drive before halftime, but besides that, we were just three-and-out."
The third quarter began with the Giants facing a 10-7 deficit. They got the ball to start the second half because Coughlin had deferred his choice to the second half when the Giants won the coin toss. The Giants lost a yard in three plays and had to punt.
"Again, three plays and out," Coughlin said. "You're talking a 10-7 score, we've got the ball back. It's three very poor plays. I wouldn't say that they were executed very well."
The Giants' eight second-half possessions ended, in order, punt-punt-interception-punt-punt-punt-fumble-downs. At one point in his news conference, Coughlin said the Giants would "try to improve on this second half debacle.
"Our inability to do anything with the ball in the second half, there's no excuse for that," Coughlin said. "That's poor, that's extremely poor."
They had their chances. The Giants' defense had three takeaways, intercepting Smith twice and recovering a fumble. Each time the offense was given the ball, it went three-and-out (seven of their 14 possessions, including the first five of the second half, ended after three plays).
"Our defense got us some turnovers in the second half, and we weren't able to do anything with it," Manning said. "They get us a turnover and then we go three-and-out and give the ball right back. We get no drives going and then we've got no rhythm offensively. We have to find a way to get things going and start making some plays."
As disappointed as they were after the game, several players on offense said they are confident of soon doing that.
"We've just got to come together as an offense," wide receiver Hakeem Nicks said. "We know what we're capable of doing. It wasn't that long ago when we were putting up big numbers. So we've just got to come back to that and just get it done. It's really nothing to talk about it. We've still got the same guys who still can make plays. It's still early in the season. We believe we can fix this. I believe we are going to fix this."