DALLAS - Michael Strahan hasn't played a football game in three years, but in some respects very little has changed. He still looks like he could put on a helmet and put down a quarterback at the snap of a football. Strahan harbors an opinion on just about any subject. And he is relentlessly happy to share his insights.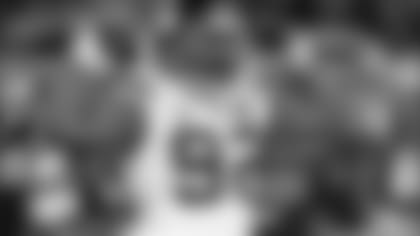 Strahan is here for Super Bowl XLV as an analyst for FOX Sports, which will televise the game. He's had the job since shortly after announcing his retirement in 2008. Strahan's last game was the Giants' epic 17-14 victory in Super Bowl XLII.
Those Giants, of course, were just the second team in NFL history to triumph in a Super Bowl after winning three road playoff games to get there. The first was the 2005 Pittsburgh Steelers. The Green Bay Packers will try to match that feat when they meet the Steelers Sunday evening in Cowboys Stadium.
Strahan sees similarities between the championship Giants and the current Packers.
"They definitely have gotten on a run like we did and won three games on the road," Strahan said. "We got on a roll. I think we had complete confidence. I think we felt like our journey was just too good to have it end on a sour note. And everybody held the belief that we could win all the way through the end, because we didn't quit. That's what helped us win in Dallas, helped us win in Green Bay and helped us win against the Patriots. No matter what the odds were, we always felt we had a chance.
"I don't think they go into anyplace and fear that they're on the road. I think that's the similarity between them and us. Picking it up at the end of the season and getting on a roll, that's very important. There's a very small difference between the 'haves' and 'have nots' in this business, between the teams that have won championships and the teams that haven't."
Strahan enjoyed the ecstasy of winning a title and the agony of coming up short. Ten years ago, he was on the Giants team that lost to Baltimore in Super Bowl XXXV. But he won a coveted ring in his 15th and final season when the Giants beat the Patriots.
Despite the seven-year gap between Super Bowls, Strahan said the experience from the first game helped the Giants when they faced New England.
"I think when we lost we had too much time to think about it in-between," Strahan said. "We beat Minnesota, 41-0 (in the NFC Championship Game), we had a week in-between and then, 'Oh my God, it's the Super Bowl.' I think the magnitude of it got overwhelming to us. The second time around, myself and Amani Toomer got a chance to address the team and we told them it's just a game. Everything around it is great, but let's not get caught up in it. And if we win, there's enough for everybody. But if you lose, no one remembers second place. Just focus on what we need to do, enjoy the experience. When we kick it off, it doesn't matter if it's the Super Bowl or if it's preseason. It's just football. It's knowing what to expect the second time around and being able to relate it to the young guys."
Strahan offered an example of the difference between the Giants of Super Bowl XXXV and the team that toppled unbeaten New England.
"You're in the (first) game and a play happens and you say, 'We just gave up three yards. Oh my God, we can't do that, it's the Super Bowl.' Instead of just saying, 'Okay, we gave up three yards, let's line up. That's not bad, actually. Line up and play the next play. If they made a big play, okay. Maybe something will happen this time around for us.'
"In the second Super Bowl when they caught us with 12 men on the field and (Coach Tom) Coughlin was on the sideline turning beat red, I grabbed him by the shoulder and said, 'Don't worry, we got it.' And I was laughing. We went out there on defense and held them out of field goal position and they went for it on fourth down and didn't get it and we got the ball back. The first Super Bowl, I think that would have been the death sign. We were overwhelmed with the magnitude and the game became bigger than it should have been for us."
Strahan is one of just three players to wear a Giants uniform for 15 seasons, joining Hall of Famer Mel Hein (1931-45) and Phil Simms (1975-93). The seven-time Pro Bowler played in a Giants-record 216 regular season games. Strahan also played in 10 postseason games.
Strahan finished his career with 141.5 career regular season sacks, the fifth-highest total in history (since sacks became an official statistic in 1982). In 2001, Strahan set the NFL single-season sack record with 22.5. He also topped the NFL in 2003 with 18.5 sacks, the second-highest total of his career. Strahan is the only Giant to twice lead the league in sacks. Strahan also holds the Giants' postseason record with 9.5 sacks.
Soon after his retirement, Strahan joined FOX NFL Sunday, for whom he offers insights and opinions each week. But he still bleeds Giants blue. He visits the Timex Performance Center when he's in the metropolitan area and Coughlin asked Strahan to address the team when he was in town during the season.
"I always will feel a tie to the Giants," Strahan said. "I'm not going to be one of these broadcasters who lie and say, 'I'm neutral and I don't have any feelings toward my old team.' That's just stupid to even say that. It's like it's my family and I have brothers and sisters and all of a sudden I disown them. I'm always going to be a New York Giant until the day I die."
Strahan keeps close tabs on the Giants. He sharply disagreed with Antrel Rolle when the Pro Bowl safety recently criticized Coughlin in a radio interview.
"He's a great coach," Strahan said of Coughlin. "I'd be happy to play for him any day.
I've been around a lot of coaches. I played for quite a few coaches. I've talked to players who had other coaches. He's a great coach. I think for Antrel it's something that's new for him. Maybe what he had before was different. I hope he realizes that when you're in New York and you say something like that, it carries a lot more magnitude than if you're playing in Jacksonville. It's New York City. There's a certain power that you have and a certain responsibility that you have there when it comes to your words, because it's such a big market. And Tom's a great coach with a proven track record and I just hope that he buys into the system as all of us had to do and once we did, he brought a lot of success for us."
Strahan is 39, and though he occasionally still misses competing on the field, the feeling isn't as strong as it once was.
"I see one person get hit and I don't miss that part," he said. "I like waking up feeling good, going to the gym and working out when I want to, eating what I want to, laying around and waking up late, going to bed late."
And he loves his current job because it combines two of his favorite pursuits, football and talking.
"I love it, I really do," Strahan said. "It's work, but it's good work."
As Strahan has conducted his business here this week he's had flashbacks to the two Super Bowls he played in as a Giant.
"You look at the guys and you know what they're going through, you're thinking about how much fun it was," Strahan said. "You're thinking about everything surrounding the game. You realize you're the only thing in town. It brings back a lot of good memories.
"I've been on both sides. I've been in this situation as a broadcaster, I've been the guy asking players questions and I've been the guy asked the questions. All of it is fun, all of it is unique. But there's nothing like being that player. That's by far the best part of it. That's the part I enjoyed the most."
Like millions of other fans, Strahan is looking forward to seeing what he believes are evenly-matched teams compete in this week's Super Bowl.
"It's going to be a great game," Strahan said. "It's a game that's very hard to pick, because you have two teams with really good defenses. I think Pittsburgh's run defense is better. Pittsburgh seems to know how to win and always seems to win close games. And Green Bay is a team with not that much experience. But I think nowadays it's overrated. Once they kick it off, it's just football. With these two teams, it's going to boil down to whoever has the right stuff on that day."