EAST RUTHERFORD, NJ - Ike Hilliard and David Tyree joined the Giants at different times and under different circumstances. The former was the seventh player taken in the 1997 NFL Draft, while the latter was selected 211th in 2003.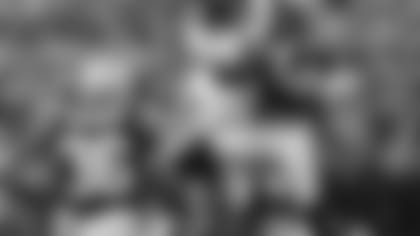 Despite those disparate beginnings, both wide receivers made indelible contributions to the Giants before wearing the uniforms of different teams. This week, each signed a one-day contract with the Giants so they can retire as members of the organization that still means so much to them.
"It was a no-brainer for me," Hilliard said on a conference call. "Being a Giant was obviously more special to me than anything in my professional career, with no disrespect to my four years in Tampa. If I didn't have my start there, I wouldn't have been a part of a great organization and playing with a number of great ballplayers and being able to play for the Mara family and the Tisch family."
"I never really saw my career even happening to begin with, and once it did get off to a start it was kind of a fairy tale ride for a kid out of Essex County," said Tyree, who grew up in Montclair, N.J., just 20 minutes from the Giants' headquarters. "The story couldn't have been written any better and I was honored from the start of things, even in the shakiest of moments, to have played my career with a class organization. It was only fitting that I ended there."
Hilliard, 34, played in 98 games with 92 starts for the Giants from 1997-2004. He ranks fifth in franchise history with 368 receptions, eighth with 4,630 yards and is tied for 11th with 27 touchdowns catches. He had eight 100-yard games.
Hilliard's most productive season was 1999, when he had career-high totals of 72 receptions for 996 yards. The following year, he scored a career-best eight touchdowns as the Giants finished 12-4 and won the NFC title.
Perhaps the most memorable game and reception of his career occurred on Jan. 14, 2001, when the Giants hosted Minnesota in the conference championship game. On the fourth play from scrimmage, Hilliard hauled in a short Kerry Collins pass and sprinted to the end zone for a 46-yard touchdown that ignited the Giants' resounding 41-0 victory over the Vikings. Hilliard finished the game with a then-team postseason record 10 receptions for 155 yards and two scores.
"I think that my entire career has been special to me, and it's hard to pick out just a couple moments," Hilliard said. "From the first drive during the second game of the year, fourth play when I got injured during my rookie season to being fortunate enough to play in the Super Bowl even though we didn't close the deal, and even how it ended as far as us parting ways. All of the moments I enjoyed I will cherish until the day that I die. Just being fortunate enough to be with those guys for as long as I could, it's hard to pick out a moment."
In a game played by tough men, Hilliard seemed to have an otherworldly pain threshold. As a rookie, he suffered a neck injury that required posterior spine stabilization surgery that fused two vertabrae. He missed two games in 2000 with bruised lungs and a bruised sternum. Hilliard had foot surgery prior to the 2001 season and was limited to seven games in 2002 after suffering a dislocated shoulder on a hit by Brian Dawkins. When he was with Tampa Bay in 2008, a tackle by Seattle's Leroy Hill was so vicious, Hilliard said, "I still have nerve damage from that hit."
Through all the pounding and pain, Hilliard never complained.
"I just love football," Hilliard said. "Some people call me crazy, but that's okay. I just think that you know what you're getting into and I enjoy the physical part of the game. I just couldn't deal with it very well as far as holding up and staying healthy throughout my career. I never shied away from the physical play, and I enjoyed everything about the game. Just the will to be out there with the guys, do the best I can, and make plays was really what motivated me to play as much football as I could, barring not having that opportunity to play because I was injured."
Hilliard said he had eight surgeries in his career. But he has no regrets.
"I wouldn't change a thing, man, especially in terms of how I played the game," he said. "There would be so many things I look back in hindsight and say 'I wish I would have done things a little bit differently' in terms of how I prepared, some of the things dealing with the media and certain teammates, etc. But as far as what I left on the grass, I did the best I could on a quarter by quarter basis. Whatever is said about my career and whatever opinion people have, so be it. But as far as everything on the grass, I'm very comfortable with what I did."
Hilliard's final Giants season was 2004, when he had 49 catches for 437 yards. He was released on Feb. 25, 2009 and signed with Tampa Bay two months later. Hilliard played four seasons for the Buccaneers, for whom he played 47 games (46 starts) and caught 178 passes and scored eight touchdowns. His final NFL season was 2008.
Hilliard is currently the wide receivers coach for the Florida Tuskers of the United Football League.
"I'm doing the best I can now not to disrespect the craft," Hilliard said of coaching. "I'm trying to learn as much as I can. I've had an unbelievable experience in such a short time. I'm hoping that at some point I'll have the opportunity to coach in the NFL for a number of years. I definitely would love to have that opportunity, but that's not up to me at this point. I have to work as hard as I can, and do a good enough job to be considered."
While Hilliard was one of the very best wide receivers in his draft, Tyree was selected by the Giants more for his special teams prowess than his pass-catching skills. And in the five years he suited up for the team he was one of the NFL's best players in the kicking game. He had 85 special teams tackles, excelled at downing punts inside the five-yard line, was twice named NFC Special Teams Player of the Week and in 2005, was selected as the special teams player on both the NFC Pro Bowl team and the Pro Football Weekly/Professional Football Writers of America All-Pro team.
But Tyree could also catch the ball. In 74 regular season games he had 54 receptions for 650 yards and four touchdowns, including a career-long 49-yarder in 2004.
Ask any Giants fan about Tyree and they will almost certainly think first of Super Bowl XLII against New England on Feb. 3, 2008. Tyree caught just three passes in that game. But they included the Giants' first touchdown, a five-yarder from Eli Manning early in the fourth quarter. The last of those receptions was one of the most spectacular and memorable plays in Super Bowl and Giants history. On third-and-four from the Giants' 44, Manning somehow avoided a sure sack by the Patriots rush and threw down the middle of the field, where Tyree somehow wedged the ball between his hand and his helmet and held on despite getting mugged by safety Rodney Harrison. The phenomenal play gained 32 yards, and four plays later, the Giants scored the game-winning touchdown.
"I know it (the catch) means a lot more to me now and … I don't think that I had the full understanding of the true depth of what occurred," Tyree said. "I think the more I am removed from it the more I appreciate it. So goes with my entire career. Obviously, that is the one signature moment which I'll be remembered for as a football player, but I was definitely satisfied with the complete body of work as well."
After the Super Bowl, Tyree was the toast of the metropolitan area and the entire country. He appeared on the cover of Sports Illustrated – twice. He wrote a book, perhaps a first for a receiver with 54 career catches. And he was a guest on more talk shows than Tom Hanks.
But the spotlight eventually dimmed. Tyree never played another game for the Giants, nor did he ever have another NFL reception. A knee injury in the offseason following the Super Bowl required surgery and he missed the entire 2008 season. Last summer, he attempted a comeback, but a hamstring injury limited him in training camp and kept him out of the final two preseason games. The Giants released him on Sept. 5, 2009, so the great catch was the last time he touched the ball for them.
Tyree was out of work until he was signed by the Baltimore Ravens on Oct. 13. In 10 games, he had 10 special teams tackles (nine solo), including three at Cleveland on Nov. 16, plus two more in the postseason. But he did not have a catch.
Through much of the offseason, Tyree, who is 30, thought he would be in some team's training camp this week. But he found no takers.
"I didn't get the interest that I expected in free agency, but that really wasn't the final decision," Tyree said. "I really felt I finished the season strong enough and positioned myself to be on somebody's roster at some point this year but what really made it the final decision for me was just looking at the body of work over the past seven years, what was I really trying to stay in the game to accomplish? And just really trying to position myself to hear from God and what was next for my family and it just kind of unraveled that everything that I was passionate about at this point in my life was more so off the field."
Unlike Hilliard, Tyree has no strong desire to stay in football. He is the father of five children, the youngest born just last month. And Tyree, who became very spiritual during his football career, believes he has a higher calling.
"It's going to be a combination of business and ministry," Tyree said of his future. "Be careful because I'm not a big fan of the word 'religious,' but I am passionate about my relationship with Christ. To me, I truly understand that that was the primary focus of what that catch means to me. It give me a voice, it gives me a platform to reach others, to share, to encourage others in whatever area of their lives. Kind of what I'll be doing in business is – I have a passion to see guys do well, to have an understanding of what it means – this whole NFL career – what it sums up to and the fact that it's really not a career in itself, it's more of a springboard into your next area of life. So that's – even in the business realm – what I'll be doing and helping guys walk this journey a little bit." ](http://www.nyg2010.com/)**
If you'd like to submit a question or comment to Michael, click here.