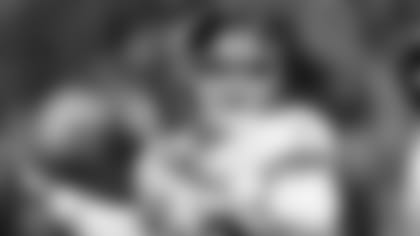 On April 10, Eli underwent an arthroscopic debridement of his left ankle to hasten the healing process of an injury sustained in the Giants' 2013 season finale against the Washington Redskins. Eli reported for the start of the offseason workout program, which began two weeks ago, but said he's looking at training camp in July for his return to team practices.
"He's disappointed he's got to miss some of the OTAs, but it's better than missing games during the season," Peyton said. "So it was the right thing to do."
Peyton added: "Just the doctor thought this might pop up in the fall. Might as well knock it out now. It's hard to do, but it was the right thing to do, and I know he (Eli) will be excited once he can get back out there."
The Giants' OTAs will be held May 28-30, June 2-3, June 5, June 9-10, and June 12-13. Mandatory minicamp will run June 17-19. VIEW SCHEDULE
Last week Giants general manager Jerry Reese said he's confident his two-time Super Bowl MVP quarterback will bounce back from the injury and a substandard 2013 season.
"Eli is a smart guy," said Reese. "I think he's driven to prove that last year was just an odd year for him. I think last year was an odd year for him. I believe he'll bounce back and have a terrific season."