The Giants two 2007 Pro Bowl participants were back together on Thursday night in order to attend the 71st Club of Champions Tribute hosted by the CYO and the Archdiocese of New York.  Antonio Pierce received the John V. Mara Sportsman of the Year Award, given annually to individuals who have exhibited exceptional sportsmanship throughout their career.  Tiki Barber, the 2006 honoree, was in attendance as well to pass the honor onto his teammate, and to attend the dinner which he was unable to make last year as it coincided with his participation in the 2006 Pro Bowl.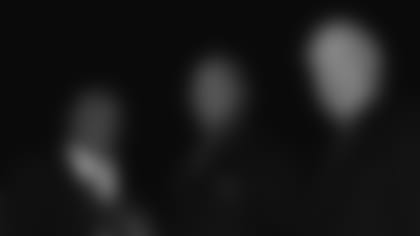 Giants LB Antonio Pierce receives the John V Mara Sportsman of the Year Award from Tiki Barber and His Eminence Edward Cardinal Egan.
Pierce, who has made a mark in the communities of New York and his hometown of Compton, CA, was honored for his efforts benefiting kids.  "It's great to have the opportunity to be beneficial to the young people around you," said Pierce during his acceptance speech.  "I didn't have a lot of opportunities growing up in my hometown.   Luckily, I was able to participate in a football program.  I want to thank the people that make CYO programs possible, that give kids a chance to grow and compete."
Tiki Barber echoed those sentiments.  "One of the things that I value most about my athletic career is that it has given me a voice and the opportunity to improve the lives of others.  Life is about opportunity, and once you have opportunity, it is about the energy and passion that you put into it.   I applaud the CYO for giving kids that opportunity."
Also honored during the evening was Henry J. Humphreys, who received the Gold Medal Award for providing inspiration and leadership for the youth of New York City.  Karl P. Adler, M.D. received the Terence Cardinal Cooke Humanitarian Award, given annually to those who have demonstrated an outstanding commitment to youth.
The Catholic Youth Organization (CYO) provides spiritual, athletic, cultural and recreational programs to youth and young adults of the Archdiocese of New York. The CYO County Programs support parishes in developing these programs. The four CYO Community Centers: Lt. Joseph P. Kennedy Center in Harlem, the Staten Island CYO Center, Cardinal Spellman Center on the Lower East Side of Manhattan, and the CYO West Bronx Community Center in the Highbridge section of the Bronx, are multi-service facilities in their respective neighborhoods. The Retreat Centers: Blair Lodge in Putnam Valley and Grace House in Manhattan provide youth and young adults with day and overnight retreat experiences. CYO Young Adult Ministry reaches out to young men and women, single and married, in their 20's to early 40's, through spiritual, service, social and educational activities. CYO also provides summer camp programs on Staten Island and in Putnam Valley.
Antonio Pierce has been a constant presence in the community since joining the Giants in 2005.  In 2006, Antonio Pierce started "Antonio's A-List" at Giants Academy, the Giants charter academic program located in the Louise A. Spencer School in Newark, NJ.  Antonio's A-List is a motivational incentive program that will reward Giants Academy Students that reach certain academic standards each semester and for the entire school year. Giants Academy is a cooperative effort between the New York Giants and Communities in Schools of Newark to create a heightened learning environment for 6th, 7th, and 8th graders in Spencer School who are designated as "at risk" students.  The program consists of approximately 50 students and focuses on improving math, reading, leadership skills, as well as social skills. Antonio also hosts an annual football camp for youth in his hometown of Compton, CA, completely free of charge.  Each year during the holidays, Antonio also hosts a luncheon for foster children from a group home in New York.  The luncheon is an opportunity for Antonio and the kids to interact while providing a positive experience for the children who will not be with their families during the holidays. ](http://www.jointheteam.com/)