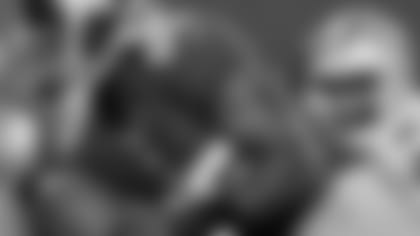 1) TE Martellus Bennett –** The significance of the first meeting between the NFC East rivals this season was two-fold for Bennett. Not only was it his Giants' debut, but it was also the first game against his former team. While Bennett's Giants tenure began with four catches for 40 yards and a touchdown, the tight end said he has nothing to prove against the Cowboys in his first trip back. He's a Giant now.
"All my emotions are to this organization and to the things that we're trying to build and relationships I'm trying to build with these guys here, so I have nothing to show them," Bennett said. "I have nothing to show to anybody else outside this organization and myself."
2) DT Chris Canty – Activated off the Physically Unable to Perform list for last week's game, Canty played 20-25 snaps in the win over Washington and notched four solo tackles. A former Cowboy himself, Canty hopes to continue his progress.
"You could tell he was a little rusty on some of the plays and some of the blocks he was getting," defensive coordinator Perry Fewell said of Canty's performance last week. "I think you'll see him get much better quicker because he's a veteran and he knows how to play."
3) S Stevie Brown – Kenny Phillips (knee) is officially listed as doubtful, which means Brown will make his fourth straight start at safety opposite Antrel Rolle. Brown was primarily a special teamer at the time of the first meeting with the Cowboys, but has since recorded three interceptions, which is tied for the team high.
"I liked it here," Brown said of why he signed with the Giants this past offseason. "When I came out on my visit, it was a good opportunity. Sitting upstairs talking to everybody up in management, talking to the coaches, a few players that I talked to when I came through, everybody seemed genuine and everybody had each other's back. Everyone had one goal, and that was to win. That's why I wanted to come here."
4) DE Jason Pierre-Paul – Neither side needs to be reminded of Pierre-Paul's impact on the Giants' last trip to Arlington. However, Pierre-Paul is only thinking about this week's matchup as he comes off three sacks in the last two games.
"I'm just hoping we can put him back into that zone when we go back into that stadium and he can play that way again," Fewell said.
5) RB Ahmad Bradshaw – Friday was the only day Bradshaw was able to practice this week, and it was in a limited capacity at that. Bradshaw is officially listed as questionable, but Tom Coughlin said he's "confident" that his running back will be good to go on Sunday. Bradshaw put up 78 yards and a touchdown on 17 carries in the season opener vs. Dallas. Could we see more of Andre Brown and David Wilson this week? We'll see.
![](http://www.pjtra.com/t/R0BKSkZKQ0BLRkVESEBISEtERw)