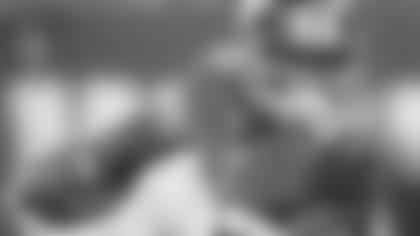 1) Hakeem Nicks and Victor Cruz -** If anything, these two wide receivers have pride. For the last three weeks they've taken heat – internally and externally -- for the struggling offense. But while they were clenching their teeth, they were also resting and getting healthier over the bye. Add in a week to go back to the drawing board, and they hope to return to their high-flying ways along with Eli Manning.
2) LB Chase Blackburn – Despite losing to Green Bay in the regular season last year, Chase Blackburn provided one of the more memorable moments of the season when he intercepted Aaron Rodgers in his first game back with the Giants. Blackburn has a nose for big plays in big games, and Sunday night's matchup between the last two Super Bowl winners fits that bill. Among linebackers, the same could be said for Michael Boley, who had 9 tackles and 2.0 sacks in the postseason meeting with the Packers.
3) S Kenny Phillips – The awaited return of Phillips may finally be here. Still listed as questionable after being limited in practice all week, Phillips and the coaching staff hope the bye has him ready to go for Sunday. Defensive coordinator Perry Fewell is anxious to dust off the three-safety look that the Giants relied on during last year's Super Bowl run. A return by Phillips will give the defense a major boost.
4) DT Linval Joseph - While Linval Joseph missed two days of practice with a knee injury, Tom Coughlin said it was "never a question" he'd play in the game. That is a big plus for a defense trying to both pressure Aaron Rodgers and keep him in the pocket at the same time. Joseph, who had 9 solo tackles in last year's regular-season game against Green Bay, will be there to help in the middle. Joseph is also quietly tied with Osi Umenyiora for second on the team with 4.0 sacks.
5) Rookies - This is the time of the year when coaches hope their wide-eyed rookies aren't so wide-eyed. This is especially true for draft picks. It's also the point of the season when players need to come out of the woodwork and make plays. Are David Wilson, Rueben Randle, and Jayron Hosley up to the challenge? The six-game season begins now.
![](http://shop.giants.com/)