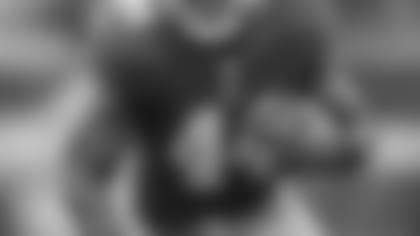 1) Backfield trio** – Missing last week with a concussion, Andre Brown is probable to return to a backfield that has racked up 392 yards in the last two games. The question becomes how the carries will be divvied up between him, David Wilson, and workhorse Ahmad Bradshaw, who has 57 carries for 316 yards in the Giants' back-to-back wins. Factoring in will be the extent of Bradshaw's foot injury, which limited him to one practice this week and has him listed as questionable. But it takes a lot to keep The Bulldog off the field.
2) S Antrel Rolle – Coming off one of his best games as a Giant, Rolle looks to follow up his two-interception performance against the Redskins. His leadership role and communication continues to grow on the defense, which will be key against an explosive and shifty offense this week.
"He loves to play, he loves to compete, he practices literally all the time," Tom Coughlin said. "He's gregarious. He shares that enthusiasm for the game, the love of the game. So it's an infectious nature, no question. Everybody was so happy to see him play as well as he did and make the spectacular interception and convert it and I know that excited our defensive team, our entire sideline, as a matter of fact. So I hope we can continue to do that."
3) WR Hakeem Nicks – A week ago, Nicks' primary objective was simply to get back on the field. He did that in San Francisco and managed three catches for 44 yards. Nursing knee and foot injuries that kept him out for three straight games before the 49ers, Nicks ratcheted it up a notch this week.
"Yeah, I feel a lot better than then," Nicks said. "I was still a little cautious in that game about it. I really just had one practice then got in the game. I had three weeks off. I wasn't really expecting too much out of that game. I just wanted to go out there and get back. This week I had a full week of practice so I expect it to be better. Next week will be better. I just want to keep getting better."
4) LB Mathias Kiwanuka – Where will he line up on Sunday? That's for the coaches to know and for us to find out. Kiwanuka played down on the defensive line for the vast majority of his snaps last week and had two tackles and a sack. Kiwanuka is no stranger to moving back and forth between linebacker and defensive end, but his role last week was based on matchups and need. However, with Keith Rivers coming back and Adrian Tracy seeing time at the position, there is some room for options.
"We thought he performed extremely well," defensive coordinator Perry Fewell said. "He played about 40 snaps and there were very few minuses in there and I was very pleased with his performance. "
5) DE Justin Tuck – The captain of the defense pays no attention to statistics, especially when his team is winning. Despite not recording a tackle last week or a sack all season, Tuck is still contributing to a unit that had a major breakthrough in San Francisco. Sunday could be Tuck's turn, however, against a divisional opponent in his home stadium.
"If you watch what he does when he's picking for one of the other defensive lineman, that's not bad. What he does is he enables the inside rusher to come around and be in good position. He was responsible for a couple of those. I thought he definitely played better and I think those other things will come for him. He's a player that really does not need to respond to every question about that, because he is focused on our team success."
![](http://www.pjtra.com/t/R0BKSkZKQ0BLRkVESEBISEtERw)