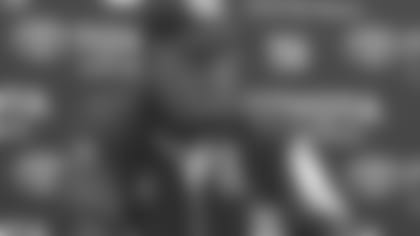 "Obviously disappointed. Very disappointed in the outcome. There was obviously a lack of balance tonight. Our defense was on the field way too much. I thought from the second drive when we should have had 14 points on the board with [TE] Larry [Donnell]'s fumble that the offense didn't show much from that point on. Penalties. Turnovers. They had more turnovers than we did, which was surprising, but nevertheless we did nothing with the opportunities we were given through the turnovers and it's just very, very disappointing. I expected to come down here. I expected it to be a very close game. I thought we did a good job of preparing for the speed with which Philadelphia played. I didn't think that was a real factor, although there was one penalty late in the game which hurt us. Actually had a sack, probably a sack for a safety, but we got caught with 12 on the field. But that was the only time I thought that our play was in any way hampered because of the speed with which they played. I thought our first drive was as good of a drive as we've had. And that really excited me for the rest of the day, but from that point on, there wasn't a lot to get excited about. So we play again in six days. We play last year's divisional champion and we have to get our chins up off the floor real quick."On whether the penalty on DE Damontre Moore interjected energy into the team:
"Well it was just again another very, very bad penalty. I didn't notice any surge, any difference than what they had been utilizing. But it was a bad penalty and we had a couple of them."**On why the team wasn't able to capitalize on the Eagles' turnovers:
"Why? Because we didn't move the ball after a certain point. We were pretty much stagnant. Then even when we got down at the end of the game there and were about to [gain positive yards], we ended up going backwards there. We created a fourth-and I don't know how many, 20 yard deal.  I would have liked to have gone for it on fourth down, but not with that distance."On whether he should have asked for a measurement before the fourth down play at the end of the first quarter:
"Well afterwards I certainly would have thought that. To be honest with you, when the judge came in from our side, it looked like he was on the line. He got out there and there were some bodies around and someone came in from the other side and all of a sudden the ball was moved back a little bit. But we were at point blank range on third and fourth down and weren't able to get it."
On whether there was any confusion on the team about it being fourth down:
"No."On what the Eagles did to cause three sacks:
"They rushed the passer and they rushed the passer well and we didn't do a very good job of protecting."On whether it was a critical play or a turning point in the game when Donnell had the ball taken from his hands in the first quarter:
"It certainly was. I'm thinking 14 points and we end up losing the ball and no points. So I thought it was a critical play in the game. It was very early in the game, no doubt, but our inability to put points on the board right there to be able to go back and forth and match – that hurt."    
On whether the penalties on the Giants kept the Eagles' drives alive:
"Oh yeah. You can't play like that. That's bad football. Even the pass interference on Larry Donnell. I mean I don't know what could have happened over there. I couldn't see that side of the field. But that's the thing that created an opportunity for us to have to punt the ball, even that late in the game. It certainly took a lot away from both sides. Both sides had, I don't know what the numbers were, but both sides had a lot of penalties and turnovers, but they certainly did more with their opportunities than we did."On why Beckham was limited in the second half:
"Well we would have liked to have gotten it to him, but it didn't work out that way and obviously we were having a lot of trouble protecting the quarterback. They did have, a little bit later on, they were playing a little bit different once they got the lead. They did have one defender low, one high to be able to – if you came vertically up the field, they were in a better position to defend."On whether Beckham came out of the game okay:
"I haven't heard anything from the trainers yet."
On the difficulty of continuing to play after the second drive:
"Obviously we had a great first drive and it was about as good as it could be.  The second drive we were going right down there, got good field position, feel like we got a completion, and the guy makes a good play and gets the interception.  I think the next series we had something going.  We took a shot down the field to [TE] Larry [Donnell] on a second and short.  On third down, third and short, we run the ball don't get the first down, and fourth down we don't get it also.  That series hurt us.  We were in good field position and needed to be able to convert that third or fourth down and continue that drive.  After that, you have to give credit to them, they did a good job.  They started getting some pressure, and we didn't run the ball quite as well, and they got us off the field on third down.  I had a bad turnover – a bad interception and giving them a touchdown.  I can't afford to do that.  The defense kept us in it and gave us opportunities and kept getting turnovers.  Offensively we couldn't get anything going, and we couldn't convert on third down.  It's tough to get into a rhythm there in the second half."
On WR Odell Beckham Jr. only having one target in the second half:
"Once we got the lead, they were doubling him a good bit and tried to challenge us to run the ball and probably
giving us run looks, but we were down so we're having to throw it and getting pretty good pressure there on their front four.  We knew they are talented.  We knew we would have to get the ball out quickly and started to have to hold it some because of what they were doing and they did a good job." On the play in the second quarter when Eagles CB Nolan Carroll intercepted his pass for a touchdown:
"It was a terrible read by me.  They got me on the coverage.  I thought they were two man – they were in zone, so bad decision by me to make that throw."
On the effect of WR Rueben Randle slipping during the interception:
"No, it was a bad read and just seemed by the way the nickel was playing that it was some sort of two zone, and I should have gone to my next progression – the next guys in my progression."
On adjustments that were made after the interception intended for Donnell:
"No, not a ton of adjustments.  We were kind of having to hold the ball some and trying to get to our check
downs and our second and third reads and just didn't have the time to get down to them.  Their defensive line was talented and getting good pressure we were having to get open quickly and we just didn't get open quickly enough and didn't have time to get down to some of my check downs.  They did a good job.  They are talented up front."
On the fourth-and-one run when RB Rashad Jennings went over the left end:
"You know, I was a little surprised they didn't give us the first down on the play before.  I think we thought that was a first down, and it surprised me we didn't get a measurement on that.  I thought we got a bad spot right there.  I thought we had the first down on the play before.  We ran the ball.  I don't know if Rashad was aware it was a fourth down or not."On how surprised he was that completions in the 2nd half were hard to find after hitting his first ten passes and a great first drive:
"That's just football sometimes. We just got down a little bit, they got a lead and they're not going to give us any easy completions and make us hold the ball a little bit; [they] played a little bit more zone and two-high, taking away our short stuff. It's tough to find completions out there."
On whether he is disappointed or surprised at the outcome of the game after building momentum going into tonight:
"It's disappointing. I thought we came out ready to play. The first drive set the tone. The defense got a three-and-out. We get the ball again and drive. I thought we fought hard and tried to hang in there, and really the start of the second quarter throughout the second half, we just got outplayed."
On whether TE Larry Donnell had the ball on the interception in the first quarter:
"I could probably make a little better throw, get it up high. But the guy just made a good play on him."On whether this is a missed opportunity after the way they started:
"I guess every game you lose is a missed opportunity. I think we had a good start, but we do have to play well all four quarters. There are going to be ups and downs in the game with their offense and their style. There will be ups and downs throughout the whole game and we have to overcome those and we just didn't overcome the downs and get back into a rhythm."On whether this feels like the kind of game they had last year here:
"No, I thought we had better opportunities. The first drive we had some good things going. Then the second half, they outplayed us." On whether it's nice to have a short turnaround before the Dallas game next week to get the loss out of their mind:
"Yeah, we just have to overcome it. We have to get ready for Dallas. It's another game in the division, a big game at home so we have to figure out a way to get a win."
On how shocked he was that Giants WR Odell Beckham Jr.'s early  touchdown provided the only points of the game:
"Well, you know they're out there making plays, but we hurt ourselves with the turnovers. We had opportunities, but we didn't cash in and we just hurt ourselves. That's really how it goes when you go against a great team.
On whether he ever had control of the ball that was intercepted by Eagles LB DeMeco Ryans:
"We both had our hands on the ball at the same time, but then I wasn't able to get the ball good and he just ended up making a good play. We kind of met at the same time, so you know the ball was there, he was going for it and I was going for it and he happened to make a good play."On how frustrating it was for the offense not to be able to take advantage of four turnovers caused by the defense:
"How it started on the first drive, I felt like we got the ball rolling and it felt good. It felt like we were going to take over. So to let that happen, it sucks. We feel bad leaving the defense out there hanging."
WR ODELL BECKHAM JR. On his first half performance versus the second half performance:
"I think it is just the way the game went. They did a great job causing some havoc and we did not help ourselves out. Moving on, we will see them January 3."On the Eagles coverage against him in the second half:
"It was all the same thing. Same thing they were trying to play. It is all about executing and making plays at the end of the day. You have to make plays."** On what he thought about the rest of the game after scoring on the first drive of the game:
* "I definitely did not think that would be the last time we scored. The offense has to step it up. The team that often wins the turnover battle usually is the most likely to win the game. We have to find ways to keep the ball and keep the ball moving. We just have to play better, plain and simple."* On how the team felt after the turnovers in the first half missing out on points:** "They hurt but at the end of the day, that stuff happens and you have to leave it where it is at and keep moving forward. Unfortunately, we made a couple more and we did not help ourselves out."On the health of his hamstring: "You just have to manage it. Just know that you cannot put it all out there. You get as much as you can and I am going to give this team all I can give every week."On the coverage that Eagles CB Byron Maxwell played against him: "They did some press. They mixed it up. They did a great job of rolling some coverages late. But we really shot ourselves in the foot, turnovers, little mistakes that we should not have been doing."On how the Eagles changed their defensive gameplan once they gained the lead:"They rolled it a little bit. Like I said, they did a good job of disguising it and keeping it hidden to the last moment. But like I said, we have to make plays. They made more plays today and they came out with the win."On how he felt before the game:
"I felt good enough to play. I just kind of stayed right where I am at during the game. I do not think there were any major setbacks."
DT CULLEN JENKINSOn whether it was frustrating giving the Eagles multiple opportunities due to penalties:
"You get what you want or you get off of the field but then something happens where they get another opportunity. We didn't bounce back well from those today, so moving forward we have to realize that bad things will happen in games and we have to be able to bounce back from them and get another stop when we need it."On whether he was surprised at the amount of penalties in today's game:
"Yeah we had a lot of penalties. But we have to go look at it and we have to put a stop to it, we can't win football games like that."On whether he feels the team will bounce back from this game:
"Yeah, I feel like if we get our minds right, if we get in this week, work hard and figure out what we need to do, then we'll bounce back."
Photos from Monday night's matchup against Philadelphia Eagles