EAST RUTHERFORD, NJ - The only certainty about the NFL Draft is uncertainty. Despite the detailed scrutiny and study and the countless hours of preparation put in by the league's 32 teams, the draft never unfolds exactly as scouts, general managers and pundits expect.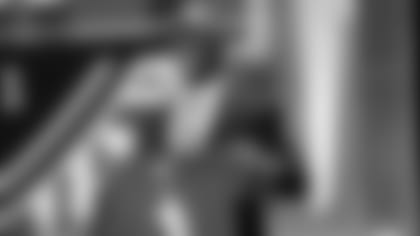 Fortunately for the Giants, the unexpected was again the norm in the 2011 Draft. Prince Amukamara, a talented cornerback from Nebraska they thought would go early in the first round, was there for the taking when the Giants were on the clock for the 19th selection in the first round.
"Really surprised that he was there," general manager Jerry Reese said. "We thought he would get picked a lot higher than that. But it happens like that sometimes in the draft. Guys can fall right in your lap. We think that's what happened. Everybody is excited up there (in the draft room). Our defensive staff is excited. Our entire room is excited about it."
Marc Ross, the Giants' Director of College Scouting, said more emphatically that he didn't expect to obtain Amukamara with the 19th pick.
"It was a shock," Ross said. "I know we come in and say we take the best player and we're surprised, but this one truly was a shock. Because you go through scenarios leading up to the draft where you have realistic scenarios, somewhat unrealistic scenarios and this one was just completely out of left field. We never thought this kid would still be on the board at 19."
Ross said the early run on quarterbacks – four of the top 12 players taken were QBs – resulted in several outstanding players at other positions becoming unexpectedly available.
"We had talked about that leading up to it," Ross said. "Teams are going to start going after these quarterbacks and that's what happened. (Amukamara) is a great kid. He's big, he's fast, he's never been in any trouble, which for a corner is rare. It was really surprising."
Amukamara expected to go before the 19th selection.
"I was very surprised," he said. "I thought I'd go off the board mid-round or pretty early. Everything happens for a reason and I'm glad I landed here in New York City. It's a great opportunity."
Amukamara, 6-0 and 206 pounds, was the highest-rated player remaining on the Giants' draft board. At Nebraska, he played in 48 games with 31 starts (16 at right cornerback, 15 at left corner) and recorded 161 tackles (100 solo), five interceptions, six tackles for losses, four sacks, three forced fumbles and a fumble recovery.
He started all 28 games in his final two seasons. In 2010, Amukamara was a unanimous All-America selection, an All-Big Twelve first-team choice and he was named the conference's Defensive Player of the Year, joining Ndamukong Suh and Grant Wistrom as the only Cornhuskers to win the award. Amukamara was also a finalist for the Jim Thorpe Award (top collegiate defensive back).
"The value of this pick, where he was ranked, there wasn't any question that this player should be on the New York Giants," head coach Tom Coughlin said. "At one point, there were probably four or five players in position there (and) we felt real good about it. As we got close and our pick matured, there was Prince and he was clearly the highest-graded player we could take on the board."
Amukamara was one of the players invited by the NFL to attend the draft at Radio City Music Hall.
"It's an honor, it's a great opportunity," he said of being chosen by the Giants. "This is my first time in this city, so it seems like it's love at first sight and it was a mutual love. I love them and they love me and they picked me and I'm excited about that."
Amukamara is the first cornerback selected by the Giants on the opening round since Aaron Ross in 2007. He is the first Nebraska Cornhusker ever chosen by the Giants in the first round.
He joins a Giants secondary that includes cornerbacks Corey Webster, Terrell Thomas and Ross. The Giants believe he can contribute immediately on defense and special teams.
"You can never have enough cover guys," Coughlin said. "If you watch the way people play today with the addition of the receivers, they go one, two, three, four until they figure out what are you going to cover some of these third and fourth receivers with. The more cover people that you have, the better off you're going to be. Plus, this young man is physical, he's fast, he has very good size, he's confident, which you have to be as a corner in this league."
"You always need corners," Reese said. "You always need corners and you always need pass rushers. Those two positions you always need on your defense. So it is always a need pick.  Anytime you can get a corner, it is a need pick."
Amukamara expects to contribute immediately.
"As a football player, the Giants should expect someone that is going to compete week in and week out," he said. "You will rarely see me take a play off. I'm a guy that's physical and is always trying to make plays and having fun doing it."
Prince Amukamara doesn't have the most uncommon first name in his family. That honor can go to any one of his five sisters - Princess, Precious, Promise, Peace and Passionate. The family grew up in Glendale, Ariz., where Prince was named the state Player of the Year at Apollo High School. A two-way starter, Amukamara rushed for 3,389 yards and almost 50 touchdowns and had 125 tackles.
Nebraska recruited him as a running back, but when Amukamara arrived in Lincoln, the coaching staff thought he was best suited for defense. Amukamara considered transferring, but stayed with the Huskers and developed into one of the nation's leading shutdown corners.
As a junior, he had 61 tackles (41 solo) and five interceptions. Last year, Amukamara posted 59 tackles (36 solo) and he did not intercept a pass.
"There is always a concern (when production dips), but we go by what we have on him," Reese said. "Our scouts scout him and our scouts are out for 200 days out of the year. And our coaches do the work. Marc Ross does some work. I do some work on him. We thought he was a terrific player and we never dreamed that he would be there at that point, where we picked him. So you get lucky like that sometimes and a really good player can fall to you like that."
Reese was asked why he thought Amukamara's production slipped.
"I think he had the reputation of being one of the better corners in the NCAA," Reese said. "I think that was part of the issue. The other thing is, the best player in college football was drafted (from) their defensive front last year.  So when you have a guy wreaking havoc up front like Ndamukong Suh, you get interceptions back there.
"But we think he has a really good skill set.  And again, he is in the rotation right away.  Obviously height, weight, speed guys always are playing your special teams.  But he is in our rotation right away challenging for a job – for the nickel, for a starting position. So I love that competition.  There is going to be some good competition at that corner position."
The draft continues tomorrow with the second and third rounds.