EAST RUTHERFORD, N.J. – Now we'll see what Daniel Jones can do for an encore.
Jones was a record-breaker in his first NFL start last Sunday, throwing for 336 yards and two touchdowns and running for two scores to lead the Giants to their first victory of the season, 32-31 at Tampa Bay.
But the NFL is a what-have-you-done-for-me-lately league with the next challenge always right around the corner. For Jones and the Giants, that is their game Sunday in MetLife Stadium against the Washington Redskins. The Giants are 2-7 at home and 1-6 in the NFC East in the last two seasons and need to improve both records to become serious playoff contenders.
And for all the success he had and all the excitement he created, Jones is still an NFL neophyte. Offensive coordinator Mike Shula made that clear when asked where Jones can improve.
"Well, every area," Shula said. "When you are just starting out playing, you just keep talking about little things that are technique, footwork, getting your eyes in the right place, getting the ball out earlier. Obviously, the big one is ball security (particularly after Jones lost two fumbles last week), all of those things. Just trusting things. Sometimes there is a difference between getting the ball out early and leaving your first read, as opposed to staying on your first read. A lot of it comes with experience. For the first game, he did pretty good."
Now Jones gets to play in MetLife Stadium for the first time and show the Giants fans that pretty good is just a starting point.
"There is a whole lot that I need to clean up to do better," Jones said. "I'll focus on that, I'll lock in on those things this week and hopefully play better on Sunday. I'm looking forward to that."
Not surprisingly, his top priority aligns with Shula's.
"I think the main thing is ball security," Jones said. "I can't afford to turn the ball over twice like that in critical points in the game. I think that's the first thing. There are other things, specific to plays, that I look to correct and learn from, but I'm excited to do that.
"Winning always helps (build confidence). But like I said, while we won, there are a number of things that we need to work on and that I need to clean up. We'll focus on that also, but it's always easier to do that when you win."
Spoken like a wizened veteran. Jones was the NFL's biggest story this week, but the newfound celebrity and acclaim appears to have affected him not at all. His life, he said, hasn't changed.
"It's the same thing," he said. "I go home and then I come into work every day. But no, I don't feel like it's changed a whole lot."
He hasn't, but the Giants have. The home opener against Buffalo was just two weeks ago, but the team that will face Washington is much different than the one that lost to the Bills. The two most important offensive players that afternoon were Eli Manning and Saquon Barkley. Neither will play tomorrow (well, Manning could, but it would likely happen only if Jones is injured; Barkley is sidelined with ankle injury). Jones has taken over at quarterback and Wayne Gallman will replace Barkley as the team's feature back. In addition, rookie wide receiver Darius Slayton last week caught three passes for 82 yards after missing the first two games with a hamstring injury. Linebacker Alec Ogletree, who normally calls the defensive signals, will not play after straining his hamstring in Tampa. That job now falls to rookie Ryan Connelly.
Jones will continue to hog the spotlight, but a good share of the scrutiny on Sunday will fall on Gallman. Since his arrival last season, Barkley has been the Giants' best player. He was the Offensive Rookie of the Year after rushing for 1,307 yards, catching 91 passes and scoring 15 touchdowns (11 on the ground). No one expects Gallman to match that pace, but he does not need to produce and provide a run game to balance the offense during Barkley's offense.
"In coaching, this is what you talk about, next man up," running backs coach Craig Johnson said. "You are always prepared for that. We prepared for that all offseason, and I have always told the guy that's not playing, he's a not a second stringer. In this case, Wayne Gallman, who is the starter this week, you always prepare like a starter. This is his opportunity, I can't wait for that to happen."
Gallman rushed for 476 yards and caught 34 passes as a rookie two years ago, but his touches and production have waned since Barkley's arrival. Johnson believes he can thrive carrying a heavier load.
"He certainly has shown flashes when he has gotten his opportunity to do it," Johnson said. "He's proven it this year, he's run at a high level, he's caught the ball well, he's protected well. That's what you have to be able to do. As a starter, you have to be able to do that for the length of the game. That's what has yet to be determined. I can't wait to see that happen."
*The Giants and Redskins split their season series each of the last four years. Each team won on the road last year. Washington hasn't won two in a row in East Rutherford since 1999-2000. The Giants lead the series, 100-68-4. When they defeated Washington, 40-18, last Dec. 9, the Giants became the first NFL franchise with 100 regular-season victories against another franchise.
Giants vs. Redskins Broadcast Info: TV channel, Radio Station and Live Stream.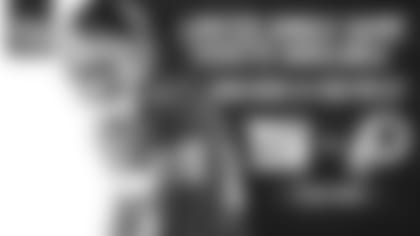 Limited tickets on sale for Giants vs. Redskins
See the Giants take on the Redskins on Sunday, Sept. 29 at 1:00 PM ET