Everything you need to know about the Week 4 matchup between the New York Giants (1-2) and Washington Redskins (0-3):
1. Jones sweet Jones. Quarterback Daniel Jones, the sixth overall pick in the 2019 NFL Draft, will start in front of the MetLife Stadium crowd for the first time against the Redskins in the oldest rivalry in the NFC East. Last week, Jones scored the go-ahead touchdown on a seven-yard run with 1:16 remaining in a thrilling 32-31 comeback victory in Tampa Bay. While erasing an 18-point deficit, he became the first rookie with at least 300 passing yards, two passing touchdowns and two rushing touchdowns in a single game since 1970.
"I'm excited to run out there in front of Giants fans and play my first game here," said Jones, who can join Kyler Murray (2019) and Cam Newton (2011) as the only rookies in NFL history with 300+ pass yards in each of their first two career starts. "That'll be fun. We had some good support down there in Tampa Bay, and I am certainly very appreciative of that, but it'll be fun to run out here."
2. Next Gallman up. Saquon Barkley, who led the NFL in yards from scrimmage last year as a rookie, suffered a high ankle sprain late in the first half of Week 3. After receiving a second opinion, it was determined that Barkley will treat and rehab the injury and not be placed on injured reserve. Still, he is out indefinitely and Wayne Gallman will make his third career start as a result. The 2017 fourth-round draft choice has just seven carries for 30 yards this season, including a two-yard touchdown near the end of the Giants' Week 1 loss in Dallas.
"I view it as a big opportunity, an opportunity I've had since I came into the league," Gallman said. "It's unfortunate for my brother to go out, but this is what I've prepared for, this is what I have been preparing for, so I'm ready for it."
3. Injury report. In addition to Barkley, inside linebackers Alec Ogletree (hamstring) and Tae Davis (concussion) have been ruled out of Sunday's game. Rookie Ryan Connelly slid over and assumed Ogletree's play-calling duties in the middle of last week's game. The fifth-round pick out of Wisconsin recorded seven tackles and his first career interception. David Mayo and Nate Stupar, who was re-signed this week, will also be asked to step up. Outside linebacker Lorenzo Carter (elbow) and wide receivers Bennie Fowler (hamstring) and Cody Latimer (concussion) appeared on this week's injury report, but they are good to go for Sunday.
In Washington, tight end Jordan Reed (concussion) and center Chase Roullier (knee) have been ruled out. Wide receiver Terry McLaurin (hamstring) and guard Brandon Scherff (ankle) are questionable.
4. Keenum remains starter in Washington. Case Keenum, who was part of the "Minneapolis Miracle" with Pat Shurmur in Minnesota, will remain the starting quarterback for Washington. Keenum had thrown five touchdowns with no interceptions and a passer rating over 100 in the first two weeks. In the third, he threw three interceptions, lost two fumbles and was sacked four times on Monday night against the Bears. The Redskins dropped to 0-3, but coach Jay Gruden is not making the change yet to rookie Dwayne Haskins, the 15th overall pick. "I think the most important thing is we have to have some continuity," Gruden said. "You know, I can't be changing people every five minutes here."
5. Key stat to know. The Redskins have the worst third-down defense in the NFL, allowing conversions on 63.4 percent of attempts. Offensively, the Giants are 24th in the league (30.6 percent).
6. Start fast, finish strong. Jones said one of the biggest lessons he learned in his first start was how it takes all four quarters to win in the NFL. The Giants have scored 17 points (two touchdowns and field goal) on their first offensive possession, second-most in the NFL behind Baltimore. The Redskins have yet to allow a point on an opponent's first possession. The Giants have been outscored, 44-7, in the second quarter for a differential of minus-37, the worst in the NFL. The Redskins have been outscored by 22 points (42-20), 29th in the NFL.
7. Engram's breakout. Evan Engram, whose 75-yard touchdown reception in Week 3 was the longest ever by a Giants tight end, is the only player at his position with at least 20 receptions, 250 receiving yards and two touchdown catches heading into Week 4.
8. Looking Golden. Outside linebacker Markus Golden has three sacks through three games, his most since recording 12.5 in 2016 with the Cardinals. Golden suffered a serious knee injury the following the season and is on track to get back to that production level. His two sacks last week were part of a season-high four for the team.
9. Draft class making an impact. Jones isn't the only rookie turning heads on the Giants. As mentioned earlier, Connelly grabbed his first interception last week. Defensive lineman Dexter Lawrence recorded his first sack and also blocked an extra point attempt. Wide receiver Darius Slayton had 82 yards on just three receptions last week in his NFL debut. Last but not least, Oshane Ximines got to the quarterback for the second week in a row. For the first time since 1982, when individual sacks became an official statistic, five NFL rookies have at least 1.5 sacks entering Week 4.
10. NYG 100. With last season's 40-16 victory over Washington in Week 14, the Giants became the first NFL franchise with 100 regular-season victories against another team. The Giants-Redskins rivalry is the oldest in the NFC East division, with the first game having been played in 1932.
Giants vs. Redskins Broadcast Info: TV channel, Radio Station and Live Stream.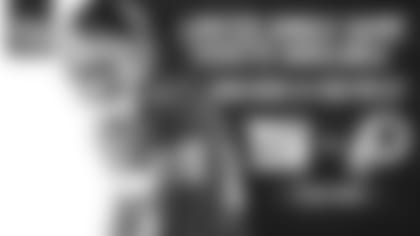 Limited tickets on sale for Giants vs. Redskins
See the Giants take on the Redskins on Sunday, Sept. 29 at 1:00 PM ET