EAST RUTHERFORD, N.J. – The first player the Giants drafted in April tonight became the final member of the team's 10-player draft class to sign his rookie contract.
Daniel Jones, the quarterback from Duke selected sixth overall, is now eligible to participate in the first training camp practice on Tuesday.
Jones, 6-5 and 220 pounds, joins 15-year starter Eli Manning, veteran Alex Tanney and second-year pro Kyle Lauletta to form the Giants' quarterback quartet at the start of camp. The rookies and selected young veterans will practice Tuesday morning, the rest of the vets report Wednesday and the first full-squad practice is Thursday.
Jones started all 36 games in which he played at Duke from 2016-18. He was a team captain in 2017-18 and a two-time recipient of the Carmen Falcone Award as Duke's Most Valuable Player (2016 & 2018)
His career totals included 764 completions on 1,275 passes (60%) for 8,201 yards, 52 touchdowns, and 29 interceptions. He also had 406 rushing attempts for 1,323 yards (3.3-yard avg.) and 17 touchdowns. Jones compiled 9,524 yards of total offense and averaged 227.8 passing yards per game.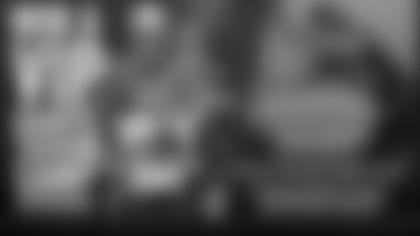 Enter the Giants Training Camp VIP Experience Sweepstakes
Enter for a chance to win VIP passes, a Saquon Barkley signed photo, and more. See rules and details at Giants.com/vipcamp