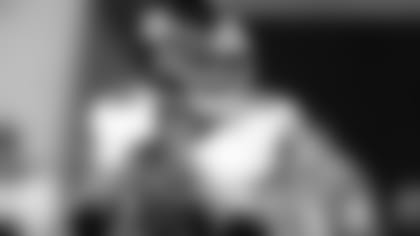 ](http://www.giants.com/media-vault/photo-gallery/Giants-re-sign-QB-David-Carr/29785917-e107-4d4d-bdb4-ba66a41036eb)
PHOTOS: DAVID CARR GALLERY
EAST RUTHERFORD, N.J. –
David Carr, who is a valuable Giant though he seldom plays in a game, today re-signed with the team.
Carr has served as Eli Manning's backup in four of the past five seasons. He played for the San Francisco 49ers in 2010.
In his four seasons with the Giants, Carr has played in 11 games. He has completed 32 of 48 passes for 359 yards and three touchdowns. Carr's opportunities are limited because Manning has started 135 consecutive regular-season games, the third-longest streak by a quarterback in NFL history and 23 games longer than the next active quarterback, Philip Rivers of San Diego. Manning has also started the Giants' last 11 postseason games.
In 2012, Carr relieved Manning in the fourth quarter of blowout victories against Carolina on Sept. 20 and Philadelphia on Dec. 30. He completed one of two passes vs. the Panthers and his only throw against the Eagles.
Despite his infrequent game appearances, Carr helps the Giants every week. He lines up with the offensive scout team in practice against the Giants' defense, meaning he impersonates the opposing quarterback. Carr is ideal for that role, because he can mimic both dropback and option quarterbacks.
"I like the room with he and Eli and whoever else is in there," coach Tom Coughlin said earlier this month. "Don't forget, there's another side to David Carr. David Carr can run, he's fast, he's athletic, no matter who we're going to play he can be the opposition's quarterback and do it very well. He does a good job of it. He runs the option."
Carr's first tour of duty as Manning's backup was in 2008 and 2009. He played in three games the first season and in six games in 2009 and in those two seasons completed 33 of 42 passes (78.6 percent) for 340 yards, three touchdowns and no interceptions.
Returning to his native California, Carr played in one game and threw 13 passes for the 49ers in 2010.
He re-joined the Giants in 2011, when incumbent Sage Rosenfels and he competed for the backup job until Rosenfels was forced to go on injured reserve because of back problems. Carr did not play in the regular season or postseason during the Giants' 2011 championship season.
In the 2012 preseason, Carr had team-high totals of 53 passes, 29 completions, 343 yards and two touchdowns.
Carr was selected by the expansion Houston Texans with the first choice in the 2002 NFL Draft. He played five seasons in Houston and one with the Carolina Panthers before joining the Giants. In his 11-year career, Carr has completed 1,353 of 2,267 passes (59.7 percent) for 14,453 yards, 65 touchdowns and 71 interceptions. He has been sacked 267 times, including a record 76 as a rookie in 2002.
Former Indianapolis Colts quarterback Curtis Painter is also on the Giants' roster. The Giants have carried only two quarterbacks on their regular-season roster every year since 2008.