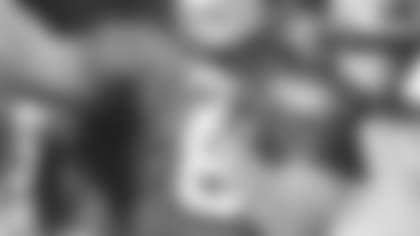 EAST RUTHERFORD, N.J. – Since returning to the Giants prior to the 2011 season, David Carr has played in two regular-season games and thrown a grand total of three passes. Game-day inactivity comes with the territory when you're the backup to Eli Manning, whose 135 consecutive regular-season starts is the third-longest streak among quarterbacks in NFL history.
As a free agent this offseason, Carr could have joined a team that gave him more opportunity to play and perhaps even start. But a 12-year NFL career has given Carr a perspective far different than he had as a young player and taught him that the grass is not always greener on another team's practice facility.
"If I'm going to go on the field," Carr said, "I'd rather go on the field with the Super Bowl champion than a team that I'm not sure about. I'm in a system that I've spent a good part of my career in where I do feel like a coach on the field. I feel like I can get us in any good play and kind of run the field from the line of scrimmage and it doesn't take a lot of extra effort to get to that point where I'm at right now. If I was going to another team, I would have to learn a new system and I'm just too old for that.
"I've been in too many bad situations. I can go here and this kid is not very good and he's not really sure if he's going to transition to the starter because their team is terrible. There are not bad quarterbacks out there. There are guys that are a little bit better than other guys, but they're in better situations and this is a pretty good situation. So to look at it that way, it would be - say I do go in, but if it's a team that's not ready or if I don't jive with the coordinator or my skills don't fit his system, then it's a bad situation. This is a good situation for me."
So Carr is preparing to back up Manning for the fifth time in six seasons (he was with the San Francisco 49ers in 2010). But this spring his situation is not as defined as it's been in the past. The Giants not only signed another quarterback with experience in former Indianapolis Colt Curtis Painter, they traded up in the fourth round of the recent NFL Draft to select Syracuse's Ryan Nassib.
"I would have freaked out (if that happened) 10 years ago," Carr said. "When you're here 12 years you just see things differently. It's not a negative at all. I'm super happy for Ryan. I think he's a great kid. I think that he's going to have a great career and I'm going to do everything I can to make him a good football player. If it's in the meeting room and experience wise, I'm going to do the same thing with Eli. It's not a negative at all."
All four of the quarterbacks have been getting reps in the Giants' minicamp, which concludes with practices today and tomorrow. Because Manning is so good and so durable, the Giants have kept only two quarterbacks on their regular-season roster every season since 2008, the year Carr arrived.
But they could well keep three this year. Nassib is likely too inexperienced to be the only relief behind Manning. And the Giants would certainly lose Nassib if they waived him.
"That's going to be a decision they've got to make," Carr said. "What coach (Tom) Coughlin said to me when we showed up in the spring was, 'Just let us make the decision. Just go out there and use your experience and be the player we know you are and let us worry about all of that.' And that's my mindset anyway. That's what I was going to do anyway. I can't control what they decide to do at the end. I'm just going to play my best football and see what happens."
Carr has had an unconventional career. He was the first overall selection of the 2002 NFL Draft by the expansion Houston Texans. As a rookie, Carr was sacked a league-record 76 times. He has started 79 games in the NFL, but none since 2007. The Giants believe Carr is an ideal backup, because he can play at a high level in games if needed and can emulate both drop-back and option quarterbacks in practice.
But the team is also excited about Nassib's potential. The rookie has quickly learned the offense and has made several precise passes in practice.
"Definitely not perfect out there," Nassib said. "There's definitely room to improve and each and every day you just want to get better. You want to take one step closer to that ultimate goal where you're game ready. So right now we're putting in new plays and stuff like that, just trying to learn as quickly as I can because I am new and in the NFL the learning pace is a lot faster."
Carr said he treats Nassib as he does his brother, Derek, who is entering his senior season as the quarterback at Fresno State, David's alma mater.
"He's a great kid," Carr said. "He has solid mechanics. It's just like any guy. You've got a lot to learn and I think he knows that and he understands that and he's working his tail off and he's studying hard and he's asking a lot of questions and I'm not scared to answer them for him. And if I don't know it, Eli and I will get together and try to answer it for him and sometimes we'll say we don't know. I see him just like I see my younger brother. He kind of reminds me of my brother a lot. They're the same age really. I kind of have the same conversations I'll have with Ryan that I'll have with Derek. It's a pretty easy situation for me, honestly."
Carr said he has not adjusted his approach since Nassib's arrival.
"I could lie and say I have, but I really haven't," Carr said. "Like I said earlier, if it was 10 years ago, maybe I go in and I'm thinking about that stuff, but honestly, I'm trying to help Ryan and it makes me better, too. I coach him up. I tell him things that I've seen and Eli does the same thing and we just try to make our team better. If our team is better, then ultimately things are going to work out.
"That's just not my nature. I can't go into it saying that I'm competing against this guy. I'm just trying to be a good football player. I'm trying to be a good teammate. This is my 12th year. There are a lot of things I can teach him. I'm going to be done playing and he's still going to be playing at some point. So hopefully, he can look at me as a guy that helped him and didn't hurt him."