EAST RUTHERFORD, N.J. –** Perhaps the most misleading statistic from the Giants' victory last night over the Minnesota Vikings was their one sack. That would suggest they put scant pressure on Minnesota quarterback Josh Freeman, which is about a hundred yards from the truth. The Giants were credited with 13 quarterback hits and harassed Freeman into 33 incompletions (he was 20 for 53).
NFC East Roundup
How is the division shaping up with seven weeks in the books...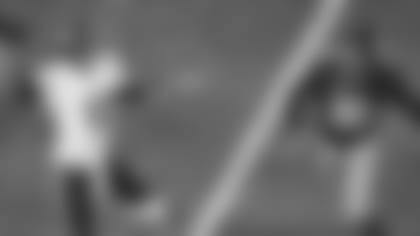 Giants vs. Vikings Photo Timeline Justin Tuck had the sack, a 14-yarder that increased the Giants' season total to six, which is still the NFL low. But he had three hits, Shaun Rogers had a team-high four and a noticeably more active Jason Pierre-Paul had two and knocked down a Freeman pass at the line of scrimmage.
Tom Coughlin hopes that is a portent of things to come.
"We didn't have but one sack, but we did hit the quarterback a lot," Coughlin said. "Jason was certainly in the middle of that, as was really our front, our blitzers, our linebackers. We came out of the secondary with Antrel (Rolle) and Will Hill, for example, and they got involved in there. I did think that we made steps forward."
Coughlin was particularly encouraged by the play of Tuck and Pierre-Paul, who between them have played in four Pro Bowls but this season have combined for 2.5 sacks.
"That's the whole point, we've been trying to create is that pressure again, where the quarterback knows coming in when he plays the Giants, he's going to have to contend with that," Coughlin said. "There were examples that we can build on there and physicality has come along as well. That has to happen on both sides of the ball, special teams included. We're looking for that to continue to grow."
Tuck, one of the team's captains, believes it will.
"We had a lot of pressure on the quarterback," Tuck said. "It didn't show up in sacks but we had double-digit quarterback hits. He was under pressure all night, so that's something I think we can continue to build on. Our secondary played well, they a got turnover and just had tight coverage all night, and hopefully it's something we'll see more of around here."
Coughlin did not have an update on center David Baas, who left the game during the first series last night with a knee injury. He also said he does not know when Brandon Jacobs will return. Jacobs was inactive with a hamstring injury.
Hakeem Nicks was targeted on 10 Eli Manning passes, but caught just two of them. Asked if Nicks had re-injured his hand, Coughlin said, "If he did, he kept it to himself."
Asked if he's waiting for Nicks to make more plays, Coughlin said, "There certainly was a ball that was off his fingertips, which you talk about the ball being a little bit long or however you want to say it. He did a nice job of winning off the line of scrimmage there, but I'm sure Hakeem would be the first one to tell you that there were a couple of those balls he should have caught."
The Giants have allowed three punt return touchdowns this season (by Denver's Trindon Holliday, Kansas City's Dexter McCluster and Minnesota's Marcus Sherels). According to the Elias Sports Bureau, that is the most such scores given up the by Giants since 1959, when four opponents scored on punt returns. The last NFL team to give up three punt return scores in a season was Carolina in 2011.
Each of the three punts returned for a touchdown was at least 80 yards long. This is the first time in their history the Giants have allowed three punt returns of 80+ yards in a season. The last team to do it was the 1968 Jets.
The Giants will carry an eight-game road losing streak into their game Sunday at Philadelphia. That is the NFL's second-longest streak, behind Jacksonville's 10. The Eagles' nine-game home losing streak is the league's longest. The last team Philadelphia defeated at home was the Giants, 19-17, on Sept. 30, 2012.