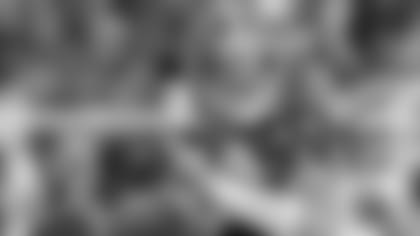 Fourth Round Selection QB Ryan Nassib
Q: How are you doing?
A: I'm doing well.
Q: Are you surprised both that how long you lasted in the draft and the team that ended up taking you?
A: I'm a little bit surprised at how long I lasted. Everyone was just hyping me up, I guess. But I was even more surprised by the Giants. Brief to nearly any conversations with them. So it all came as a big surprise.
Q: How does it feel being the backup to a guy who hasn't missed a game since 2005?
A: I'm just so excited for the opportunity. I understand that he is a durable quarterback. I always compared myself to Eli. And it is crazy that I'm going to be playing with him. He is a tough, durable, smart guy; doesn't say much. That is the kind of quarterback I always wanted to be. Being able to sit behind him and learn from him – like some great quarterbacks did in the past – learn from an elite veteran like the Aaron Rogers of the world – it is going to be a great opportunity for me.
Q: Early on in this process there was a lot of talk about you being a first-rounder and a lot of people pared you with your old coach up in Buffalo. Did you think that that was a possibility with him to go that high?
A: Yeah, I always thought that I was a first round talent. That is just the way you think of yourself when you are confident and you are …….. I thought the situation with Buffalo was going to go a little bit different, but to be honest with you, I couldn't be happier where I am now. I won't have to step in right away and play. It is a place where I can sit behind an elite quarterback and learn from him and just keep developing and just be ready to play if, God forbid, anything were happen.
Q: What does it mean to you to be playing relatively close to home?
A: It means a lot. My family is ecstatic right now. They were all nervous that I was going to be going far away. So now I'm going to be only an hour and a half down the road. So it will be great. Q: When Buffalo took a different quarterback in round one, what was your reaction? Did you speak to Doug at all afterwards?
A: When they picked a different quarterback, going into Thursday night, I braced myself for that actually. I braced myself for the fact that they not only might take another position, but another quarterback. So going in, I kind of had a good feel for that. It could happen and it ended up happening. I would be remiss to tell you that I was a little disappointed. But at the end of the day when one door closes, another one opens. So I can't tell you how ecstatic I am for now being a New York Giant.
Q: Do you get along with Justin (Pugh)?
A: Very well. We have been together for the last three or four years. We are from the same area. And we have had many a drive home from Syracuse together. I can't believe that out of all the situations, he and I are going to be back together. Q: When Tom Coughlin called you what did he say to you when he called?
A: To be honest with you, I blacked out a little bit. I didn't really get everything but what I could get from him was that first off I have to cut my ties with the Philadelphia Eagles, which won't be a problem. And he just complimented me on coming from a good school and being a good football player. And he told me about the great opportunity I have for playing behind Eli.
Q: What is your scouting report on Justin Pugh as your former left tackle?
A: He is one tough football player, I'll tell you that much. God honest truth – there wasn't a game I went in where I didn't trust his ability that I knew he was going to have my blind side taken care of. Right now he has been trying to be versatile so he could play wherever. He is smart and can play wherever they need him.
Q: There was a quote by Justin a few weeks ago where he said one of the things he likes to do was make his opponent quit. I guess the insinuation is that he has got a bit of a mean streak in him. Do you see that in him as well?
A: Yeah, absolutely. He is one tough dude. There were many times he made his opponent quit. It is almost humorous. One guy stopped rushing him at the end of the game.
Q: Jerry Reese said this morning they talked about trying to get you today. Did you have a sense that they would make a play for you today or did you not know until they called?
A: I haven't watched TV in three days. So I couldn't tell you one thing of what was going on. So when they called it was a complete surprise.
Q: You sound a little weary – and trying to process everything. How do you feel right now?
A: I feel like a huge weight has been lifted off my shoulders. Going into the third day you can image how strenuous it can be on a player; especially when my expectations were a bit higher. But that is just the way it is. With the uncertainty and all of the uncertainty of where you may end or the situation you may be in, it is more of…. I'm extremely relieved that I am going to one of the best organizations in the league. And I'm going to be playing behind an elite quarterback.
Q: I know it has been a bit of a whirlwind the last half hour or so, but do you see yourself as the quarterback of the future for the Giants, or do you think your future in the league is going to ultimately wind up being somewhere else?
A: To be honest with you, I think either one. If something were to happen to Eli, I feel like I can step in and be prepared enough to be able to take over the position. It is going to be huge shoes to fill but I'll be ready for that. I'm ready for the challenge. He is a durable guy. God knows how he plays every game; plays every snap. And if the opportunity outside of the New York Giants happens. But right now all I'm worried about is being a New York Giant. I can't tell you how excited I am about it.
Q: Are you home now?
A: I just got home. I'm in West Chester, PA.
Q: Have you ever had a football season in which you didn't take a snap?
A: Yeah, my freshman year in college. It was kind of similar.
Q: How did you handle that?
A: It went pretty well. Because …. my high school where I had really had next to no feel for the knowledge of the game coming from high school to college. So I really took my redshirt year as a year to develop, not only physically but mentally. And even though I feel like I can step in and play right now, just because of the lessons and experience I have had in college, I'm going to take this rookie year as kind of my redshirt year and develop. And be ready and be prepared like I am going to be a starter because football is a crazy game and ……anything can happen.
Q: You talked about Justin being tough. That is one of the things that keeps coming up when your name is mentioned – you are a tough quarterback. For people who haven't seen you play in this area – Giants fans and so on – how would you scout yourself? What do you think you best attributes are?
A: I think my toughness is definitely one of my strongest attributes. Like Eli, I have never missed a game in college. When I was a starter I started every single game; never missed a snap. So I'm proud of the fact that I'm a durable quarterback. Also, I'm very attentive to detail. And I'm always learning; always willing to learn; always looking to learn. So I'm just trying to get better.