A: Good morning, we'll talk a little bit about who will and who won't practice today. Brandon Jacobs will not practice today, Trumaine McBride will not practice, Jason Pierre-Paul will not practice, Terrell Thomas, this is his day and we hope to have the rest of the guys on the practice field. It looks like we have a good chance.
Upon Further Review
The Giants players are still motivated to compete and win the final games...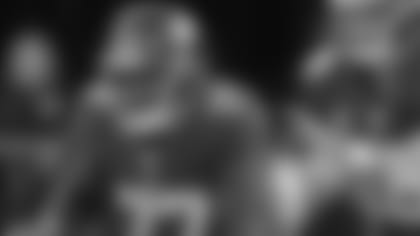 We're preparing ourselves today for our Sunday night game, divisional game in Washington against the Washington Redskins and I would remind you of a couple things real quick – San Francisco did hold this offense to 190 yards on Sunday night but against Philadelphia they had 427, 433 against Minnesota, 500 against San Diego. This team has many, many weapons and has amassed tremendous yardage over the course of the season. They're seventh in the NFL, second in rushing, sixth on third down and ninth in the green zone in terms of scoring.
Defensively they held San Francisco, a highly potent San Francisco offense as you know, to 76 yards rushing, held Dallas to 213, they've had five defensive touchdowns, they're eleventh in the league on third down and they have outstanding personnel and a good scheme as well.
They are, I believe, fourth in the league on kickoff coverage so they limit your field position accordingly. So we're excited to be in the division, excited to be playing the Redskins and look forward to a week of preparation.
Q: Will the offensive line start the way it finished last week? Boothe at center and Brewer at guard?
A: As of today, yes.
Q: What were some of the things that you saw from that group with Boothe at center that are encouraging to you?
A: Well, I thought we were able to continue doing a good job with the rushing game right through the change there. It was a very unfortunate injury to Jimmy Cordle, who has done an outstanding job for our team whether he was the starter or the backup. He's been very, very consistent in the way he's gone about his work. When the opportunity came for him to play he eased right into that job. He's been a guy that's known his assignments and executed throughout the course he was playing. I feel, as I mentioned the other day, I feel badly for him that this injury did occur. It was felt by the doctors that only further serious injury could occur if he was allowed to try to play so the decision was made obviously in the best interest of Jimmy not to push this any further.
Q: What did you think of Brewer when you saw him?
A: Brewer did okay. It's happened both games this year, he's been pressed into service and he's gone in and done his job. I expect with a full week of preparation that he'll continue to be prepared and perhaps do even better.
Q: If Trumaine can't go, would you…
A: We'll see. We'll see how that goes. We're going to look at a bunch of guys today.
Q: Antrel described some of the difficulties on the last drive last week at the nickel position. Has he practiced at the nickel position in the past couple of weeks?
A: We've had other opportunities to back up. He stayed pretty much back in the secondary. He knows all the calls. He knows the defense. He's a guy that we've always relied upon and so no question I think we put him down there with the opportunity for him to have been there in the past to slide down there and do the job and we expected that he was the best guy for the job at that time.
Q: Is Jayron Hosley close to being ready?
A: He's practiced some. He's had some issues, as you know, and trying to extend him to the point where he feels like there's enough endurance there that he doesn't have an issue; that's where we are.
Q: Washington didn't really get the deep passing game going against San Francisco. How much of a concern is that?
A: Their play action is very effective and if you have to bring other people down to be in position to defend, whether it be the option or whatever it might be, then where they've hurt us and a lot of people in the past has been through the play action pass.
Q: They were quite good last year at running the pistol formation. They fooled your team a number of times. Do you feel more prepared for that?
A: I don't know if it was fooled. We were prepared for it. What they have is an outstanding runner in Alfred Morris and when they run the pistol dive or dive option… Boy, if you're not in perfect position to tackle that guy, he's going to drag you anyway. He's very powerful, very much full speed in one step. They've been very effective with their run game, not only last year but this year as well.
Q: Antrel said RG3 still has a cannon for an arm, but he's not running as well as he used to run. Is that what you're seeing?
A: I think he's an exceptional young quarterback and we are working as hard as we can to figure out a way to defend their team. That would be my answer to that one.
Q: I know injuries are a part of the game, but you almost have a whole team on injured reserve by now and others still out. Have you had a season like this with these kinds of injuries at key positions before?
A: I really don't know the answer to that. Injuries are unfortunately a part of our game. Our focus is on the guys that are playing. We feel badly for those that are injured, but we've got to go forward with the guys that we have. As to the numbers and how that goes, I can probably check on that for you, but I really don't know the answer to that question. In terms of is this a year where you've had more than most? I really don't have an answer for that one.
Q: Tom, you've been able to get into the green zone, but for some reason it just doesn't click when you get in there.  How frustrating is it?  You're moving the ball successfully down there.
A: Thank you. Thank you for that observation. I hadn't thought about looking at the tape in that area. I'd like to know why. You look at it, you have a minimum amount of snaps. You have a lot of people poured into the same area. You don't get started on first down right away with a play that's successful, you're behind the eight-ball right now. That's kind of what has happened. The two you're talking about we were minus-six with one, incomplete pass with another. That part of it is frustrating, thank you for bringing that up. I was having a pretty good day. Maybe we can get a twelfth guy out there, I don't know.
Q: You didn't have Hakeem Nicks on your list of guys not practicing.
A: Right, he's going to practice today.
Q: Is he much improved or limited?
A: Hopefully we're going to see. That's why he's going to practice. Hopefully he will be.
Q: You have a rookie who started on day one who has been able to stay there.  What is the importance of the continuity of staying there and how he's done, what do you think of Justin Pugh?
A: I think it's very important that he's played, he's grown, he's learned week in and week out. He's gone up against some outstanding defensive players, ends and he'll do the same thing against that group of outside backers. His ability to get in there, he's a very smart young guy. He's very competitive. He wants it very badly. It's going to be a huge plus going forward.
Q: You've had two Super Bowl runs with the prototype of what your offensive linemen are, do you see him just as typically one of those kind of guys?
A: He's a lunch bucket guy for sure.
Q: What do you see from Will Beatty?
A: Will is very talented, very athletic. He's had an outstanding game a couple of weeks ago. He did a good job the other day, so he continues to improve and get better at his job.
Q: Monday you talked about players getting over a loss, do they look like they're ready to go?
A: I think so. I think so. They responded well this morning in our meetings. I think they are looking forward to going and playing again and having a chance to respond.
Q: JPP, moving forward, is this something that you have to kind of monitor the rest of the way?
A: Oh yeah, no question.
Q: Is it something that can get better and that he could get to full strength during the season?
A: That is questionable. That part is questionable.
RE: moving past Sunday's loss
A: I was going to make a smart remark. It just helps to get back to work. Let's not talk about yesterday and the day before. Let's look at what is coming up. That's what helps, to be honest with you. It's not easy. Those losses hang around a long time when you've been in it as long as I have.
Q: Even with JPP limited, I don't think Damontre Moore played very much on Sunday.  Is he just not ready to get a big role in the defense yet?
A: We're trying. We're trying to get him in a position where he can play and contribute. He's basically been a special teams guys and really done a nice job with that. He's physical, he's big, he can run, all of those kind of things. Trying to make sure that he is prepared to make all of the adjustments that are necessary over the ball, so that we don't get some of the mistakes that we had in preseason, this is where it is.
Q: Is that all a product of all the time he missed in the summer?
A: I don't know if it is all of that, but it's real. It's a fact we're dealing with. The sooner we can get him to that, then we'll have another guy that we feel like can be a pass rush guy.
Q: Is JPP potentially looking at a surgical procedure?
A: I have no idea on that one. I wouldn't be prepared to talk about that anyway.
Q: It must not be too hard to get back up for a game against a division rival in the Washington Redskins.
A: Yeah. It's a divisional game and obviously a big one, an important one. It's Sunday night football. We've had some great battles with Washington the last few years, so I expect it to be a tough fought game and we're getting excited for it.
Q: How quickly were you guys able to put that loss behind you?
A: You've got to learn how to do that. We're playing in the NFL, and after a number of years, you're going to have some games that you wish you had won and thought you could have won, but you've got to watch the film and make some corrections and just come back and start game planning for a different defense and make sure we get ready to go out there and play better.
Q: What's the mood around the football team right now?
A: I think the squad is good. Everybody is dealing with it and we've overcome some tough losses here this year before and bounced back, so I'm positive we can bounce back and go out there and handle our business.
Q: You guys ran for over 200 yards the other day. It seems like the run game is back.
A: Yeah. We've been running the ball well the last few weeks and it's been nice. Hopefully we can continue to do that. I think Washington does a pretty good job against the run. They like to get that safety and get eight or nine guys in the box, so they'll try to take the run game away but that should hopefully open up some passing opportunities and we've got to take advantage of that.
Q: How important is it to get Hakeem going if he plays this weekend?
A: I think for us, we just try to be efficient and whatever the defense is giving us, you try to take advantage of it and get guys open. If they're going to be loading the box, then we've got to win our one-on-one matchups on the outside. Hopefully our guys… Hakeem, Victor and whoever is out there win those matchups.
Q: What are you thankful for on this holiday season?
A: Obviously a lot to be thankful for and my family and my health and being a part of this organization, the teammates and the friends I have around here. It is a great place to come and work and I enjoy my job. I enjoy coming here every day because we've got great coaches, great personnel and great players who work extremely hard and I appreciate having a lot to be thankful for.
Q: And the media, too, right?
A: And the media, of course. I look forward to every Wednesday hanging out with you.
Q: Do you have an appreciation for Kevin Boothe after all these years that he can still slide over and provide some consistency there?
A: He's been great for us. Kevin has done a great job of just doing whatever we ask from him over the years. He's played guard. He's played center. He's played tackle at times. Obviously he bounced over right there and we didn't lose a beat when he was playing center.
Q: We talked to Mike Shanahan about RG3's struggles this year. He pointed to RG3 not having an offseason going into Year Two. How important is it to have that offseason at such a young age?
A: I think every year an offseason is important. For me, I work on my mechanics, work on gaining strength, getting with your receivers and working on timing, having OTAs, putting in the new plays and new schemes, and so I think you always try to look forward to offseason for me to work and get with receivers. I think when you have receivers or new guys come in who have missed that time, it does set you back a little bit.
Q: Is there anything you have to get used to when Boothe is at center? Does he snap it a different way?
A: No. I think we've played a number of games this season already where he's been at center. We practice during the week. He gets reps at center, so I didn't have to change anything.
Q: When did the beard come off?
A: Maybe Tuesday. Just looked at it and thought it was time.
Q: Why was that?
A: Just a beard.
Q: It didn't have to do anything with the win streak?
A: I had it during the winning streak, I guess. I shaved it during the bye week. I don't know what it was. Just a beard, I guess.
Q: It wasn't a NHL playoff beard?
A: No. Nothing that official.
Q: You were not superstitious?
A: Never. A little 'stitious.
Q: Is it hard not to look back and analyze what has gone wrong this season?
A: No. You can't look at the season. Overall these last weeks, we've been playing better offensively. The defense has been playing outstanding as well, so obviously putting ourselves in some better positions to win some games and to be there at the end and obviously there are things we can improve on definitely, things we've got to keep making improvements on, but I think overall we've been better these last five weeks and we've got to keep making strides.
Q: How about yourself personally trying to curb the turnovers from the beginning of the season?
A: We've been better obviously. Last week we had the one. We gave them a touchdown on it, which is always tough, but I think we've been better not forcing things and taking some sacks or throwing the ball away or just trying to play smart and not put us in a bind.
Q: People thought this team was going to throw for a lot of passing yards this year. Is that one of the things you had to adjust where teams aren't just going to let you air it out against them and you've had to use the running game more?
A: No. You just adjust to what's working for you or what you can accomplish. Obviously you lose some offensive linemen, so holding the ball longer for plays to develop down the field becomes tougher. I haven't been doing that as often, so you just still try to find things to get the ball out, find completions and just be able to run the offense efficiently.
Q: The running game last week was really…
A: Yeah. We were firing off and they weren't throwing that eighth guy in the box and we just kept running it and making big gains.
Q: Were they daring you to pass in the wind when they did that?
A: I think they were trying to disguise what they were doing, the safeties, and when you disguise you can usually run and if they're 12 yards deep, you can say we're going to run it. If that guy makes a tackle, we're going to get six or seven yards. If you make a guy miss, we'll get more, or receivers can come down and block them. Sometimes they do come down earlier and that's when you've got to throw the ball and be successful doing that.
Q: Is it frustrating when you don't have that consistency in the passing game on a weekly basis?
A: We've just got to keep getting better. We've got to find ways to win our matchups and for everything to start clicking; from protection, to winning the one on ones, to throwing the ball accurately. We've got to make sure we're very sound in everything we're doing.
Q: Any special plans for Thanksgiving?
A: No. Just here. No family in. I've got my girls and my wife and just have a little Thanksgiving dinner.
Q: Do you have a Thanksgiving memory football-wise that sticks out in your mind?
A: In college, I played on Thanksgiving every year. We played on Thursday. Ole Miss would play Mississippi State. I had some nice wins on Thanksgiving day, so I have some real football experiences. Growing up… I kind of remember going to watch my brother practice high school football. They were getting ready for the playoffs and so we probably didn't have as many pickup games as you would think. Since I was eight years old, my brothers were playing high school football, so I would watch that. I have a lot of football… not as many backyard memories as I think people would think.
Guard James Brewer
Q: You got thrown in there last week and the offense didn't seem to miss a beat. I guess that's what you look for.
A: Yeah, definitely. I think that's kind of the plan that Flats (OLine coach Pat Flahterty) has for the younger guys, including myself, as far as preparing to play at more than just one position. When Jimmy (Cordle) got banged up and they needed me at left guard I was prepared for that.
*
Q: When you looked at the tape, did you think you did well?*
A: Yes and no. When you look at film you always look at technique things so you always see things that you can improve on. It's pretty much impossible to play a perfect game, there are always things you can improve on. At the end of the day, we didn't get the win.
Q: How do you feel about this opportunity? Obviously you don't like to get it this way but this is a big chance for you.
A: Definitely. My plan is to just make the most of it and play well. I've already played before. I started against Dallas that first game and I played against Kansas City at right guard, so I've already done it. For me, it's just to show the coaching staff that I'm the right guy for the job.
Q: Do you think that this is key for you? This is your third year and people say that by your third year you really have to show something.
A: I haven't really heard that. For me it's just the pressure that you put on yourself to perform as a competitor. There's no do or die for me, it's just competing and going out there and doing my best.
Q: Has it changed for you throughout the process, the idea of competing for a spot? Because you've been put into this competition at several different spots the last couple years and now you're at this point. Do you feel like you're a different player now?
A: Not from a competitive standpoint as far as between me and other guys. I just feel like as a player, I've grown. Just from my rookie year with the lockout to now when I have a better grasp of the offense and know what I'm doing. Being my third year, I'm not exactly a rookie anymore, so I'm kind of viewed as one of the older guys on the line. We kind of have a young line at this point anyways, if you think about it.
Guard Kevin Boothe
Q: After Jim Cordle went down you guys didn't really seem to miss a beat. Did you feel that way?
A: That's always the goal. That's always the goal if somebody has to come out of the game, that the transition is without any kind of hitch in the giddy up. We did a decent job but we still left too much out there.
Q: Did you take some reps last week at center?
A: Yeah, that's what I always do. I always take reps at guard and center throughout the course of the week because I am technically the backup center so I have to get reps there throughout the course of the week. We always do that, so I was okay.
Q: Obviously we talked Monday and we talked about the letdown after the loss. Do you guys feel like you're back in the groove, back getting ready for Washington without any hangovers?
A: That's all we can focus on. We can't control anything else, so all of our focus is on Washington. We know we have a big game down there on Sunday night, so we're getting excited about it.
Q: Was there ever a time where you thought you might stay at center permanently?
A: No. But that's not for me to decide. Usually when I've played center, it's because of an injury. It's not something that I've come into a season playing primarily.
Q: In college did you play center?
A: No.
Q; When was the first time you did?
A: In a game? 2010 in Washington I think. The last game of the year in 2010.
Q: When did you start playing center?
A: Either 2009 or 2010, I don't remember the years. But one of the years I was the backup interior guy, it might have been Will Beatty's rookie season that I had to learn how to play center, so it was right around there.
Q: How did that come about? Why did they pick you?
A: I don't know if they picked me. I wasn't' a starter at the time so I had to learn how to play there. The more you can do helps you keep a job. They let me get some reps in there, coach Flats helped me out. It's one of those things where the more reps you get, the better you feel and the more comfortable you are, so I've worked at center since then and done a lot of reps. I usually get some sort of snaps every practice.
Q: Hakeem was back out on the field today, how did he look out there to you?
A: He looked good, he looked fluid, he looked like his normal self again, so it felt good to have him back so hopefully we can have more of him.
Q: It had to be real easy for you guys to get back up for this because it's a divisional game against the Redskins. You didn't have long to really wallow in the Dallas loss.
A: Yeah, absolutely. The Redskins are always a good opponent. We play them twice in the matter of a couple weeks, so we're excited for this next challenge that we have facing ourselves. We just have to be prepared and ready to go.
Q: How did you think the energy was in practice today versus last week? Were guys able to put behind what happened on Sunday and get their heads right for this week?
A: I think so. I think guys kind of turned the page. I think we do a good job on Monday of getting all that stuff out of our system, watching the film, talking about the game, getting everything out and then moving on from there. I think we did a good job of that this week. We're focused and ready to go for Washington.
Q: Are you looking forward to having Hakeem back to maybe balance the field a little bit?
A: Absolutely. I'm happy to have him back, period. Just to have him back in the huddle, in the offense, on the sideline dressed and ready to go, he's a guy that we need. We need him to be his normal self in order for us to win games and in order for our morale to be up, things like that. We're definitely happy to have him back.
Q: What do you mean by morale?
A: Just his energy. Everything he brings to us is not just his play on the football field. It's his energy, his personality, we're happy to have that back on our side again.
Q: Around this time, what are you thankful for?
A: I'm thankful for just being able to play this game and having my family behind me each and every day. I think guys, especially where I'm from, a lot of their family members aren't around. Even myself, a lot of my family members aren't around to enjoy this anymore, so I'm happy to have my family. It's kind of my own family now and building my own legacy for myself, so I'm happy to have my family here all together tomorrow evening and get ready to eat some food.
Q: Does the fact that after such a tough loss last week and you guys are playing a division team, does it help kind of bring things up a little bit
A: Sure. I think for us it's very important to put last week's game behind us and learn from it but put it behind us and move on to the Washington Redskins.
Q: Easier said than done?
A: I don't know. I think as you watch the film and you dissect what Washington, especially on offense, what they did, it's pretty easy. You understand that it's a huge challenge that deserves your full attention.
Q: Alfred Morris was only a rookie last year but he ran for like a 120 yards twice against you guys. What impressed you most about him?
A: He's very hard to take for lost yardage. He's always been a positive guy, whether that's three yards, four yards, he's always going to be a guy that gets positive yardage. He's a downhill runner, which is Shanahan's type. They lull you to sleep with all of the zone blocking, thinking that they're going side to side, but he's constantly down hill. You could hit him at two yards and he'll end up getting six. That's very impressive in this league considering that he is the focal point.
Q: Understanding that RG3 is pretty beat up this season and isn't the same, at least he doesn't look like it, have people caught up to that scheme?
A: It doesn't look like it. I think Alfred Morris has 907 yards through 11 games.
Q: But RG3 does not have nearly the numbers that he had last year running the ball.
A: I don't think they've caught up with the scheme though. I think a lot of times you look at their record and you think that they haven't done anything on offense but in seven of their past eight games they've had over 400 yards of total offense. I think they're doing it a little different than what they did last year but again, that offense… (on defense) it has to be 11 guys on the same page. I don't know if it's designed that way but if there's one guy off it, it seems like the ball finds that one guy. We all have to be on that same page and play our best team defense of the year.
Q: After the 49ers game, one of the players said that RG3 shouldn't be on the field because it looks like he's hurting. What do you think when you look at him, should he be out there or not?
A: Only Robert knows that. He knows how healthy he is and that staff, I think they're going to do what's best for them and he's going to do what's best for him. Obviously he's a competitor and is going to go out and try to help his team win.
Q: Everybody still talks about RG3 when you talk about the Redskins but how important is Alfred Morris to really getting their offense going?
A: I think Morris is actually the bulldog behind the whole thing. I think we all understand coming in as a rookie, I think he played a phenomenal game as far as being at that running back position. I think he is the one that carries the load. That offense does not run without him. That doesn't take anything away from RG3, we all know what he's capable of, we all know what type of player RG3 is, he's dangerous with both his arm and his legs. They have a great core of guys that they can distribute the ball to that can make big plays.
Q: Morris had 125 against you guys twice last year as a rookie, what is it about him that impressed you?
A: More importantly, he's a hard runner. He understands that there are gaps, he understands what they're trying to do to defenders. He's a one-cut guy, he gets vertical extremely fast and he's not the easiest guy to bring down. He's low to the ground, he keeps his legs driving on contact so he's an all-purpose running back.
Q: How quickly were you guys able to turn the page from the Dallas loss?
A: That's part of the game. I think that's something that we have to deal with a lot of times in this league. The pages have been turned. We're already looking forward to playing a game and getting the preparation in for this week.
Q: You guys always talk about how you guys were staying together when you were losing those games early in the season and then you got on that streak. When you lose Sunday, is that even tougher to get back up off the mat again?
A: No, it's not. It's something that we've had to do once before and I don't see the problem in doing it again.
Q: I think yesterday when you were asked about RG3 you said that he's not running like he used to but he's still got a cannon for an arm. Is he still a dangerous runner?
A: Absolutely, it's dangerous. You line him up against 85 percent of the guys on the field and I'm pretty sure he'll outrun you. The guy still can run. When you come off a knee injury, there are a lot of things that go into it, both mentally and physically. As far as some of his movements, are they the same as they were the year before? No, they're not, but they're close. You see more teams are trying to attack him now, but as far as RG3 as a player, I think we all know what he's capable of. He's shown what he can do in this league. He's still, in my eyes, a phenomenal player.